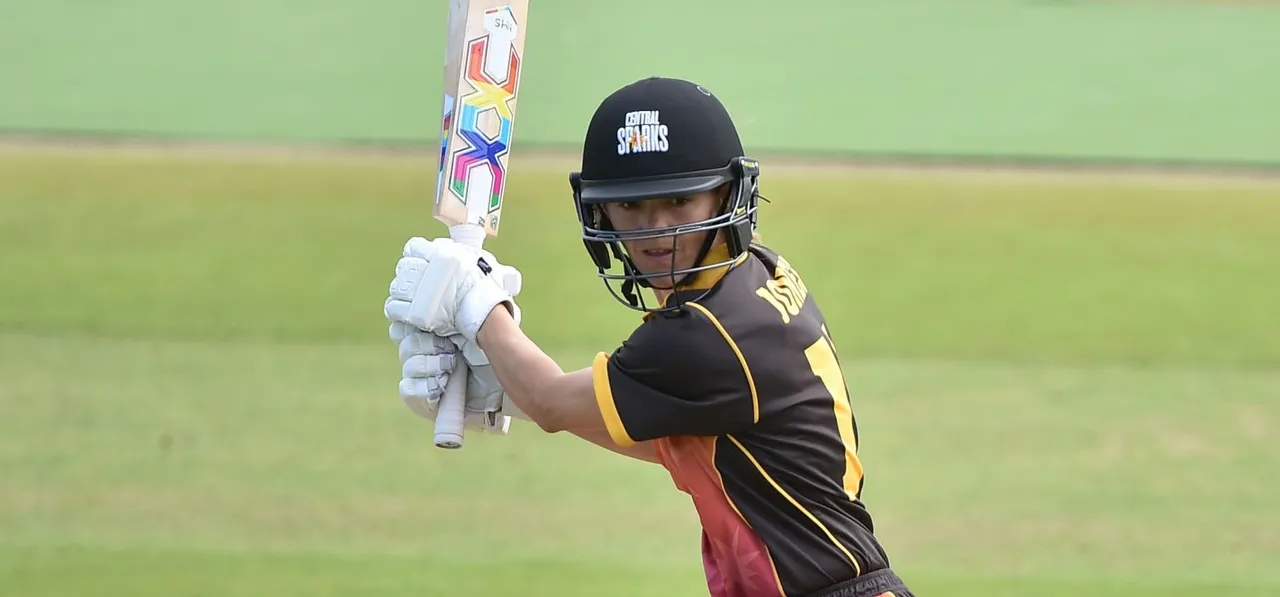 A captain's knock of 90 by opener Evelyn Jones saw Central Sparks to the brink of their
second victory
of the summer last weekend. It was the kind of performance that attracts the interest of national selectors, but Jones knows she has to keep pressing her case.
New England head coach Lisa Keightley
offered hope
to fringe players like Jones when she was appointed earlier this year. The Australian said she would keep a close eye on domestic performances with the Sparks skipper one of the candidates on her radar.
At 28, with several years with the England Academy to her credit, Jones hopes the new professional setup in domestic cricket will give her further opportunities to develop her game. She is working hard on her bowling to make her an allround option for both Sparks and England.
"That's always been my aim: to play international cricket," she tells
Women's CricZone.
"Being on the Academy for four or five years was obviously great for me, and I developed my game a lot. But I think now, I've still got to keep putting performances in and try and be as consistent as possible at the top of the order and then, if I can get my bowling going as well, that adds another part to my game. Just to make me a bit more of a three-dimensional player, so I can contribute in all aspects of the game."
"So, playing international cricket is definitely something I still want to achieve. Even though I'm 28 that's still an aim of mine to play for England."
ALSO READ: Winning is more important than a century, says Sparks captain Evelyn Jones
Recent winters playing in Australia and New Zealand have also seen Jones pursuing her ambition gaining valuable experience in different climates and on a variety of wickets. However, with the new structure in place, she hopes to now be able to devote more time to her game in the off-season at home.
"It's obviously massive for the women's game. The opportunity that we have now to be professional cricketers, so we can actually just focus on our playing careers rather than having to try and fit training schedules in around other jobs takes a lot of pressure off us from trying to earn a living at the same time."
"Now that we're professional, we're going to be able to practice more skills and I think that's where I can really develop my bowling over the winter with having that added time that I can really devote to it," she says.
She cites batting against spin as a key development in her game in recent years following tours to India and Sri Lanka with the England Academy where they played on some turning tracks.
"I think my game against spin has improved a lot and that's helped me along the way. Obviously, opening the batting, you're facing the seamers up top, so I think that's always been my strength, but to develop my game against spin has always been an aim for me. I feel in a good place with that now."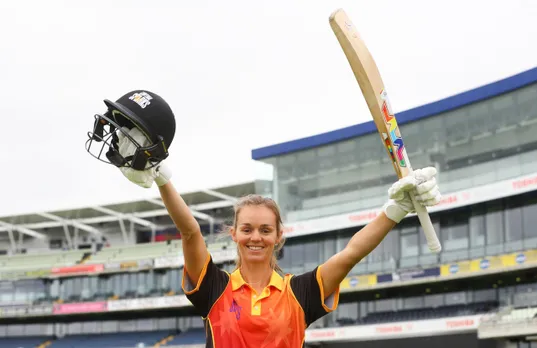 Evelyn Jones played a brilliant knock against Thunder to take her team home. © Laura Malkin
Being appointed Sparks captain this year was extra special because she was chosen to lead the side by her teammates.
"It was a huge honour," she says. "And it was specifically nice because the players voted on it. So that was really humbling, that they wanted me to lead them in this new format. I was delighted with that and especially with it being a brand-new tournament, a bit more professional now. It's a good challenge for me to continue to learn with the captaincy."
Jones is no stranger to leadership though, having led Lancashire for the past two years - the county with whom she won the domestic 'double' in 2017. Arriving at the Red Rose county that summer, she made an immediate impact being named Women's Player of the Year and finishing among the leading run scorers in both the successful 50-over and T20 title campaigns.
ALSO READ: If you keep scoring runs they can't ignore you, says Sophie Luff, unperturbed by England snub
"It was the perfect year really. Personally, I managed to score a few runs which was nice, and we managed to win two trophies which I don't think we expected to do. We had a great team."
With Lancashire winning the final game of their 50-over campaign title that year, they had to wait anxiously on the result of another game to find out if they had won the title.
"We were all travelling back home from our game, literally frantically pressing refresh on scorecards and it was a close game! We all got on our group chat and arranged to go out that night. It was just a great feeling."
Born in Shrewsbury, Jones' cricketing journey began in her native Shropshire where father Rod played club cricket and still coaches at county level.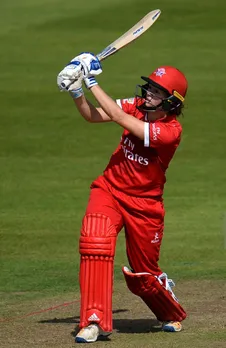 Evelyn Jones played for Lancashire Thunder in the WCSL. © Getty Images
"It was through Dad that I got involved with cricket. When I was younger, he was part of the team that set up the women's age-group side in Shropshire," she recalls. "So, he coached the first side that I played in and still continues to coach me now which is really nice. He knows my game really well."
She played county age-group and senior cricket for Shropshire between 2008 and 2011 before moving to Staffordshire in 2012 where she played for five years.
The change of counties came after meeting Danielle Wyatt at an MCC game. Wyatt, who was playing for Staffordshire at the time, asked Jones to join her. Keen to pursue a career in cricket, Jones took the opportunity to play at a higher standard and challenge herself further. During her time at Staffordshire, the county won promotion to Division One, but were relegated the following year.
"From there I still wanted to play Division One cricket and push myself as much as I could. So, that's when I decided to make the double move to Lancashire for both KSL and county cricket. I played at Loughborough for the first year
, but it made sense just to play both at Lancashire."

She has been encouraged by the form shown by Central Sparks this summer. After a heavy defeat to Northern Diamonds first up, they came back to inflict back-to-back defeats on Thunder - the second by eight wickets.

ALSO READ: Opening bowler, top-order batter, captain extraordinaire - the many hats of Kathryn Bryce

"I think we've been getting better and better. Obviously, we're a new side and I think over the three games we're finally starting to find some rhythm and find the next level. So, I'm really pleased with how we've been going, especially the last match."

"Obviously, it was great to have the England players involved in the first couple of games. But then, on paper, we feel we have a good strong side with the experience that we've got with Marie Kelly, Gwen Davies, and a few others. So, now the England players have gone, it's good to see that players are stepping up and performing."

One of the players to make an impact has been fast bowler Clare Boycott who took four wickets in last Saturday's win against Thunder, helping to restrict them to a modest total.

"Clare's proved key for us. I spoke to her last week and she said that she wanted to prove herself at this level and I think she's definitely done that. She's been a key player for us all round really, so I'm excited to see what she can do for the rest of the tournament."

Marie Kelly's unbeaten 59 in the first win against Thunder at Edgbaston was another important contribution.

"That was a really vital innings from Marie. It was a game that could have gone either way really with us losing wickets at regular intervals. She just showed her true experience and how good she is and stuck around and managed to get the win for us. She's another key player."

As for her own form, Jones was pleased with her 90 at Worcester last Saturday, despite her frustration at being run out a few runs away from victory. She says though that her sole focus was on winning rather than getting to a century.

"It's always nice to score runs and contribute to a winning performance. I was obviously a bit disappointed I didn't get the side over the line with three runs needed, but obviously delighted . I think the two previous games I've had a couple of starts and not gone on, but personally it's nice to go on and capitalise on the starts that I've got."

ALSO READ: Dr.Veronica Vasquez, batting for Argentina on and off the field

It suits her captaincy style which is to lead by example.

"There's nothing that I would expect the player to do that I wouldn't do myself. So, I just try and make sure everyone's in the best place they can be and try and keep things as simple as possible, make sure everyone's clear on their roles. And just do the business on the pitch really."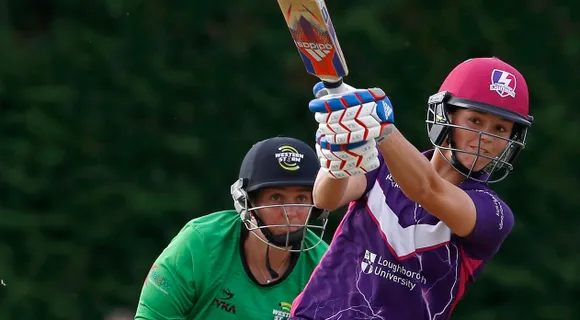 Jones played for Loughborough Lightning in the first season of the WCSL. © Getty Images

The team's attention now turns to Friday's game against Lightning, who despite suffering three defeats so far, pose a challenge with form players like prolific run-scorer Sarah Bryce.

"Lightning look like a great team. I think they've been a bit unfortunate with their results. They've come close in quite a few games. They'll be looking to finish games off and trying to get a win under their belt. Obviously, they've got some good players."

With an eye on qualification to the final, Jones' message to her team will be simple.

"What I'm going to say to my team is just keep doing what we're doing, try and keep doing the basics for long periods of time and don't change too much," she says. "I think we've been going really well this last week. So, trying to take that momentum that we've generated from the last couple of games."

"I think we're close to playing that perfect performance. We're looking forward to the challenge and then we've got a quick turnaround playing against the Northern Diamonds on Sunday. Hopefully we can be at the final at the end of the month, but we've just got to take it game by game and get through each game as it comes."