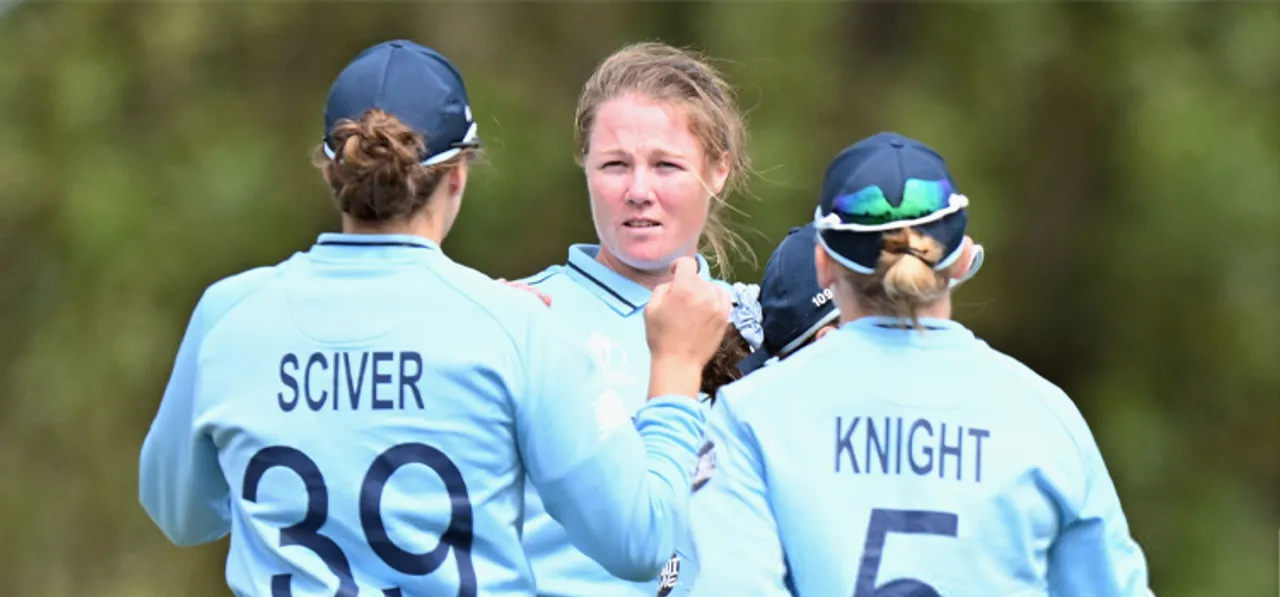 England pacer Anya Shrubsole once rapped an entire Eminem song. 

England's captain, Heather Knight, would later reveal in her column for BBC, she rapped 'word-perfect rendition of Eminem's 'Cleaning Out My Closet' without even looking at the words. If you ask Shrubsole to tell the story, she would tell you that it was her captain who "stitched her up and said, off you go, Anya" to perform the classic from the legendary rapper's 2002 album, "The Eminem Show".

But, if we look at Shrubsole and England's journey in the last couple of months, we can draw some similarities with another hit from the same album called 'Till I Collapse'.

Flashback to January 2022.

England landed in Australia in the first week of January for the Ashes. Even before their quarantine period of 10 days could end, the schedule of the multi-format series was tweaked to incorporate the mandatory quarantine period ahead of the World Cup in New Zealand. Their preparation time in Australia was curtailed significantly, and multiple rain-hit practice sessions only made matters worse.

Despite limited practice, England clobbered Australian bowlers to put 169 for four, their second-highest T20I score against the hosts in the first T20I. That wasn't enough to get them the first win of the series as Australia chased it down with three overs left. Two washed-out T20Is and a thrilling Test match that ended in a draw kept England away from the win. Before the ODI leg of the multi-format series started, Australia were leading with six points to England's four. The visitors needed to win the three ODIs to take the elusive Ashes home.

***

You're coming with me, feel it or not you're gonna fear it

Like I showed you the spirit of God lives in us

You hear it a lot, lyrics to shock

Is it a miracle or am I just product of pop fizzing up?

The first verse of the song captured what England were going through at that moment. Away from home. So close yet so far from a famous Test victory. Knight mentioned the feeling of being 'emotionally drained' ahead of the ODI series. They had to fight and show some character in those three ODIs. 

It didn't go their way. England lost all three ODIs and Australia clinched the Ashes for the fourth consecutive time without losing a match. Shrubsole toiled hard and conceded only 92 runs but she could only take two wickets in three matches. England's challenges were far from over. After a harsh defeat, another 10- day mandatory quarantine in New Zealand was waiting for them. As a team, they wanted to put the Ashes loss behind and concentrate on defending their World Cup title away from home

England faced familiar opposition, Australia, in the first match of the World Cup. This time, England put up a fightback with Natalie Sciver's century, but Jess Jonassen's one-handed stunner made sure Australia edged past their arch-rivals. After a promising start, Shrubsole went wicket-less in England's opening match. In the second match, West Indies and Anisa Mohammed held their nerve to shock the England side. Shrubsole yet again could not take any wickets. The hanging sword of elimination from the competition before the knock-out stage was England's biggest worry.

****

This is your moment, and every single minute you spend

Tryna hold on to it because you may never get it again

So while you're in it, try to get as much shit as you can

And when your run is over just admit when it's at its end

It looked like two games into the World Cup, England's hold over the trophy was slowly slipping. And they were trying to hold on to that glory like Eminem was explaining in the second verse. If their 2017 campaign was full of talented athletes with the Midas touch, their run in New Zealand was the opposite of it. The third league game against South Africa, more or less confirmed this theory as Shrubsole's performance in the defense of 235 wasn't enough to give England their first win of the tournament. 

****

What is he thinking? How not to go against me, smart

And it's absurd, how people hang on every word

I'll probably never get the props I feel I ever deserve

But I'll never be served, my spot is forever reserved

India entered this 2017 World Cup final re-match after comprehensively beating West Indies by 155 runs. England's World Cup campaign, reputation, and Shrubsole's 100 ODI wickets were on the line. 

Before the match, ICC shared a video of Shrubsole's magical spell of six for 46, which single-handedly won them the World Cup five years ago. Reactions on social media could tell how Indian fans are still haunted by memories of that performance. Even when England were miles away from registering their first win of the 2022 edition,  Shrubsole's performance against India was forever reserved in cricket folklore. On March 16, 2022, in totally different circumstances, could Shrubsole repeat what she did five years ago against the same opposition?

After opting to bowl first, Shrubsole was able to draw a faint inside-edge from Yastika Bhatia in her second over and finally go past 100 ODI wickets. Three balls later, a brilliant diving catch from young Sophia Dunkley gave her another wicket, that of India's captain Mithali Raj. India lost their third wicket to a run-out in Shrubsole's fourth over and by the end of the powerplay, India had slumped to 37 for three. The Indian innings never got going and they were bundled out for 134.

England fumbled in the chase but finally crossed the line with four wickets in hand. The defending champions finally opened their points tally in the 15th match of the World Cup.

***

'Till the roof comes off, 'till the lights go out

'Till my legs give out, can't shut my mouth

'Till the smoke clears out, am I high? Perhaps

I'mma rip this s**t, 'till my bone collapse

After almost 70 days away from home, grueling mandatory isolations, and multiple nail-biting defeats, England had finally won a match. The English unit was yet again close to a collapse, but for now, they will live to see another day. 

England will face the hosts New Zealand next. And as Shrubsole promised in the post-match press conference, they might just sing Eminem's 'Lose Yourself' before heading out on the field in that match. Who knows, the legendary rapper's words might change their fortunes in the World Cup.