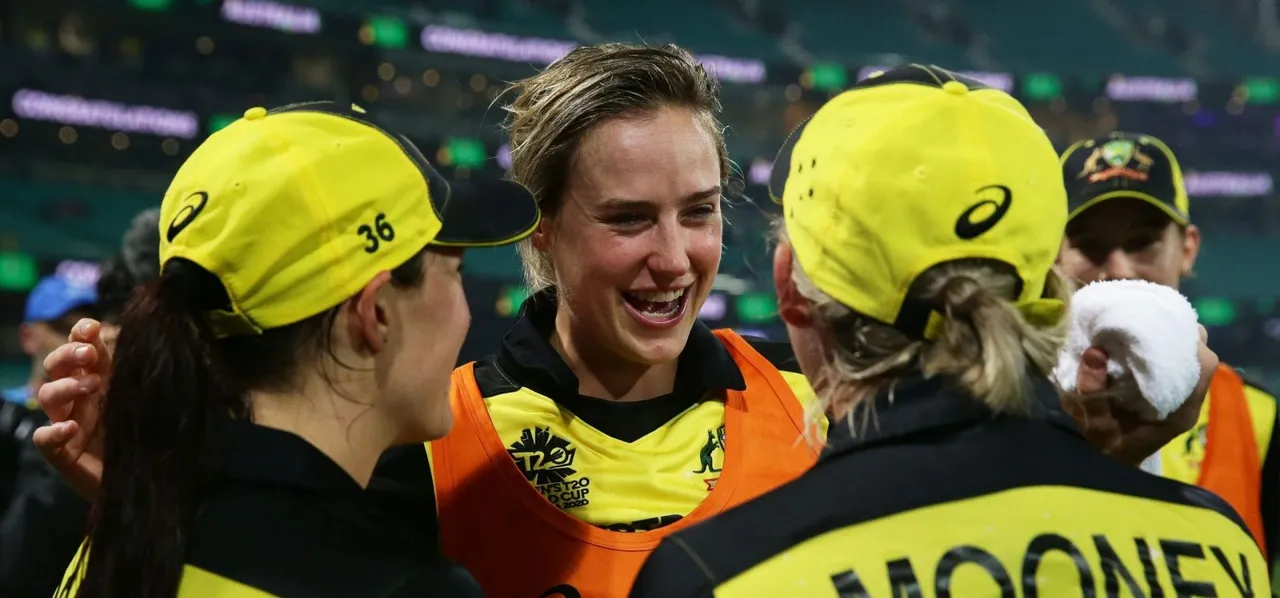 Ellyse Perry, the Australian allrounder, successfully underwent hamstring surgery which ruled her out of the second half of the ICC Women's T20 World Cup 2020. Perry tore her hamstring when she attempted to throw the ball off balance during Australia's final league match against New Zealand. The resultant injury meant she had to miss out on taking part in the knockout stage of the tournament - for the first time, missing two matches in a T20 World Cup.
The ICC Cricketer of the Year though remained with the squad, providing support and valuable insights through the knockout phase, further underlining her stature and value to the team.
Following their triumphant T20 World Cup campaign, Australia were scheduled to tour South Africa for their first bilateral series in the country. However, the tour had to be suspended due to the COVID-19 pandemic.
ALSO READ: Australia tour of South Africa suspended
Meanwhile, Matthew Mott, Australia's head coach provided an update regarding Perry's injury while speaking to journalists in a teleconference on Tuesday (March 24).
"Ellyse did have surgery on her hamstring, it's going well," Mott said. "Her first phase of that (recovery) is pure rest. She's in Sydney at the moment recuperating and that's part of her plan."
"The recovery is looking good, all our medical staff are happy with how the surgery went."
Perry is expected to take around six months to fully recover, and Australia's next international assignment is against New Zealand in October.
ALSO READ: 'Greatest ever' Perry looks to world domination
Despite the shutdown of gyms and training facilities in Australia, Mott reiterated that the allrounder's rehabilitation program would proceed as planned.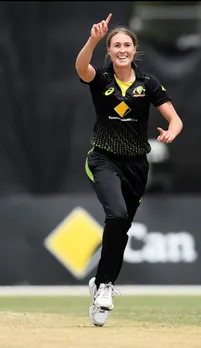 Tayla Vlaeminck celebrates a wicket. © Getty Images
Another player who suffered a similar fate to Perry and missed the T20 World Cup was Tayla Vlaeminck. The tearaway quick was ruled out due to stress fractures in her right foot before the opening match against India. Vlaeminck has been dogged by injuries throughout her short career, suffering knee trouble and a dislocated shoulder.
Mott insisted that the time off would do the 21-year-old a world of good.
"Tayla Vlaeminck is another player of great interest to us. This enforced time off will be good for her," Mott said.
"She does struggle to have time off and not train, so it's important she takes her time and her prognosis hasn't changed from the original one."
ALSO READ: The 'Gameplan' behind Australia's triumph
"It will still take quite a bit of time (for her to return to bowling) … but the fact everyone else is resting too probably eases (hers and Perry's) minds a bit, because they're not missing out on as much as they would have if we'd been over in South Africa."
For Perry, known to be one of the fittest and most hard-working members of the Australian squad, the extended time off and the long rehabilitation duration will be uncharted territory. But the allrounder insisted that she is up for the challenge.
"From my perspective, I've had the most incredible run, I've been very fortunate with injury for a long period of time," she told reporters ahead of the final on March 8.
"On a personal note, it's a challenge, I'm sort of looking forward to it in a roundabout way – I wish it wasn't the case, but at the same time I'm sure there's lots of things I can take from it and learn from it as well."