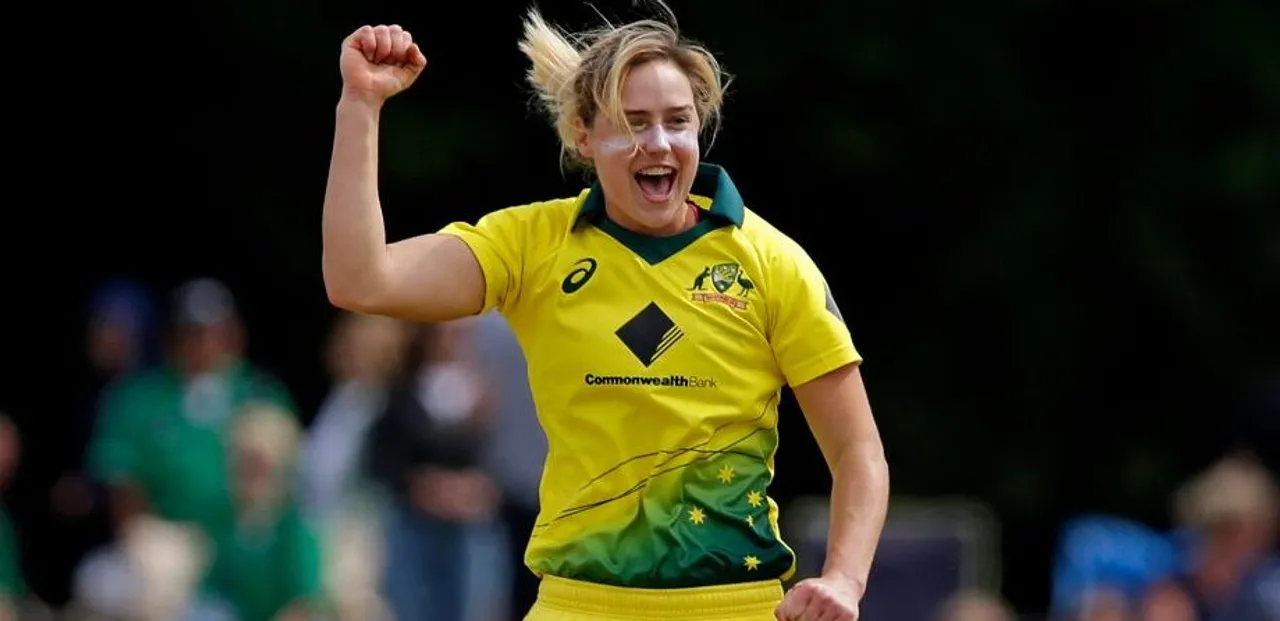 As of the evening of 8 July 2019 Ellyse Perry's (very brief) resume reads as follows:


Winner of four World T20s (2010, '12, '14 & '18) and one ODI World Cup (2013).


No. 1 ranked ICC ODI and no.3 ranked ICC T20I allrounder.


No. 3 ranked ICC ODI batter


No. 4 ranked ICC ODI and T20I bowler


Test double centurion


Multiple five-wicket hauls in Tests and ODIs


More than 100 wickets in ODIs and T20Is


More than 2000 ODI runs and 140 ODI wickets


Played more than 200 international games for Australia


To put her achievements into perspective:


Only six other women have ever scored double hundreds in Test matches. Of them, Perry has the third highest score: 213 not out against England at North Sydney Oval.


She has the sixth-best Test figures in an innings (6 for 32) and a match (9 for 70) for an Australian woman.


She is the 18th highest run-scorer (2820) and seventh highest wicket-taker (145) in ODIs.


She is one of only four women who has scored 2000 runs and taken 100 wickets in ODIs.


Only four women have taken more five-wicket hauls in ODIs than Perry: 3 in 106 matches.


She is the second highest wicket taker (100), and only the second woman to take 100 T20I wickets


She is one of only seven women to have played more than 100 T20Is.


She is one of only five women to take seven wickets in an ODI.


Perry is not the first to tick off any of these achievements, but she is the only one to have achieved them all… And that puts her in uncharted waters.
The allrounder's last addition to the list came in the
third ODI
of the multi-format Ashes series at St. Lawrence Ground in Canterbury on Sunday (July 7). Perry sliced through England's batting line-up during an incisive spell of bowling to finish with figures of 7 for 22— the fourth-best figures in ODIs and the best by an Australian woman. Her seventh wicket, Sophie Ecclestone caught by Ashleigh Gardner trying to slap a full delivery over the in-field, took her past Shelley Nitschke's figures of 7 for 24 for Australia against England in 2005.
On numbers alone Perry is arguably the best ever allrounder in women's cricket. Take into consideration the impact she has had on a generation of female athletes across the globe, and there is little room for doubt. But the 28-year old begs to disagree.
"You can call me what you like, but I'm not sure that's the case," laughed Perry, shortly after Australia had sealed a 194-run win. "I honestly think today just went my way which is really nice."
Perry can be modest to a fault— deflecting praise and constantly throwing light on the bigger picture. She speaks often of the growth of the game and women's sport and how it is up to the players to set an example for future generations.
Her response to a question about whether Australia would take their foot off the pedal in the Test match sums up that attitude. "I don't think so, to be honest. I think two things… One, it's very much within our, I guess, culture and style to play aggressive cricket. We won't forego that no matter what the situation. And second, these Test matches come around once every couple of years and I think it's a really big responsibility for all players to play in a really great spirit and to play in a way that is entertaining. I would love to play more of them (Test matches). I think there is scope to play these kind of format series against some of the other top teams in the world, but you know, to do that, we got to do the Test match justice."
Perry is what people call a 'genuine allrounder'— someone who can make the team either as a frontline batter or frontline bowler. There are very few of those going around at the moment: Perry, Dane van Niekerk, Stafanie Taylor, Deepti Sharma, Shashikala Siriwardene and possibly Sophie Devine.
Over the last few years it is the 28-year-old's batting that has taken centre-stage. She has scored a mountain of runs since her promotion to no.4 and become one of Australia's— nay, the world's— best batters. And during much of this period it almost seemed like Perry's bowling had lost its 'zip'.
That is clearly no longer an issue. The 'zip' is well and truly back.
In the first two ODIs in England, Perry picked up wickets, but was nowhere near her best. After a fiery three-wicket burst in the
first ODI at Leicester
that helped reduce England to 19 for 4 in the first six overs, she leaked plenty of runs and confessed to being "surprised" to receive the player of the match award. In the
next game
, having dismissed Amy Jones (again), Perry was punished for her inconsistency by a ruthless Tammy Beaumont. Across the first two matches she conceded 83 runs in 15 overs (5.53 runs per over) and took four wickets. The fire was there, but little control.
Come Canterbury, however, everything changed.
In Canterbury, Perry bowled like she was possessed by the spirit of Glenn McGrath. Ball after ball she was honing in on off-stump, forcing the batters to play and almost willing each delivery to shape away or dart in at the last second. Spell after spell, Perry came back and hit the same spot— short of a length, on and around off stump. Again. And again. And again.
It was a probing spell. Incredibly accurate, late swing, yet somehow, it seemed normal. The surface appeared quite benign. The ball didn't bounce awkwardly or swing around corners. This was just Perry finding her mojo again. This was just Perry being incredibly methodical and consistent. This was just, to quote a fellow scribe, '
Ellyse Perry
doing Ellyse Perry things'.
She first dismissed Amy Jones, who was caught bunting a length delivery to mid-on. Jones, who came into the series, possibly in the form of her life, only managed scores of 0, 5 and 0. She was comprehensively worked over by Perry through the series.
Beaumont was the next to go, squaring up to a ball that swung very late. She got into a bit of a tangle and was caught right in front of the stumps. Sarah Taylor got the delivery of the day. It was perhaps, the perfect outswinger— forcing the batter to feel for the ball. Taylor was stuck on the crease, her footwork indecisive. She hung her bat out in front of her, more in hope than anything else and watched in horror as the ball kissed the edge of her bat on its way to Healy.
Heather Knight
chased at a slightly wide one, and Danielle Wyatt fell over trying to turn a full delivery on to the leg side.
Within the power play, Perry had helped reduce England to 26 for 6— accounting for five of the wickets herself.
As has been her USP all through her career— Perry continued to attack the stumps and challenge England to play. She got the ball to cut in off the slope, and shaped it away as well. That she kept the batters guessing made her an even more dangerous prospect on the day. Perry was suddenly challenging both the inside and outside edges and England seemed to have no answer.
Australia's tactical superiority to England was visible in the way each bowler attacked the batters. Knight's battle against Schutt in the second ODI and through to the third ODI showed just how far ahead Australia were.
Meg Lanning
set a leg-side dominant field to allow Schutt to attack the stumps, forcing Knight to try and hit against the swing or go over the top if she wanted to break the shackles. She did neither, scoring only nine runs off 27 balls against Schutt through the series.
It was something that reflected in Perry's bowling too— the tactical and game awareness. "We have got some really clear plans on the way we want to start. Ben Sawyer has been absolutely brilliant since he has come in and worked with the group. I have been really lucky to work with him back home in Australia too— he is the head coach of the Sydney Sixers. I think he has really helped develop a lot of our players. It just seems like there's a real clarity in the way Shooter (Schutt) comes out and bowls… Myself… And then you know if Nic (Carey) or DK (Kimmince) or even Tayla (Vlaeminck) are playing, then everyone just sort of knows their role."
When Perry last played in Canterbury she bowled Australia to an all-important Test match victory in 2015, with match figures of 9 for 70, including career-best figures of 6 for 32 in the second innings. Four years later, she posted her career-best ODI bowling figures.
The last time Perry played a Test match, she scored a mammoth 213 not out— the highest Test score by an Australian woman. The way things are going, who's to say she won't better her own record? England will be wary. Who knows how deep those waters run!