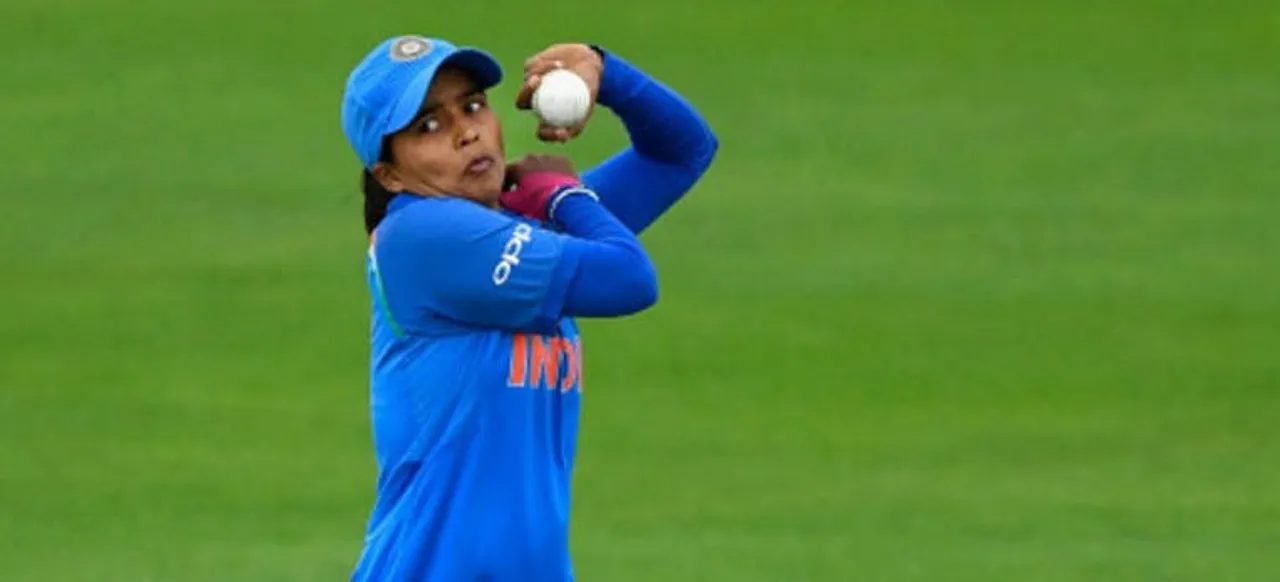 As India sealed their first ODI series win in New Zealand with an emphatic eight-wicket victory in the second ODI in Mount Maunganui on Tuesday (January 29), Ekta Bisht showed just why she is one of the team's canniest operators. Although Smriti Mandhana stole their thunder late in the day with an unbeaten 90 in India's chase, as she rightly admitted, it was the bowlers who set up India's victory— chiefly Bisht and
Jhulan Goswami
.
Bisht is an uncomplicated cricketer. Her run-up is short, her bowling action is simple, there is nothing extravagant or extra special about what she serves up, and yet, the 32-year-old sits fifth on the list of India's highest wicket-takers in ODIs, with 84 scalps in 54 matches at an average of 21.22, strike-rate of 35.1 and economy of 3.62.
During the 2017 World Cup in England, Bisht was India's frontline spinner. Up until then, in ODIs, she was the team's trump card— possibly even ahead of Poonam Yadav— but six matches into India's campaign, she had slid off that perch, and out of the playing XI. India found that Rajeshwari Gayakwad's more orthodox methods worked better, and they were happy to stick with her for a while.
Bisht is not your usual left-arm spinner. She is not someone who generates much turn or bounce. In fact, her round arm action means she undercuts the ball, almost getting it to swing in, and then skid off the surface. She relies on accuracy and change of pace to get her wickets, and for a while, she seemed to have forgotten those methods.
In the period following the World Cup, Bisht found herself in and out of the Indian setup, unsure of not only her place in the XI, but in the squad of 15 as well. Between January 1, 2018 to January 1, 2019, India played 12 ODIs, of which Bisht featured in only six. Her returns during that period, read: 54 overs, 4 maiden, 271 runs and eight wickets, at an average of 33.87 and strike-rate of 40.5. Bisht's economy was 5.01— close to one-and-a-half times her career figure. She was bowling much slower through the air, as if trying to mimic her more successful teammates, and looked to have lost the plot— low on confidence, desperate to make an impression and unsure of what she needed to do to get a longer run.
On the back of a successful 2018-19 domestic season, where she picked up 18 wickets in nine matches, Bisht arrived in New Zealand buoyed by the promise of a fresh start under WV Raman.
She walked straight into India's starting XI and made an impact in the very first ODI in Napier, picking up three wickets in the visitor's resounding win. Like the Bisht of old, she raced through her overs, trying to apply dot ball pressure and stuck to what she knew best — darting the ball in to the batters, drawing them forward and constantly challenging the stumps. It was a very simple plan. She wasn't looking to try anything new.
After Goswami and Shikha Pandey had sent the home team's opening pair of Suzie Bates and Sophie Devine back to the pavilion in the second ODI, Bisht was brought into the attack in the tenth over. Lauren Down and Amy Satterthwaite were at the crease, and looking to build a partnership. Down, the right-hander, had just hit a beautiful cover drive off Goswami and was beginning to look comfortable in the middle.
At the other end, Satterthwaite chose to attack Deepti Sharma. She creamed an elegant drive through cover, and followed it up with a powerful sweep shot. Stationed at point, Bisht watched intently as proceedings unfolded. She needed all the information she could get. The New Zealand skipper looked comfortable sweeping and coming down the track, while Down seemed happier to go on the back foot and nudge the ball through the leg side.
Information stored and processed. Now to execute.
When Bisht came in to bowl in the next over, she started to vary her pace very smartly— flatter and quicker to Satterthwaite, and much slower and wider to Down. Her average speed to the New Zealand skipper through her first spell was 73.1 kmph, and dropped to 69.3 kmph to Down. The aim was to draw the right-hander forward, and force her to reach for the ball. It was a plan that worked almost immediately, when Down slashed at a full, wide delivery (68.5 kmph) and only managed to skew a simple catch to Mandhana at point.
Nine balls later Bisht dismissed Amelia Kerr, with a delivery that skidded on with the arm. Aware of the 18-year-old's proficiency with the cut shot, Bisht floated a delivery (66.3 kmph) in to Kerr's pads. The right-hander awkwardly lunged at it— her bat coming down from the direction of third slip, creating a huge gap between bat and pad— missed it completely, and watched in horror as the ball crashed into her stumps. It looked like a very simple piece of bowling, but there was so much thought behind it— bring her forward and keep the stumps in play.
Both wickets — taken in completely different ways— were testament to Bisht's bowling smarts. One batter being forced to play away from her body, and the other having to protect her stumps. This was Bisht at her very best— always one step ahead of the batters, and forcing them to do what they were most uncomfortable doing.
On Tuesday, the left-arm-spinner proved why she is still a vital cog in the Indian bowling attack. Not only is she deadly accurate, but also an incredibly intelligent bowler who more often than not ties the opposition batters down, and allows the rest of the attack to bowl around her. She may have come into the series with her place in doubt, but for now, it seems Bisht has exorcised her demons, and forced her way back as one of India's trump cards. /codes_iframe