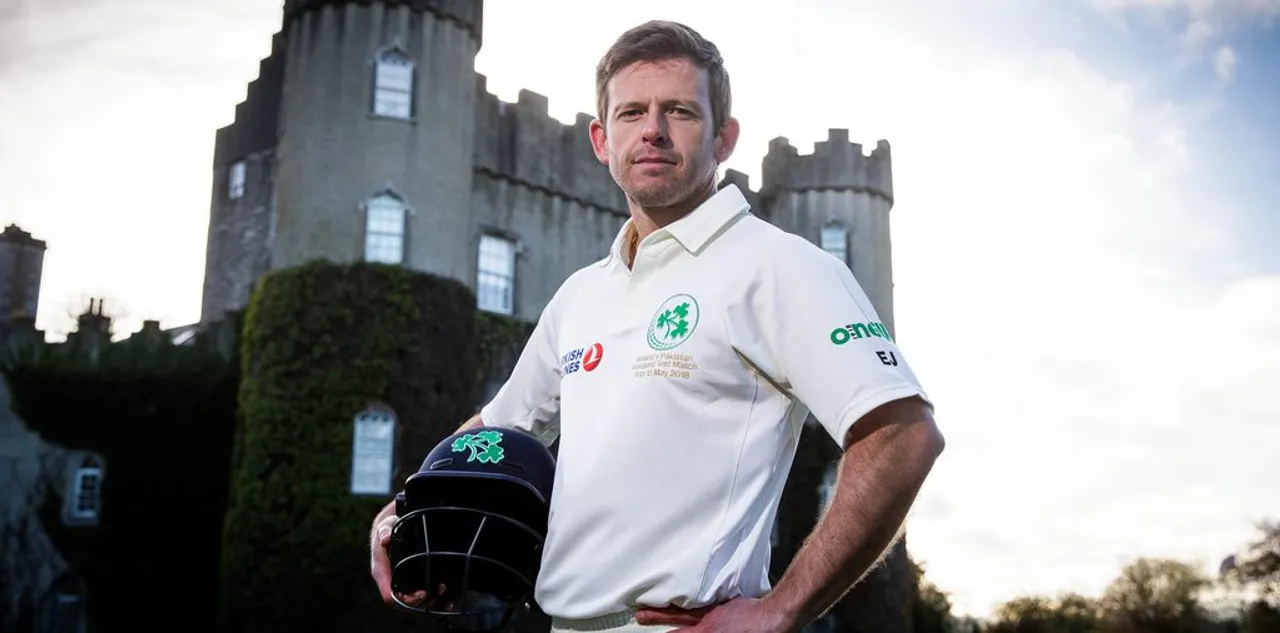 Cricket Ireland has announced that Irish cricket legend Ed Joyce has been appointed as the interim Head Coach of Ireland through to the ICC Women's T20 World Cup Qualifier in August/September.

He will replace the current Head Coach Aaron Hamilton, who is set to leave his role and return home to his native Australia after four years leading the national side through a period of growth and transition.

Hamilton's tenure saw the Irish team successfully qualify for two ICC Women's T20 World Cups, winning the 2016 Qualifier in an exciting last-ball encounter in Thailand. He also took over responsibility for the women's Academy, when the function was split out to form a separate men's and women's Academy.

He said: "I relocated here from Australia in 2015 to take on what was going to be a major challenge, but after 17 years working in different sporting and cricket environments, I saw the role as a chance to push both myself and Irish cricket forward. It was obvious that the sport was entering a new phase, particularly with the start of the Toyota Super 3s in 2015 and the Academy only being a couple of years old."

"It has been a highly enjoyable time and a great squad of players to work with. While qualifying for two T20 world cups were definitely highlights, what has been just as satisfying has been to watch the emergence of some great young talent, as well as the recent introduction of first-ever part-time professional contracts for six of our players. These alone allow me to exit the role satisfied that I have left the squad with an exciting platform to build on."

"My thanks to Cricket Ireland for the opportunity it gave me, and to a talented and eager group of players that will no doubt grow further and compete with the best in years to come."

"There is no shying away from the fact that Irish women's cricket is a few years behind the major sides in development, but there is no reason that - with the right support and investment - the Ireland Women's cricket team can't become a competitive force in the sport."

Hamilton met with Cricket Ireland officials to discuss outcomes from a post-World Cup review last week and both sides mutually agreed to end to the Head Coach's contract early.

Warren Deutrom, Chief Executive of Cricket Ireland, said, "We would like to thank Aaron for his work and commitment to the role over the last four years. His time in the role has straddled a period of growth and transition for the sport and Aaron has overseen his duties always with an eye to what was important for the long-term success of the squad."

"We wish him and his family well as they return home, and he can be proud in the knowledge that he has made an important contribution to the growth of the sport in Ireland."

Richard Holdsworth, Performance Director for Cricket Ireland, said, "Aaron was recruited as our first full-time head coach for the women's international squad and has been a key component of Cricket Ireland's move to raise the profile, standards and competitiveness of the Ireland Women's team over the last four years. The role has been a challenging one, and Aaron has committed wholeheartedly to achieve what was required of him. His unflappable nature and commitment to developing young talent has been a key feature of this time in the role."

"He has gained many admirers within Irish cricket over his time, and two world cup appearances during his time are a legacy he can be pleased to take away from his time. We wish him well for his next step."

Ed Joyce, 40, has been involved in the international coaching set-up with the Irish men's, women's and performance pathway teams since he announced his international retirement in May 2018. He will take charge of his duties with the squad at the Cricket Ireland High Performance Centre in Dublin.

After qualifying to play for England, Joyce was a member of the squad in the 2006–07 Ashes series and 2007 World Cup. Since dropping down the pecking order for selection with England, Joyce got special dispensation from the International Cricket Council (ICC) to play for Ireland in the 2011 World Cup.

He was one of the eleven cricketers to play in Ireland's first ever Test match, against Pakistan. At 39 years and 231 days he became the oldest Test debutant this century. He holds a unique distinction of facing the first delivery and scored the first run for Ireland in Test cricket. He also became the first batsman to be dismissed for Ireland. On 24 May 2018, he announced his retirement from all professional cricket.

Joyce said, "I'm excited by the talent and potential of this young squad - there were some extremely encouraging performances from several players during the West Indies series and this bodes well leading into potentially more important games later in the summer."

"It's a great opportunity for me to further my journey in coaching, albeit on an interim basis until the end of the T20 World Cup qualifier. I have been coaching some of the top order batters on a 1-on-1 basis, as well as joining squad sessions in the lead-up to the West Indies series that just finished. On a personal note, I enjoyed working with Aaron during the last few months and wish him and his family well with the next step."

"The initial period for me now is getting to know the further squad and helping the team prepare for a tough six-match series against Zimbabwe in July. This series, combined with the quadrangular series in August, is ideal preparation leading into the T20 Qualifier which is undoubtedly our biggest and most important test this summer."

Richard Holdsworth said, "Ed needs no introduction to Irish fans, and he has been working hard behind-the-scenes on coaching within the Cricket Ireland senior structure since May last year. When the need for an interim Head Coach arose, it was great to have such a world-class cricketer and budding international coach available to call upon, and we had no hesitation in approaching him about the opportunity."

"2019 has been a big year for women's cricket in Ireland, with some key fixtures ahead that culminate in the T20 World Cup Qualifier. It was crucial for our team's success that we acted quickly on this interim appointment to ensure the new Head Coach had as much time to work with the squad as possible."

In July, Ireland will host Zimbabwe for 3-match One Day series and 3-match T20I series.