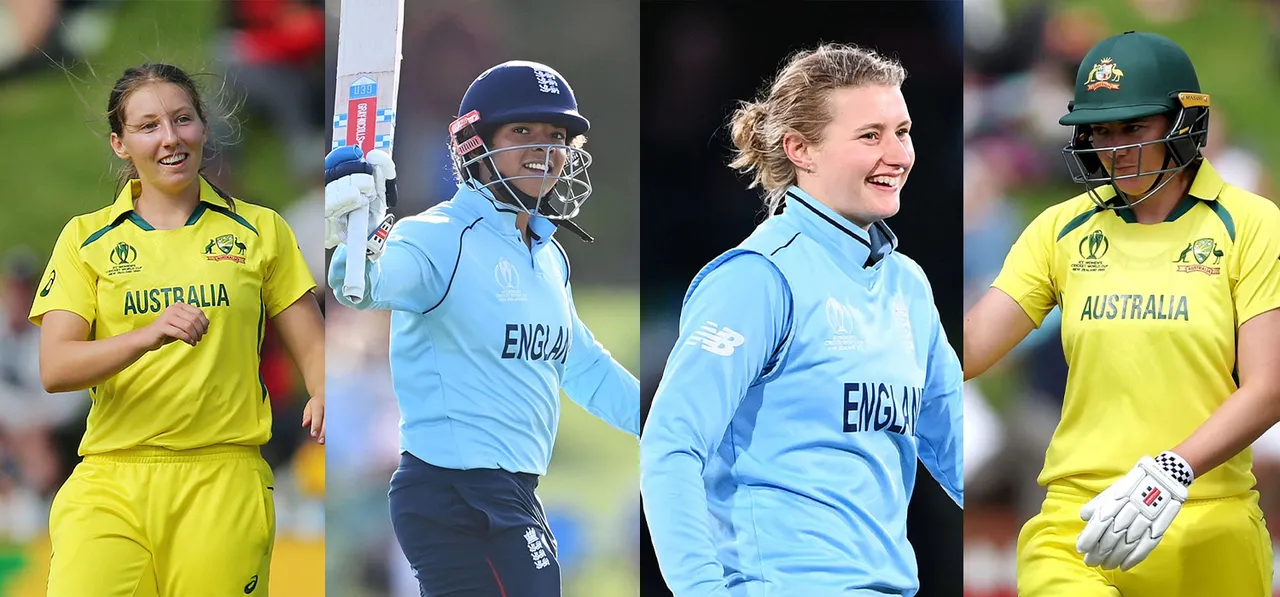 No matter who lifts the ICC Women's World Cup trophy at the Hagley Oval in Christchurch on Sunday (April 3), Charlotte Edwards will be one proud coach. The former England captain will take pride in knowing that four of her pupils,
Tahlia McGrath, Darcie Brown, Charlie Dean, and Sophia Dunkley - all of whom are playing in their first ODI World Cup -
have already stamped their authority on the global event.
"I think watching them is quite hard if I am being honest. Especially from quite a number of miles away," Edwards told Women's CricZone ahead of the World Cup final. "It's going to be tough for me actually, on Saturday. I've got some really good friends on the Australian side, and obviously, got some really good friends and people who I know well in the England team."
Since her retirement in 2017, Edwards has been involved as a coach at the domestic level in both England and Australia.
She is currently the head coach of Southern Vipers in the regional structure for England, home to off-spinner Dean. Within The Hundred competition, at the helm of Southern Brave, she (Edwards) has worked closely with Dunkley. And over in Australia, she has been associated with the Adelaide Strikers as an assistant coach since 2017 in the Women's Big Bash League (WBBL) where she closely monitored the rise of McGrath and Brown.
The rise of reliable Charlie Dean
Charlie Dean didn't feature in England's playing XI for the first two matches of the World Cup. She made her tournament debut against South Africa and kept England's hopes alive with a four-wicket haul in the do or -die match against India at the Bay Oval in Tauranga. Heading into the final, the off-spinner has taken 11 wickets in five matches.
"I met her when she was a 10-year-old girl, and I've been with her for that time," Edwards recalls. "The most pleasing thing for me is the transition she's made from playing domestic cricket into international cricket. She was ready to play from day one and that's a credit to Charlie really because she has worked hard. She's putting her performances and has earned the right to play for England.
ALSO READ: Charlie Dean's stocks are rising fast and her best is yet to come
"I think that's also a testament to the system she's in now. The money that's been invested in our domestic structure. She has played more meaningful cricket, she's had experiences of high-pressure situations," Edwards added.
That experience came in handy for Dean when she found herself in the middle of a batting collapse against New Zealand. England were one wicket away from being knocked out of the tournament. Dean kept her cool to give the strike to the experienced Anya Shrubsole who hit the winning runs to keep England's knockout hopes alive.
"I actually texted her (after the New Zealand match). I said how were you feeling?" Edwards tells. "She said I was surprisingly not that nervous because everything happened so quickly. One minute she was sitting there thinking they were going to win by five wickets and the next minute she was out in the middle. I think. she is embracing it all. When you tend to have that outlook on things, I guess those pressure situations are slightly easier, I think."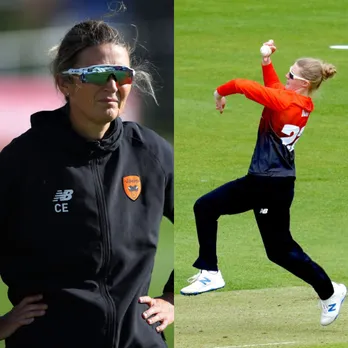 "I met her when she was a 10-year-old girl." Charlotte Edwards on Charlie Dean © Getty Images
The dominance of Sophia Dunkley
Sophia Dunkley reinvented herself in the domestic setup after being dropped from England's T20I side for the T20 World Cup in Australia in 2020. An impressive outing in the multi-format series against India and dominant performance in the inaugural season of The Hundred solidified her position for England. She was the highest run-scorer for Southern Brave in The Hundred with 244 runs across nine matches at an average of 40.66 and a strike rate of 141.
"She's just a great individual. I think you can love being around someone like Sophia Dunkley," Edwards' eyes light up as she talks about England's second-highest run-scorer in the World Cup.. "I've known her since she was a young leg-spinning all-rounder. She was one of my first signings for The Hundred. I wanted to get her involved and work closely with her. Now she has matured and she is a breath of fresh air."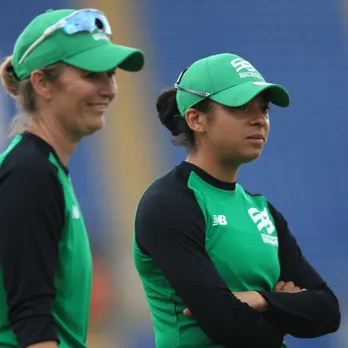 "She just wants to play the game in an aggressive and fearless manner." Charlotte Edwards on Sophia Dunkley © Getty Images
Dunkley has cemented her position at No.6 in England's batting line-up. Her 60 off 72 balls against South Africa in the semi-final was an example of her maturity and understanding of her role. Facing the likes of Shabnim Ismail, Marizanne Kapp, and Ayabonga Khaka, Dunkley took calculated risks to keep the scoreboard ticking. Her measured but aggressive knock helped take pressure off Danielle Wyatt. 
"She just wants to play the game in such an aggressive and fearless manner which rubs off on everyone else. She is always taking the game forward no matter what the situation is, and I think that's what you need in a number six." Edwards highlights. 
"I think she's matured massively in the last two to three years. Even within the last six months, what you have seen with the Ashes and the other day against South Africa, shows she's growing, she's only 23 and she is learning lots about her game. She has got that real sort of desire to want to, get better, which is so important as a top international player." 
ALSO READ: Fifty on debut is a special moment she will savour for a long time says Sophia Dunkley
Darcie Brown's simple world
17-year-old Darcie Brown took the world by storm in her first outing for the Adelaide Strikers in the sixth season of the WBBL. She took three for 13 on debut against the Hobart Hurricanes and has never looked back since then. In her short career of nine ODIs, Brown already has two four-wicket hauls, one each against India and England. 
"I remember someone taking me to see her bowl, and they said she's quick for her age. She had glasses on at the time, so she was quite recognizable," Edwards recalled.
"I am not surprised that she has provided some brilliant spells throughout this World Cup. When she pitches the ball up and lets it swing, you know, there are not many better opening bowlers in the World Cup. I think, Darcie,  whether she is playing for Adelaide Strikers, for Australia, or a club team, she plays cricket in exactly the same way and she's so laid back and just loves bowling."
ALSO READ: Darcie Brown: Not just another tearaway fast bowler
Australia took a bold decision to drop their top-ranked bowler, Jess Jonassen, against New Zealand in the group stage match. Brown got the opportunity to open the bowling alongside Ellyse Perry and she justified her selection by breaking the back of the White Ferns' run chase with the wickets of Amelia Kerr, Suzie Bates, and Frances Mackay in her first spell. She backed up that performance with another three-wicket haul, dismantling India's top-order at Eden Park. 
"When she first got picked last year (for Australia), I could see why they picked her. She was very raw back then, but what she has done in the last 12 months is, I guess, just matured as a cricketer. I'm not surprised how she's taken to international cricket because she has such a laid-back approach to her cricket and she just loves bowling quick. Also, there's such a genuine sort of naivety around her that, you can't help wanting to be around that girl."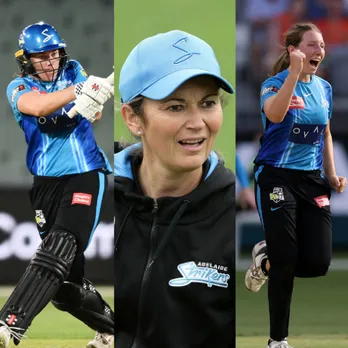 Charlotte Edwards has witnessed the rise of Tahlia McGrath and Darcie Brown up close © Getty Images
The reinvention of  Tahlia McGrath
Since making her comeback for Australia in October 2020, Tahlia McGrath has been one of the most vital contributors to the team's dominance across formats. Edwards believes the team management always knew what McGrath was capable of and now she has found that confidence to own her responsibility at the international level. 
"Australia knew how much potential she has. What she has done in the last 12 months is just made that shift to what everyone thought she could do, (becoming) a permanent fixture within this Australian team."
"She is an outstanding human being and she is one of my favorite cricketers. I've known her since she was 16 and I have watched her develop as a cricketer. To be Player of the Series against India and then to back that up with the performance in the Ashes was incredible. But, she hasn't changed, she's still TMac and, you know what, she is turning into a really strong leader as well."
In the absence of New Zealand superstar Suzie Bates, McGrath led the Adelaide Strikers to the final of the seventh season of WBBL. Even after some disappointing results halfway through the tournament, the McGrath-led side found their way to the knock-out stage.
"She just kept quite a level head throughout that period. She stood up (for her team) and that was the most pleasing thing for me. She seeks advice and asks for feedback. I just said to her at the start, if you ever want to speak to me, I'm always here and I'm always available to you and she did that. I think we lost two, (Melbourne) Renegades at Perth, and we talked through the situation, and she handled it maturely and calmly."
ALSO READ: Tahlia McGrath's three acts
***
Charlotte Edwards will proudly cheer all of her pupils in the final, but her allegiances lie firmly with England. "That's how it should be. The Aussies do well, but we win."
Will Dean and Dunkley get their glory moment away from home? Or will Brown and McGrath help Australia lift the trophy? Only time will tell.