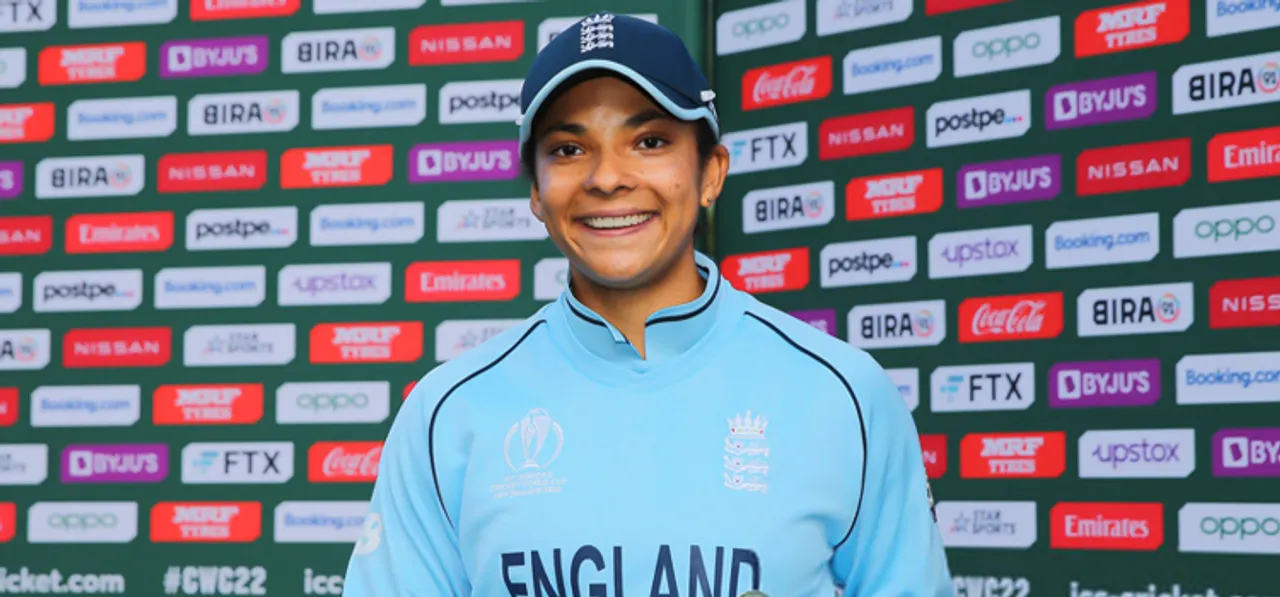 Sophia Dunkley made her debut as a 20-year-old during the T20 World Cup 2018 and there wasn't much to make of her first few outings. In a campaign that saw England finish as the runners-up, she got to bat twice in two losing causes. In her first innings as a batter, she top-scored against West Indies as they went down by four wickets and Dunkley was castled by fellow leg spinner Georgia Wareham for a golden duck in the final.
While she had been around the T20I side without getting too many opportunities to do anything remarkable, it was her second coming of sorts that made the world take notice of her when she made her
debut
in Tests and ODIs during India's tour of England in June last year.
On June 16, 2021, 22-year-old Sophia Ivy Rose Dunkley made history when she became the first black woman to play Test cricket for England as she took the field on the first day of the one-off Test in Bristol.
Slotted in at six, Dunkley came in to bat during the fag end of the opening day and stayed not out
overnight
.
It was the
second day
that catapulted Dunkely into the larger cricketing conscience; she maneuvered a tricky phase to take England from 270 for six to 396 for nine (declared) and remained unbeaten on 74.
Sophia Dunkley made history on her Test debut © Getty Images
"That was a great moment for me, I think. You don't really think too much about it at the time. It's kind of afterwards it sunk in because (you were) refocusing in the game. But yeah, it was great to be part of history and hopefully, it spurred on a few more girls and boys to get into cricket, who knows? But even if it was maybe one or two, that would have been great. I think (that was a) special day for sure," Dunkley, who is currently in Dubai participating in the FairBreak Invitational T20 tournament, told
Women's CricZone.

From there, the batting allrounder kept scaling new heights, getting plaudits from teammates and the opposition members alike. In what was termed 'The Summer of Sophia', Dunkley was in her elements in ODIs as well. In her first innings in the format, she played a
match-winning
knock to help England win the ODI leg of the multi-format series.
ALSO READ: I always knew deep down that I wanted to play cricket because I love it for what it is: Natasha Farrant
It wasn't all a bed of roses for the youngster from Surrey. Dunkley was part of a tough Ashes series Down Under, where England went down
12-4
against their arch-rivals Australia. Then she was also part of England's World Cup 2022 campaign, where they got off to a terrible start.
Even during these tough periods, Dunkley played with that trademark smile of hers and gave a good account of herself when she helped her side almost pull off an improbable win in the
Canberra Test
. She also played an important part in England's remarkable turnaround as the defending champions from 2017 made it to the final of the World Cup for an eventual
runners-up
finish.
In her chat with this portal, Dunkley talked about her experience at the FairBreak Invitational tournament, how she spent time when she was out of the England side, her historical Test debut, England's World Cup campaign, and much more.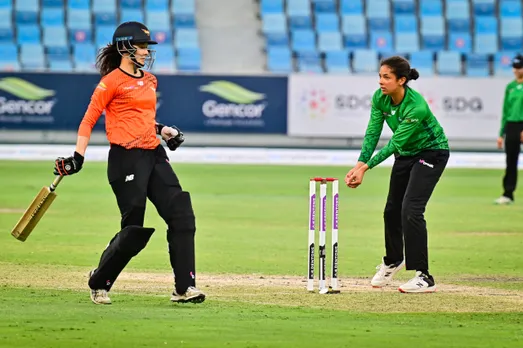 Sophia Dunkley in action during FairBreak © FairBreak Global
Excerpts:Q: How do you see the advent of FairBreak Invitational T20 tournament and the opportunities it provides?
I think FairBreak is obviously great because it is a mixture of the full member countries and associate countries coming together and playing. So it's really giving the associate countries a real good taste of what franchise cricket is like and probably a little level higher of what that kind of standard is like. But it's also great for full member countries to take some leadership roles and play games.
And I think at the end of the day, it's just great to meet some, some really good people and expand my knowledge of cricket as well.  I think it really helps everyone and gives everyone a great opportunity to have a good tournament as well.
Q: How different is it playing with other prominent international players and upcoming associate players?
It's not too different. I think coming from different countries, everyone has got different ways that they play and different views on tactics. So it's just a case of combining that all together and creating a new vision for our little team that we've got. It's just making sure we listen to everyone and take everyone's opinions on board and making sure that everyone has a say in their ideas and their fields and everything.  I think we've so far we've done quite well and making that quite simple for everyone.
Q: What do you think of franchise cricket and the growth of it with WBBL, The Hundred, and potential WCPL, WIPL, and WPSL along with FairBreak? What do you think of these leagues that are coming up all over the globe?
The Hundred was a great example of how successful it can be and that's the biggest franchise I've ever played in. And (to) see the crowds and everything on TV, all the media around, it was amazing. I think it's really pivotal to grow the game and get it out there to a lot of other people and get it on TVs (so that) people can watch it as well at home. So yeah, I think it's a very positive thing and it's going to give a lot of girls a lot of opportunity to play around the world and showcase themselves. I'm really excited to see how the next few years go.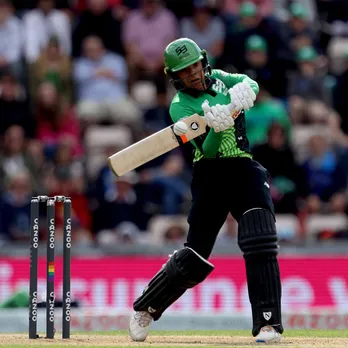 Sophia Dunkley in The Hundred © Getty Images
Q: There are talks of Women's IPL coming to fruition next year. How do you see it and do you want to play for any particular side?

I think the Women's IPL would be incredible. I think the men's tournament is kind of iconic in cricket, so to have a kind of replica of the women's game would be unbelievable. Yeah. I'd love to play in the IPL one day. I think, yeah, it's an incredible competition. So yeah, it'd be great to play.
I really like Mumbai Indians in the men's side. They are one of my favourites. But all of them seem like great teams and with some great players. So yeah, we'll have to see.
Q: You made your T20I debut in the 2018 T20 World Cup, how was that experience like?
That was a great experience. It was a really good tournament to be involved in, and West Indies created a great atmosphere at the grounds. It was very noisy, very loud and yes, to play my first England game was almost a dream come true. So it was a very special day. And what I will remember for the rest of my life.
Q:  Then you were out of the team for a while. What was that feeling like? And you performed well in the Women's Cricket Super League (WCSL) to stay in contention for the England cap. So how was that period like?
It was very hard to not be in the team. It was hard to take and it just made me kind of go away and try and work as hard as I can to get things right, to get back in the team. And I think kind of after a year and a half period, I had more of an attitude of just going out there with no fear. I think which really helped me get a better perspective and help me to perform better. So yeah, I think that was really pivotal to get me back into the team.
Q: That was also the period when England announced domestic professional cricket contracts. How did that change your cricketing career?
I think that was a great step in cricket. I think it really showed that if you weren't playing for England or you weren't in the England set up, there's still a good career option for you and there's still a great opportunity. It was a really positive thing and it gave you kind of a fresh outlook on everything and made you feel good and valued. It was a really great step and it was a great environment to help me push back and get into the England team.
Q: You had a great time with South East Stars and that also helped you get back in contention for the England cap. So how much work went into it during that period?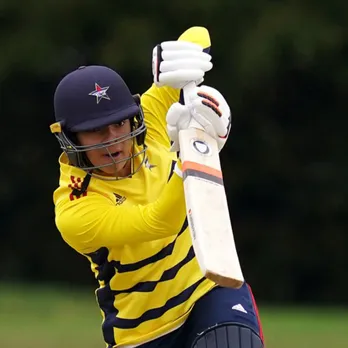 Sophia Dunkley plays for South East Stars © Getty Images
I think a lot of work went in there. And I think that the best way to get back into a team is to get a lot of runs. I think that was really on my mind. Thinking about trying to win each game for the Stars really helped me and not thinking too far ahead, but just thinking how can I win each game. Just having that kind of mindset was great for me and yeah, it really helped me to push on.
Q: When you took the field against India during the Bristol Test, you became the first black woman to play Test cricket for England. So how was that whole moment?
That was a great moment for me, I think. You don't really think too much about it at the time. It's kind of afterwards it sunk in because (you were) refocusing in the game. But yeah, it was great to be part of history and hopefully it spurred on a few more girls and boys to get into cricket, who knows? But even if it was maybe one or two, that would have been great. I think (that was a) special day for sure.
Q: Ebony Rainford-Brent talked about the racism in cricket and she has been vocal about it and has been part of campaigns. So what has your experience has been like with racism in cricket?
I've not really experienced anything in cricket. So I've been incredibly lucky that I've had some really inclusive teams that I've been a part of and I've loved playing. For me it's been a very positive experience and yeah, very lucky to have some really great teammates around me.
Q: You had great success during your Test debut as well as the ODI debut, how was that feeling like and what do you attribute it to?
I think Test matches don't come around very often for women. It was a very special occasion to be a part of and the fact that it's so rare as well. It was one of the most special days of my career and hopefully there are more Test matches to get involved in as well.
Q: Following upon the Test match question, you had a great Test against Australia in Canberra where you almost pulled off a win with Natalie Sciver. Can you talk through that game?
It was a good day. It was always going to be hard to chase down that score, but I think we got off to a great start with the bat on day four and then everyone that went in, tried to go in and carry on that momentum. And obviously, towards the end they built a bit of pressure on us and we've not really been in that situation ever before. It was very unique. So I think it's just something you can't really practice for. You kind of got to be in the moment for that.
But yeah, when I finished, I think it was really hard to watch (from) the sidelines, but you know, we came away with draw, which was at one point looking like we weren't even going to get that. So I think it was a great fight from everyone. And yes, we could have got the win, but I think it is more about showcasing the game. And that Women's Test matches are great fun.
Q: Your team had a tough Ashes campaign as well as a bad start to the World Cup. So how was the team morale at that moment?
Team morale was it was just got to be positive and keep backing everyone. You had a long, long time away from home. As soon as we (were) down or (had) our heads down, it was going to take a lot to get out of that. We just kept being positive, kept backing each other and looking after each other and looked at it from that perspective.
Q: Then you guys turned it around and had a great campaign in the World Cup, reaching the final once again. So how was the turnaround and how can you describe the whole campaign?
We started off (with) not our best cricket and then it took us a while to get into it. But I think once we were there, we kind of started peaking a little bit at the right time and everyone was starting to contribute towards the end. So you went into the semi-final feeling very confident and we knew getting to the final, anything could happen there.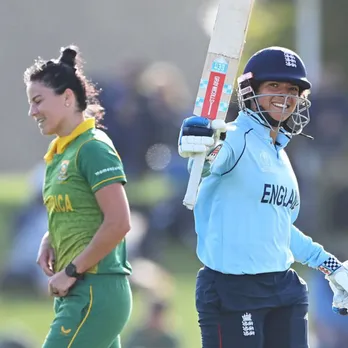 Sophia Dunkley during her knock in World Cup 2022 semi final © Getty Images
So give it your best go was all we could do. That was it really; we just started off not playing our best cricket but managed to find something in there to turn it around, which was great.
Q: There is a hectic cricket season coming up with Commonwealth Games, The Hundred and with the T20 World Cup early next year. So how are you looking forward to the whole season?
I think it would be great. It's always good to be busy with cricket and really enjoy myself playing with the girls and playing around the world. The Hundred is great. I can't wait to go back and play for
Brave again. And yeah, hopefully the Commonwealth Games, it will be something very special and exciting, very new for us.

It's going to be a good summer. It's filled with lots of cricket, so I'm sure there'll be a lot of special memories and performances for everyone along the way.