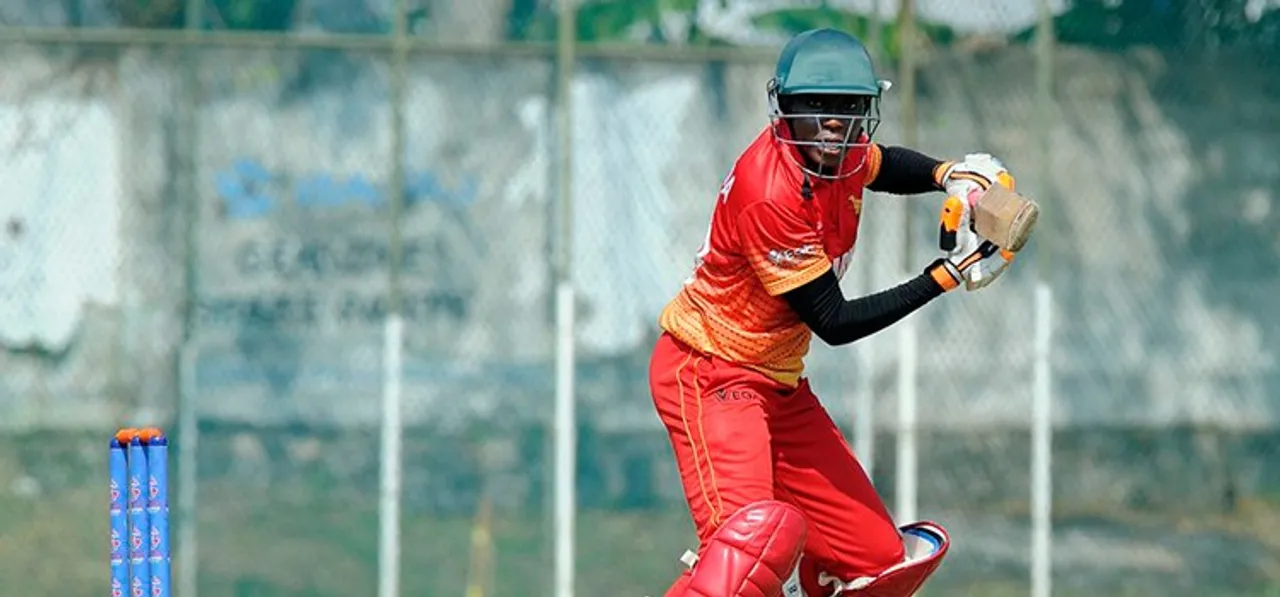 In September 2017, Zimbabwe faced Uganda in the final of the ICC Women's World Twenty20 Africa region qualifiers in Namibia. If past results were anything to go by, Zimbabwe should have won at a canter. After all, they had players with a superior skill-set, a larger group of experienced players, and historically, had more of a 'cricket culture'. In the Africa qualifiers, they were the heavyweights.
However, what proceeded that day at Affies Park in Windhoek was nothing short of remarkable. Despite a fighting 42 from Chipo Mugeri, Gertrude Candiru's wonderful spell of 3 for 14 in four overs kept Zimbabwe to a score of 99 for 7, before Candiru's unbeaten run-a-ball 23 took Uganda home with three balls to spare… For the first time since the tournament's inception, Zimbabwe failed to make it to the Global Qualifiers— it was a blow straight to the heart.
Although Mary-Anne Musonda, one of Zimbabwe's most promising batters and currently the team's captain, was not on that tour, she believes it was somewhat of a turning point for the team.
"I think as a team when you get used to winning you get a little complacent— which is what I think happened when we lost to Uganda in the final," Musonda told
Women's CricZone.
"Looking back, I think that loss was a bit of a wake-up call. Maybe we needed it in some way."
Following that heartbreak, Musonda says Zimbabwe went through a period of positive change— some forced, some organic. Most important was the "redefining" of their team culture.
"We really came back as a team and regrouped. To come back and say you know, we lost against a team that we always win against, why did this happen? We figured that actually we had become so used to beating them, that we were not going through the processes, people were also not taking up their roles."
Instead the players learnt to start focusing on smaller goals and understanding their roles. While individual roles became more refined, the team began to see every match they played as taking them one step closer to their dream of playing in a World Cup.
"The best thing about this squad is that people work as a team. Before it was a little bit difficult to do so because we had not redefined our team culture, but I think (after 2018) we had to sit down and actively talk about what we need to do to become one, to always be on the same page, and to focus all our energy on one thing."
Working together was something that became an essential part of Zimbabwe's new culture. They understood the need for the entire team to be pulling in the same direction if they wished to reach greater heights.
"Obviously issues will come but the best way to then resolve them is to understand each other, how the different personalities of people on the squad actually contribute to what we are trying to do at the end of the day," Musonda explained. "So, people have then tried to compromise. People have had to adjust their personalities just to accommodate everyone and accommodate what the team is trying to achieve."
The change in attitude and approach reflected almost immediately in their performances on the field. Soon after the ICC's decision to grant international status to all matches played between member nations, Zimbabwe found themselves suddenly ranked 11, having won all their games.
Their record since July 2018 reads: 14 matches, and 14 wins. They are the only undefeated team in that period that have played more than 10 matches.
18 months ago, having lost to Uganda, Zimbabwe had hit rock bottom. They have since played themselves into a position of ultimate strength.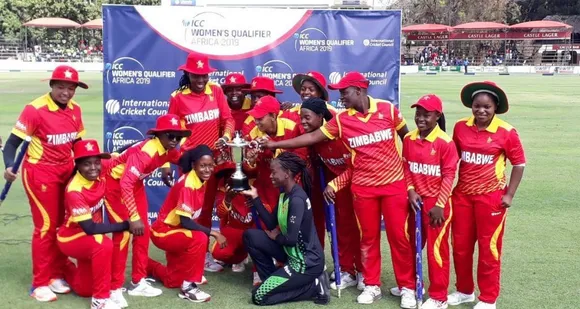 Zimbabwe celebrate after winning the Africa region qualifier at home. © ICC
Musonda's growth and rise to captaincy
Having taken to the game almost by accident when she was 'discovered' by her school cricket coach whilst playing hockey, Musonda quickly graduated to the Zimbabwe senior team within the span of two years. She was only 15-years-old.
In 2006, as part of the national team, Musonda travelled to Kenya where Zimbabwe played their first ever international match. Although she didn't get a game, she thoroughly enjoyed the experience of being part of a team that won the tournament.
Soon after their return from Kenya, Musonda decided to focus on academics. Between 2006 and 2011, although she still played cricket, the right-hander was not an active part of the Zimbabwe squad, instead going to college and then finally pursuing a Master's degree in South Africa.
Having been a consistent member of the side since her 'return' in 2011, Musonda has become one of the leading batters in her team— her technique is solid, her footwork immaculate, and her cover drives good enough to challenge the best. She is the batting rock around which Zimbabwe revolves. Thus, her resultant rise to captaincy seemed like a natural accession.
Musonda took to this role like a fish to water. School it seemed, had prepared her to be a wonderful leader— someone who saw the bigger picture, chose her words carefully, and understood the need for balance.
"I hadn't been in this position before, I hadn't been a captain before," she said. "I did not expect it. However, I always wanted to have an impact on my team…I always thought my presence has to change things around, and also I should be a part of the senior players— just to be a responsible individual in the team."
Musonda took the reins in December 2018 just ahead of Zimbabwe's tour to Namibia and in her first series as captain in January 2019, she amassed 140 runs in four T20I innings at an average of 70. This included her maiden T20I half-century— a 49-ball 60 with nine punishing boundaries in Zimbabwe's 57-run win in the 3rd T20I against Namibia. Musonda followed up that knock with an unbeaten 45 the next day.
Following that, Zimbabwe faced Kenya and Uganda in the Victoria tri-series in Kampala before heading back home for the regional qualifiers. Much to their delight, they avenged the defeat of 2017, beating Uganda all three times they faced them in the tournament— including the final.
Heading into the 2019 ICC Women's T20 World Cup Global Qualifiers in Scotland in August- September, Zimbabwe had a realistic chance of challenging for a spot in the final two. Their form was good, their spirit was high and for the first time in a long time, they truly believed in their dream…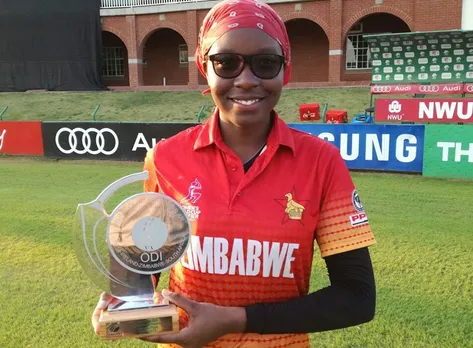 Mary-Anne Musonda poses with a trophy. © NewZimbabwe.com
The weight of dreams come crashing down
A few weeks ago that dream had to be put on hold. ICC's recent decision to suspend Zimbabwe Cricket means their participation in the Global Qualifiers is in jeopardy.
Following elections that were conducted by ZC in June, the Sports and Recreation Commission suspended the newly elected board and appointed an interim committee with immediate effect. It was a decision that resulted in the ICC's clampdown and the resultant
suspension of Zimbabwe
.
The suspension means that representative teams from Zimbabwe are not allowed to participate in any ICC events. In short, Zimbabwe may not be allowed to travel to Scotland.
"I don't dispute that SRC meant well," said Musonda. "However, probably, their rules of engagement could have considered the ICC's constitution. With this, they would have approached the issue in a different way, a way which avoided such a consequence of bringing cricket to a complete halt. In short, cricket must have been preserved, by all means."
Zimbabwe's women's team began feeling the heat of this decision in June this year, when their tour of Ireland and Netherlands
was cancelled
due to "lack of funds". While the men's tour had continued as planned, the women had to stay home and prepare for the Qualifiers.
In mid-July, the women received
more disheartening news
— four of their players, including Musonda, who had been selected as part of ICC's Women's Global Development Squad were not allowed to travel with the team following ZC's ban.
As captain of the side, Musonda has been actively working as the voice piece and sounding board for her team in these turbulent times. Despite the difficulties and what appears to be an almost hopeless situation, she remains positive for her team.
"In the midst of everything, I try to find information about what is happening, what's likely to happen, just to make sure that I am in the loop, just to make sure I am not that anxious… Because, you know, once I don't have enough information, I don't know how to then deal with what will be coming forward."
"That's how I have been dealing with the disappointment. I just try to be positive. I try to talk to people. I try to accept what I can't change and change what I can, and try to get lessons along the way."
"I then have the responsibility to balance between speaking out our concerns and also keeping the team hopeful of what needs to happen and also just being a middle man to our board," she explained. "I have had to learn on the job how to handle everything and make sure that at the end of the day what the team wants is what I am always communicating."
Musonda is aware of the impact ICC's decision is likely to have on the morale of her teammates and other cricketers in Zimbabwe as well. However, she remains hopeful that things will turn around— and it is important that the team is ready when they do.
"Well what I had to do was just try to make the girls see things differently," she said. "There was a book I made the team read, 'Who moved my cheese?'— it's a book I read when I was at University. It just talks about how things can quickly change and how you need to adapt to change. That's the first thing I tried to do— to try and help the girls unpack this thing that had just happened and how they can deal with it, how they can see things differently in their own lives. What the change means in their individual lives and careers…"
"Regardless of what's happening, whenever we are called to do what we need to do, we have to be in a position to deliver. It's difficult, but this is what I have been trying to say to the girls with the help of the manager and the coach."
The potential impact of the ICC's decision— beyond the crushing of dreams and ending of livelihoods— is something that could set the game back several years: players pulling out. If Zimbabwe miss the Qualifiers, Musonda believes the team will lose their launch pad from which they could have "taken off". The game in the country will possibly stagnate.
So desperate are Zimbabwe to play, that Musonda and Hamilton Masakadza, the men's team captain, have written to Kristy Coventry, the country's sports minister, asking the ZC board to be reinstated.
"We implore you to get the SRC to give the game a chance and reinstate the recently-elected ZC board," Musonda wrote. "Police action, anti-corruption action all that can always be done while we are playing and those found on the wrong side can then be arrested. As for now, only one decision needs to be made: reinstatement"
What is in store for the team is still in doubt, but Musonda continues to work towards finding the best possible solution for her team. She continues to hope that things will work out, and is making sure that her team is ready when the opportunity comes. Until then, she will keep fighting. 
The article is also available on SheThePeople.TV is India's biggest digital storytelling for women, dedicated to passionately championing and promoting their journeys.