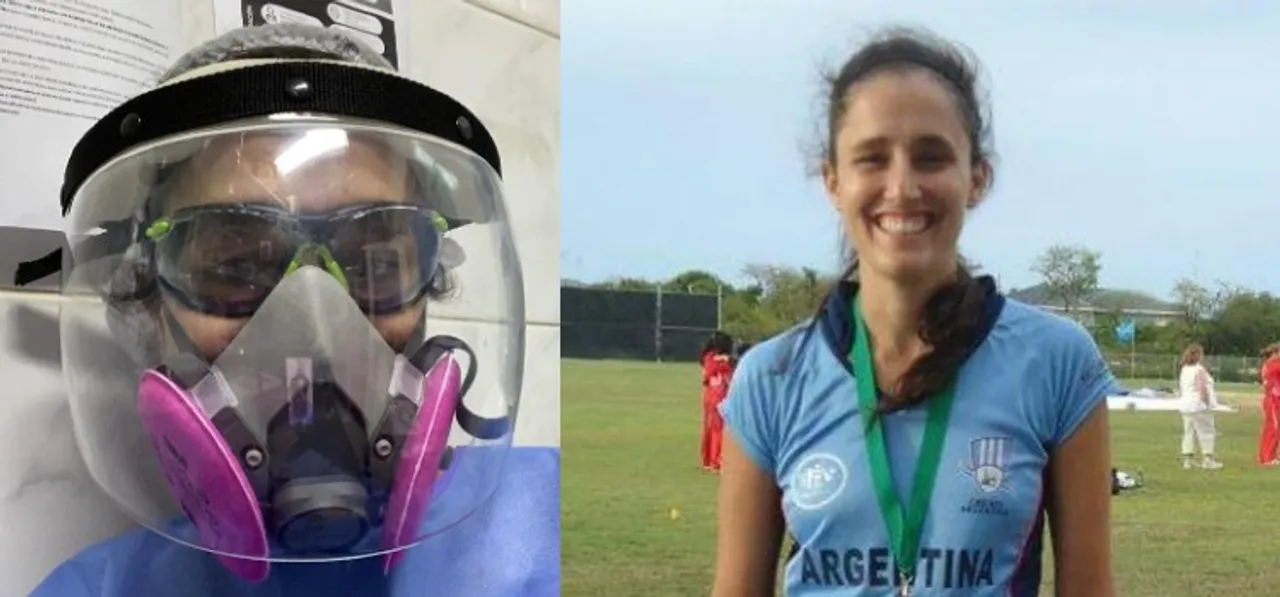 If you happen to be in Fiorito Hospital in Buenos Aires, you would have felt the presence of Veronica Vasquez running through the corridors up and down the stairs, looking after the patients, day in and day out – all with a smile. Vasquez who is not only a doctor, also doubles up as captain of the Argentina national women's cricket team. However, as the COVID-19 pandemic continues creating chaos around the globe, Vasquez has put her title of skipper aside, and is instead using her day job to help those in need.
"The COVID-19 situation in Buenos Aires is very delicate. We are a third world country trying to fight a virus that has caused great damage to great nations," Vasquez, who is an anesthesiologist and deals with COVID-19 patients first hand, tells
Women's CricZone
. She admits that the lack of infrastructure and technology makes things difficult, but adds the "quality and professionalism of the people working in it are excellent" and it helps things run smoothly.
Born in 1995, Vasquez started playing cricket at the age of 10 in school, where cricket was played by males only. She was also part of the first-ever women's cricket team to play in Argentina and South America. Having studied medicine at the Buenos Aires University and later choosing to specialise in anesthesiology, Vasquez now holds down a full-time job while balancing her training and playing commitments with the national team.
ALSO READ: The flight of the Flamingos: Passion and dedication drive Argentina skyward
Of course, being a doctor is much more difficult than leading a group of players on the field, a fact Vasquez states without hesitation. She says, the way the spread of the virus has accelerated has only made things more difficult and quite scary, but wants to be able to help people in any way she can.
"Every day during this job you wake up expecting something different to happen. The job requires lots of concentration and energy to help people who are, perhaps, in the worst moments of their life," says the 25-year-old.
"We have to be very strong to deal with this aspect. We are dealing with life and death, which makes our job, perhaps, one of the most stressful jobs that exists. But when you realise that you have saved a life - that a kid will enjoy more (time) with his parent or that a father will see his kid again - every minute of the stress is forgotten."
The job of an anesthesiologist is incredibly tough. They evaluate, monitor and supervise patient care before, during and after surgery, delivering anesthesia, leading the Anesthesia Care Team and ensuring optimal patient safety. Time is of the essence.
ALSO READ: From quirky pastime to livelihood - Brazilian ladies pave the way
"We need to change this gear between patient to patient and try not to get infected while doing this. Meanwhile, emergencies are still coming and patients need to be attended quickly," she continues.
"So, we try to be as fast as possible. Perhaps without coronavirus, we can do between 8-12 surgeries a day. Nowadays we have the same number of patients, but it takes us to double the time to perform the job. We usually are used to make on-call shifts of 24 hours twice a week in the public hospital in addition to our private practice. Normally, in private practice we can perform between 50 or 60 surgeries a month. Now, as things got slower we are dealing with 30 or 40 surgeries per month."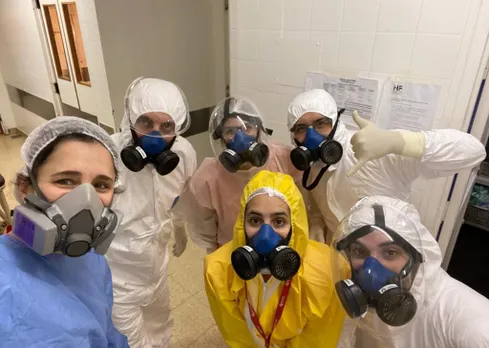 Veronica Vasquez (extreme left) has been working tirelessly on the frontlines to combat the spread of the virus in Argentina. © Special Arrangement
ALSO READ: Cricket in Argentina is an excuse to bring the community together - Veronica Vasquez
"I make my job, as usual, trying to protect myself as much as possible. Sometimes, it's difficult working with all the protective gear, because it's not easy to see with the mask, not easy to breathe, to even go to the toilet or drink water because you need to take everything out to do these simple things and then dress yourself back again. I assure you that when you go to bed at the end of the day you are more tired than usual," she explains.
Dealing directly with the COVID-19 patients comes with great risk, and Vasquez, understandably, fears for her life every time. "Of course we fear getting infected. We decided to become doctors to help people, but we are not soldiers. We do not want to die because of this. Every day we listen to stories of doctors dying doing their job. And that is very scary for us. I guess that being a doctor during a pandemic is not the best thing I imagined when I chose the profession."
A leader in all aspects, Vasquez is an inspiration to many, not just in Argentina but the whole of South America both  on and off the field. Despite the long hours and seemingly endless shifts, she makes sure to get in as much practice as possible - sometimes even after a 24-hour shift.
While she admits the thought of returning to the field helps keep her going, she adds that she chooses not to speak to the patients about cricket. Instead, she tries to divert their attention to positive thoughts and happy memories, and tries to solve their problems and give them a better life.
"
I usually ask them what do they like, what do they do for fun, who are their loving people - all, in order to make them think about these things. At least five minutes of forgetting where they are can change their day," she says.
"Internally I think about my playing days and ask and pray that they can come back soon because that will show me that we've fought and won against this awful thing."
https://open.spotify.com/episode/3wIV5plfHhXuX9kotfATXW?si=juD3rURrS8CwDjsm6gYE0g