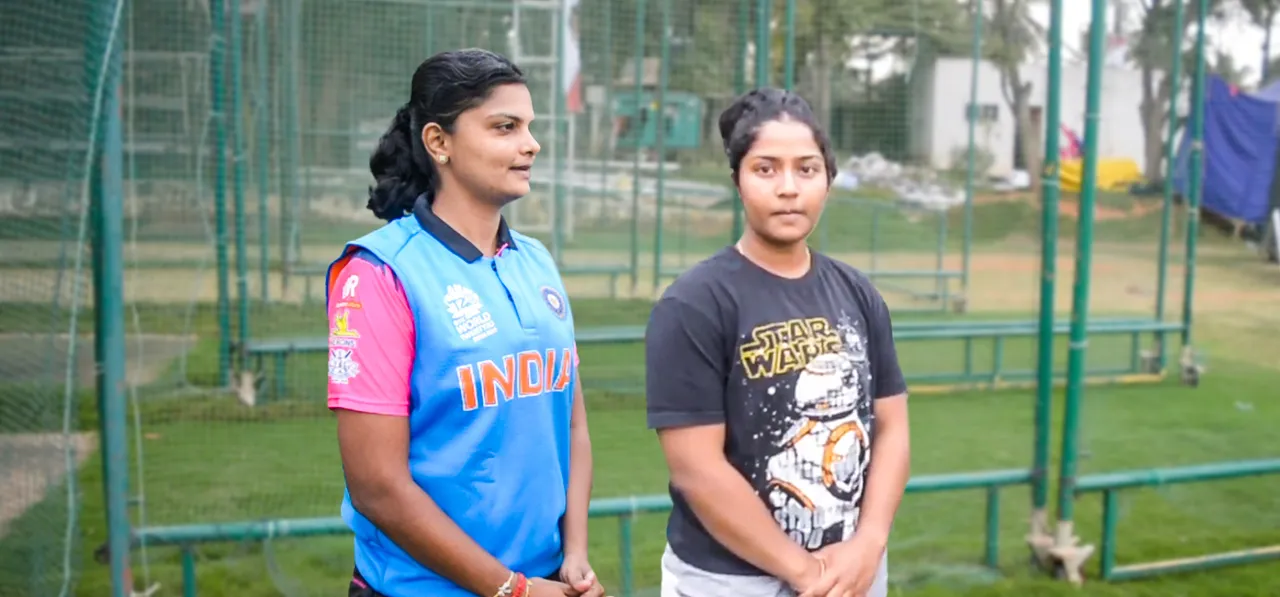 Warmth and Bengaluru do not go together, especially in the month of January. Anyone who went past the Samprasiddhi Sports Estadio or watched the live-stream of the
Falcons Sports Club Golden Jubilee T20 Tournament
would have felt the warmth despite the gloomy climate. It was just the first day of the tournament, and the players expressed how desperately they have been waiting to get back on the field.
Evidently, the Karnataka players looked in better touch having played the two tournaments that were
held earlier
. Among those who grabbed the limelight ton Tuesday (January 5), two players stood out. A young Karnataka player, who has been taking big strides in domestic cricket, and a veteran seamer playing her first match after several months.
The first, who set the stage alight and got the tournament off to a flier, was Divya Gnanananda, captain of Heron Sports. She walked in to open the batting with Shubha Satish, smashed 87 runs from 55 balls and remained not out till the end.
Divya began her innings with a cut shot off Akanksha Kohli to the boundary. In the sixth over, she hit Shreyanka Patil for three boundaries between deep square-leg and deep mid-wicket. Divya was in a zone where everything that happened around her did not matter.
Describing her innings, Divya said that she has been in good form for quite a long time. "My training has been helping a lot to play this kind of format. The strength training I have been doing is immaculate. I think that is what is showing on the field," she told
Women's CricZone
.
ALSO READ: Amid pandemic Karnataka players return to cricket in Sheela Sridhar Rangaswamy Memorial Tournament
One cannot help but agree with her when her last appearance was a match-winning innings for Falcons Sports team in the previous T20 tournament. With the pitch suiting her strokeplay and the ball coming on to the bat, Divya made the most of the conditions.
The other veteran is someone who played their first match after almost nine months. The last game that Niranjana Nagarajan played was on March 8, 2020, against Chhattisgarh in the Senior One Day Tournament 2019-20. She was determined to get back to cricket, and it was visible right from the first ball she bowled.
Bowling with the new ball, Nagarajan dismissed Vanitha VR off the fourth delivery of the first over. She hit the deck hard and made it difficult for the Kini openers to hit her on the rise. When Vanitha tried to do so, she was caught at mid-off. In her next over Nagarajan removed Shishira Gowda, caught at mid-on.
She was setting the stage on fire and unleashing her inner beast, which has been waiting for nine months. The Kini batters were struggling against her like fish out of water. If that is not enough, Niranjana was furious when a caught-behind dismissal did not go her way.
Fielding from deep cover and deep square-leg, her voice of encouragement was the one that kept echoing around throughout the innings. There were screams in Tamil, English, Hindi, and one might have heard a little bit of Kannada too.
"It's been almost 17-18 years I have been playing with these girls. Probably that's why I, kind of, know a little bit of all languages," Nagarajan said after the day's play. She knows enough to cheer her team-mates, she added.
She finished her four overs with two wickets giving away 22 runs. However, that does no justice to her performance. If not for her opening spell, the result could have been very different. When asked about it, Nagarajan focused more on a couple of boundaries that she conceded.
"I was a bit disappointed when I gave those two extra boundaries. Probably, I should have kept it simple. There are days when you get your line and length right. Cricket is all about it. You will want to make the most out of the opportunity. Today was one of those days," Nagarajan said.
It was just the first day; if Divya and Nagarajan are to have more such days at the office during the competition, viewers and those on the outside are in for an exhilarating contest. Not sure about the opponents, though.
https://open.spotify.com/episode/1nuYQNNgJ1GM6FyDdzQoCC