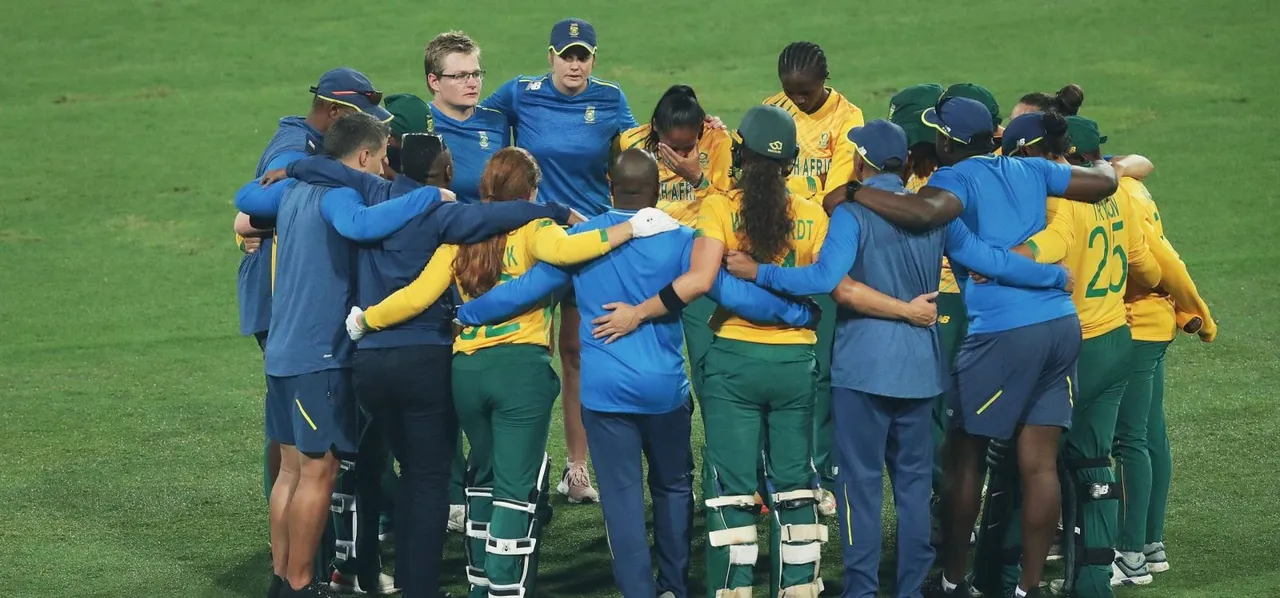 The enduring image of South Africa's 2017 World Cup campaign is of Anya Shrubsole reaching down to a disconsolate Dane van Niekerk after a heart-crushing last-over loss in the semi- final. Van Niekerk was left to carry the weight of defeat once again in 2020, with not just the circumstances of the match proving traumatic, but also the games Sydney's rain seemed to play with her team. It was a nightmare end to a campaign that has started with a fairytale beginning, and one that many had earmarked for greater things. 
When Mignon du Preez smashed a last over six to win South Africa their opening game against England in Perth, it seemed that South Africa's match winners were finally coming into their own. Du Preez celebrated her 100th game with that six, Lizelle Lee smashed a hundred against Thailand, and Laura Wolvaardt played a match-winning hand against Pakistan. Van Niekerk was looking in good touch, Shabnim Ismail was making the tired Aussie pitches look quick, and Marizanne Kapp had taken four wickets against Australia in the warm-up game. The ingredients were there, seasoned in the Australian sun when eight members of their squad played in the WBBL. 
The win over England propped them up to the top of the group, and there they remained, going into the semi-final with the advantage over Australia. As incessant rain ushered India into their first ever final, the prospect of the Proteas joining them, and ensuring a new T20 World Champion, was agonisingly close.
ALSO READ: Old dog, new tricks: 'ton-up' du Preez's six-hitting ways
But the Sydney skies had other plans. At times in the morning, Sydney's downpour resembled Mumbai's. Not as thick and noisy, but more insistent. But then around 6 PM, it eased. Soon it had stopped. The covers were off, and the coin was in the air. By 7:20, South Africa were bowling.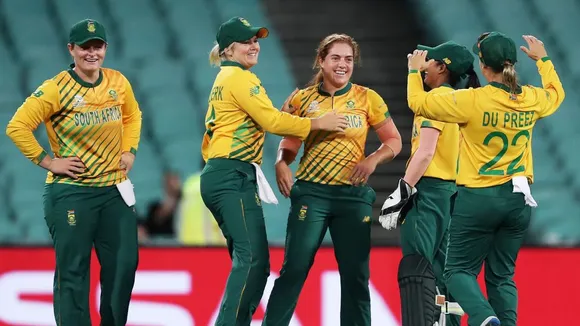 Nadine de Klerk bowled admirably, picking up three wickets. © ICC
Both teams went into the game without their star allrounders. After Ellyse Perry was ruled out, Kapp missed out, not yet recovered from illness. Her replacement, Nadine de Klerk, chipped in admirably with three wickets, the best bowling figures by a South African against Australia. But Meg Lanning, who seems undeniable in T20 knockout games, held Australia together long enough for them to post 134.
Then the rain started toying with South African hearts. After allowing the Aussies to bat their full 20 overs, it appeared again and extended the break. A while longer, they must have thought. "I'm not going to sit here and lie and say you don't think about it, but I have to give credit to the ground staff. They did absolutely everything to keep us on the park. And, again, we are here to play cricket," said van Niekerk in the post-match press conference. Less than 10 minutes of precipitation separated South Africa from their first ever final. But after being insistent all day, the rain finally relented, and play was underway. 
"I'd rather lose than get a free pass into the World Cup Final," said van Niekerk, bravely, after the game. Lose they did; Wolvaardt's attractive burst of 41 off 27 balls notwithstanding. South Africa came within one shot of victory. And almost to mock them, the rain came back in the last over of their innings, and fell for hours after.
ALSO READ: Laura Wolvaardt's transformation into a finisher
"As a team, we came here to play cricket. We did not look at the radars. We did not look at the weather. We felt like, if you want to go to the final, we have to beat the best in the world," insisted van Niekerk.
They fell short, but only if you're short sighted. South Africa women only began playing international cricket in 1997. When asked what made Australia so good, van Niekerk was spot on: experience. Australia had a 20-year head start. As did England, who South Africa put away in the group stages. "Australia have been in so many semi-finals and finals. We are babies compared to them when it comes to experience." Those 'babies' made their second semi-final in three years, their third in their last six.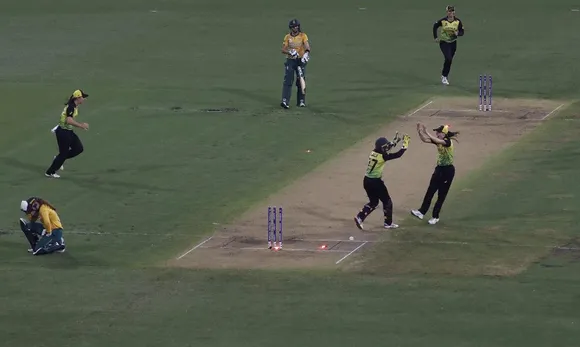 Contrasting emotions: Australia exult after a thrilling win, while South Africa's batters slump in disappointment. © Getty Images
Australia did not feel the absence of Perry as much as South Africa felt the absence of Kapp, another testament to the depth the WBBL has produced for the hosts. Australia have had dedicated sponsors for their women's team, but when South Africa recently toured India last year, they came without a sponsor on their shirts, despite it being a televised and well attended series. They were close to stepping on to an Melbourne Cricket Ground where 60,000 tickets have already been sold, without a sponsor on their sleeves this World Cup.
ALSO READ: Australia's obsession with a left-right combination
But one of the reasons South Africa will continue to be fan favourites is the fresh, openness of their captain and players alike. And they are building a very distinct team culture, based on farsightedness and disregard for the names on the back of shirts. The exclusion of Kapp from the playing XI, is one of those examples. "She was pretty close (to playing)," said the skipper. "As I said, we do not take chances on health. It doesn't matter how important the game is. Hopefully, in the near future, we'll be in the same situation, and she'll be there."
"Everybody probably knows our hashtag, and it's #WeAreMore. So, the culture of this team is we're more than just cricketers. We're wives, we're daughters, we're sisters, we're aunts. Kapp is my wife. So I'm definitely not going to jeopardize her health. I think that sums it up. It's a game of cricket. For your health, I don't think it's worth it."
With perspective like that at the helm, it is not surprising that South Africa came close to toppling Australia despite the obvious mismatches in the support systems for player in the two countries. On the T20I front, they are in perhaps their best health ever, and can once again lay claim to the next title. One that will be played for in their country in 2022.