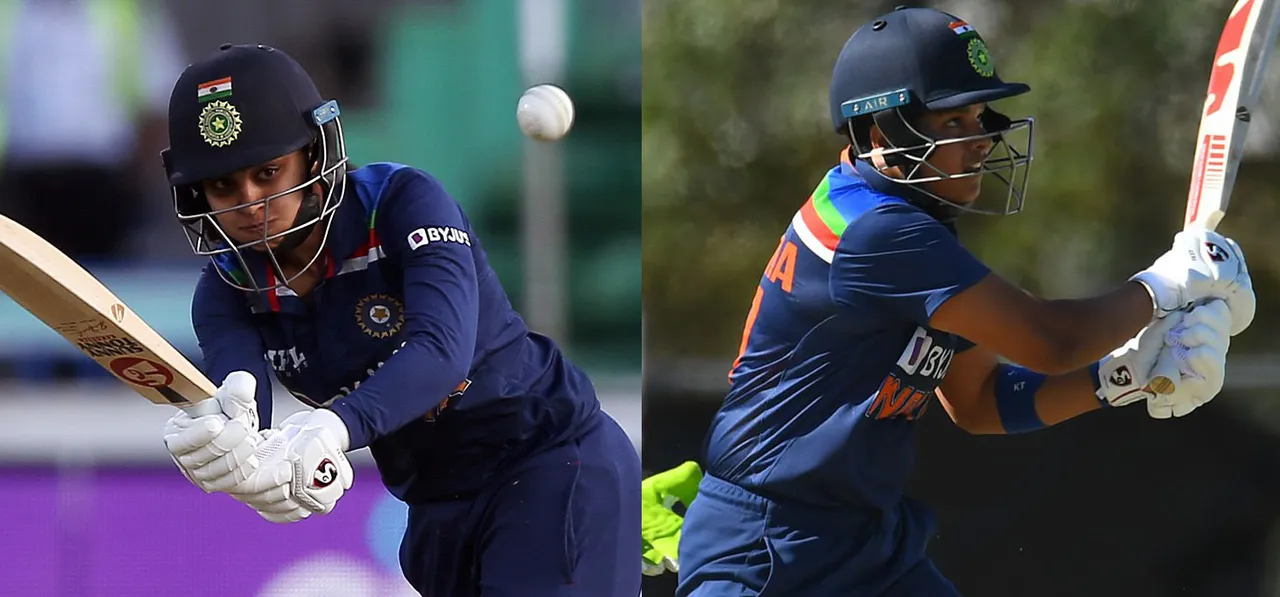 Harleen Deol became the first player to score a century from the Elite Groups in the Senior T20 Trophy as she smashed an unbeaten 112 to help Himachal Pradesh beat Delhi in a thriller in Rajkot on Friday (April 22).

In other notable performances from the morning session of the sixth day of the competition, an all-round show by Shafali Verma helped Haryana to win against Bengal in Ranchi, while Disha Kasat hit an unbeaten 76 to help Vidarbha to a win in Elite Group D. In the Elite Group A, Tejal Hasabnis' second consecutive fifty helped Maharashtra stay on top of the group.

Delhi vs Himachal Pradesh

Put into bat, Delhi rode themselves to a formidable total thanks to twin 44s from Priya Punia and Tanisha Singh.

Having taken two wickets in their bowling efforts, Deol opened the batting for Himachal and got going quickly. The opening duo of Deol and Nikita Chauhan added 39 runs in the power play.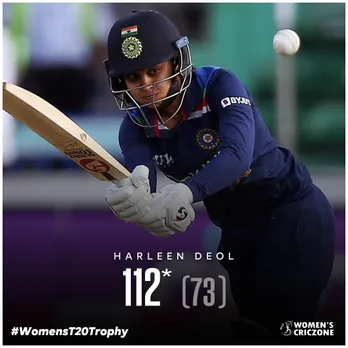 Harleen Deol scored her maiden T20 hundred © Women's CricZone/ Getty Images

Once Chauhan fell, it was all up to the leg-spinning allrounder and she continued going for her shots. In a stroke-filled innings – she hit 18 fours and a six during the course of her knock , Deol scored more than 75% of  the teams runs with the second best batter, Chauhan, scoring only 11 runs.

When it looked like the chase will become tricky at the backend, the right-hander played a flurry of shots to take Himachal home in the final over. Deol eventually remained unbeaten on 112 from 73 balls.

ALSO READ: Senior Women's T20: Shikha Pandey, Shafali Verma lead from the front; Goa, Railways remain unbeaten 

Hyderabad vs Maharashtra

In the Elite Group A, Maharashtra won their third game after chasing down Hyderabad's total of 99. Despite losing Smriti Mandhana early, Hasabnis helped Maharashtra stay calm in the chase and took them home with an unbeaten fifty.

With Kerala beating Meghalaya comfortably, both Maharashtra and Kerala are on 12 points with head-to-head and net run rate favouring the former.

Unbeaten Railways and Goa

Railways continued their unbeaten run in the Elite Group C and made it four-in-four. Mithali Raj was back in the mix for the Railways side and after having restricted Chandigarh to 103, they didn't have much trouble chasing down the target.  Mona Meshram was the top scorer for them with a 31-ball 36.

Elsewhere in Group D, Goa also stayed undefeated with a collective effort that saw them down Uttar Pradesh by eight wickets. Poorva Bhaidkar led the bowling side of things with two wickets; while Sanjula Naik's unbeaten 50 and Shikha Pandey's 29 saw them breeze past Uttar Pradesh's total after Tejashwani Duragad scored 33.

ALSO READ: Hyperactive youngster to Captain Cool: Sanjula Naik learns to lift the weight of expectations

Bengal vs Haryana

At the JSCA International Stadium Complex in Ranchi, Haryana skipper Shafali took the key wicket of her India teammate Richa Ghosh in a spell of three overs. She eventually finished with figures of 2 for 22 when Bengal ended their innings on 137 for 7.

During the chase, Shafali and Reema Sisodia added 47 runs in quick time to give Haryana a flying start. Even as Sisodia was dismissed for 20 by young pacer Titas Sadhu, Shafali stayed firm at one to end to guide the chase.

The India opener added 77 runs for the third wicket with Sheetal Rana to take Haryana to 129. Eventually Shafali and Nitika completed the proceedings with ten balls to spare.

For Bengal, Sadhu finished with impressive figures of 2 for 8 from her four overs.

In the other fixture in Elite Group E, Punjab got the better of Saurashtra without much sweat, but Haryana on top of the group having beaten Punjab earlier in the tournament.

ALSO READ: Zimbabwe beat Uganda, bag first win of Capricorn Tri-Nation Series

Brief Scores:

Meghalaya 58/10 in 19.3 overs (Rajni Lodhi 24; Sajana S 2/9, Darsana Mohanan 2/12) lost to Kerala 60/2 in 5.1 overs (Akshaya A 25*) by 8 wickets

Hyderabad 99/8 in 20 overs (Ramya 35, Mamatha 30; Shradda Pokharkar 3/17) lost to Maharahstra 103/3 in 17.5 overs (Tejal Hasabnis 52*; Yashasri 2/11) by 7 wickets

Chhattisgarh 100/4 in 20 overs (Shivi Pandey 34, Kumud Sahu 26; Nivedita 2/16) beat Bihar 69/9 in 20 overs (Pragati Singh 29; Shraddha Vaishnava 3/11) by 31 runs

Tamil Nadu 137/1 in 20 overs (Nethra L 62*, M D Thirushkamini 46*) beat Tripura 103/10 in 19.1 overs (Sulakshana Roy 20; S B Keerthana 3/10) by 34 runs

Chandigarh 103/9 in 20 overs (Parushi Prabhakar 31; Swagatika Rath 2/13, Tanuja Kanwer 2/16) lost to Railways 106/4 in 17.4 overs (Mona Meshram 36, Swagatika Rath 18) by 6 wickets

Delhi 143/9 in 20 overs (Tanisha Singh 44, Priya Punia 44; Sushmita Kumari 2/21) lost to Himachal Pradesh 144/3 in 19.4 overs (Harleen Deol 112*; Simran Dil Bahadur 2/20) by 7 wickets

Vidarbha 143/2 in 20 overs (Disha Kasat 76*, Vaishnavi Khandkar 36) beat Uttarakhand 123/4 in 20 overs (Raghvi 37, Sarika Koli 36*; Vaishnavi Khandkar 2/20) by 20 runs

Uttar Pradesh 123/6 in 20 overs (Nishu Choudhary 36*, Anjali Singh 24; Poorva Bhaidkar 2/21) lost to Goa 124/2 in 19 overs (Sanjula Naik 50*, Tejashwini Duragad 33, Shikha Pandey 29*) by 8 wickets

Bengal 137/7 in 20 overs (Deepti Sharma 43; Sheetal Rana 2/21, Shafali Verma 2/22) lost to Haryana 141/3 in 18.2 overs (Shafali Verma 75*, Sheetal Rana 35; Titas Sadhu 2/8) by 7 wickets

Saurashtra 107/8 in 20 overs (Jayu Jadeja 35; Neelam Bisht 3/20, Komalpreet Kour 2/10) lost to Punjab 111/3 in 16.5 overs (Ridhima Aggarwal 34, Priyanka Malik 31; Dharani Thappetla 1/19) by 7 wickets

Jammu & Kashmir 90/8 in 20 overs (Sheerazah Banoo 31, Bushra Ashraf 28; Rebecca 3/9) beat Pondicherry 82/8 in 20 overs (Bhakti Tamore 20; Bismah Hassan 4/20) by 8 runs

Nagaland 106/4 in 20 overs (Kiran Navgire 31, Gautami Naik 31*; Tarang Jha 2/16) beat Mizoram 100/9 in 20 overs (Shweta 27; Gautami Naik 3/17) by 6 runs