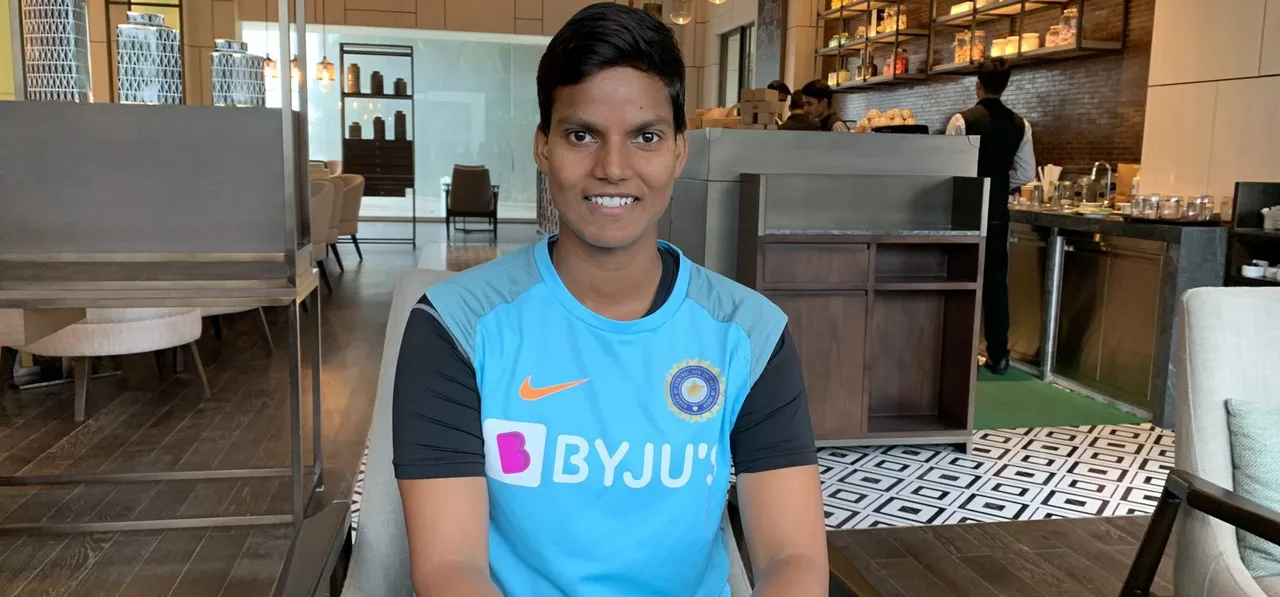 September 1, 2019. It was the finals day of the last edition of the Women's Cricket Super League (WCSL) - the
title clash
. Western Storm, who pretty much bossed the tournament, were facing Southern Vipers. Chasing 173 for a win, they were reduced to four for 104 and were left needing another 70 runs in just 45 balls. At one end was Heather Knight.
At the fall of that fourth wicket walked in a diminutive figure. In company of her captain, she ensured that Storm face no more hiccups as they went on to overhaul the target. She had finished unbeaten on 39 off 22 balls.
Deepti Sharma. Remember the name.
It was the first time Deepti was turning up in an overseas league and she immediately left an impact. "Whenever you play in the overseas leagues, you play with a free mind without much pressure. When I played my first game there, I wasn't nervous at all.
Ekdum cool hoke khel rahi hoon aisa laga
(I felt like I was playing coolly)," said Deepti, as the joyous gleam in her eyes supplement her words. "When I played my first game there, I wasn't nervous at all. I went in with a free mind."
That night was Deepti's coming of age. Although she has shown what she can do with the bat – she averages 41.81 in ODIs and has 188 as her best score in the format – her bowling has often helped her grab headlines.
In the
first T20I against South Africa
on Tuesday (September 24), she had figures of 4-3-8-3 to show for her efforts. Her first three overs were maidens – the first time an Indian had bowled three maidens in a T20I – and that meant the visitors couldn't get out of the web Deepti had spun.
After strangling Tazmin Brits in her first over, the batter couldn't relax and in Deepti's next over, she attempted a wild slog and missed. Deepti had tossed the ball up, enticing the big shot, and landed it outside off. The ball spun viciously and rattled the off stick.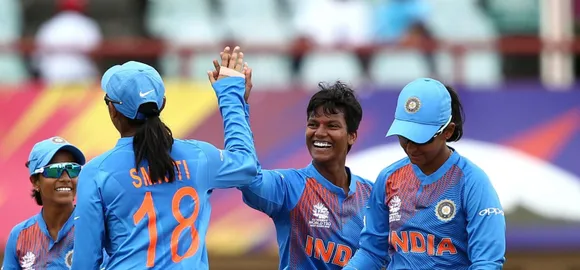 Deepti Sharma (second from right) took three wickets for only eight runs against South Africa in the first T20I. © Getty Images
Quiz her how much she enjoyed that wicket and she beams, "It was extremely satisfying to see the ball turn that much. When there is so much assistance available, you get the confidence to bowl. All the spinners wish their ball to turn. To get the spin in the first or second over feels good."
When Deepti speaks, you realise how much she understands, not just the game, but also why things happen the way they do. She attributes her success to the process that she has put in place.
"I had practiced hard for this before and after KSL (WCSL). I tried single-wicket bowling and focussed on my stock delivery repeatedly," Sharma states.
Deepti had been brought into the attack in as early as the third over, after Pooja Vastrakar – making a comeback to the game after more than a year – gave away 18 runs in the opening over of the run-chase. And immediately the off-spinner made her presence felt with a no-run over.
Clearly, she relishes the challenge of having a go with the new ball. "Ever since I have started bowling with the new ball, I haven't found it tough," she reveals. "It takes time and a lot of practise. If you bowl to the batter's strength, you cannot help it. If you bowl to your strengths, it will start getting easy."
"Sometimes you yourself don't know if the ball will turn or go straight. So, it is a sort of magic ball," she says with a giggle. "At times it is easier to bowl spin with the new ball than the old ball. (With the old ball) the batter expects it to spin and as a result reads it better."
Gripping the new ball, as has been said many a time by off-spinners, is difficult. Having mastered that, Deepti is now working on a number of variations. One of them was the one that went the other way, as was seen in the match against the Proteas.
"Mostly when I bowl in the power play, I use the seam-up delivery. It is easy to bowl and tough to face as a batter as she gets confused as to whether it will turn, go straight on or go the other way."
Bowling with the field up, Deepti said, does not worry her too much - she has plans in place for all conditions. Since only two fielders are outside the 25.15-yard circle, she tries to bowl flat, denying the batter the chance to make room and hit. But if the track is a flat one, she tries to loop the odd ball up in a bid to outfox the batter.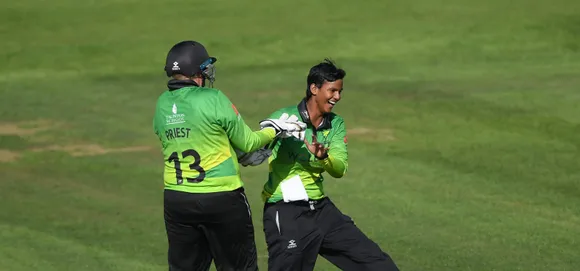 Deepti Sharma (R) celebrates a wicket with Rachel Priest. ©Getty Images
In the WCSL, Deepti picked up nine wickets at an average of 28.22 and at a strike rate of 25.5 alright. But her 106 runs at an average of 53 was as instrumental, if not more, as Knight's contribution in the tournament. That included her match-winning heist in the final.
"My strength is to rotate strike and hit boundaries along the ground. So that's what I have looked to work on. It is not a necessity that everyone hits big shots. There are some who have power to hit big. So, I have worked more on hitting along the ground, focusing on crossing the 22 yards quickly."
The testimony to what she said was the fact that she hit seven fours in that knock in Hove in the final, apart from being swift between the wickets. She is aware of her strengths and what she can do, but is equally awake to what she cannot or need not do. And that is "not focusing on hitting sixes."
Deepti has an uncomplicated thought process.
"I have to do well wherever I bat and do my best. You generally know when you are going to bat, so you have to be prepared mentally. You have to go with a positive approach and bat accordingly," she says, before adding, "Mostly I will have to bat in the middle order. I will (generally) have less balls to face. So I know I have to score as much as I can in the balls I get."
Sitting attentively like a school-going kid, Deepti says that the cover drive and the inside-out shot are her favourite. And she fell in love with them after watching Suresh Raina bat.
"I used to watch whenever he played and even now, I watch his batting on YouTube."
Raina and fielding are like cup and saucer – the mention of one is generally accompanied by the other. She loves fielding anywhere on the ground and is a livewire on the field just like her idol.
"I don't mind fielding anywhere be it on the boundary line or in the inner circle. I enjoy wherever I am on the field," she says. "I don't take undue pressure. Everyone drops catches at some point but it's about coming back from that. If you enjoy the game, the performances get better."
Deepti Sharma is aware of her strengths and sticks to them. ©ICC
With the T20 World Cup 2020 in mind, Deepti is readying herself to don the finisher's hat as she enjoyed the act in the WCSL final. In right earnest, she is trying to bring lofted shots in her repertoire by practising on the bowling machine.
"The experience of finishing the match in the KSL final was wonderful. I would like to believe that I can finish games even for India. The team should also believe in me that I can finish games. The more I play, the more confidence I will gain in the role."
For someone who largely kept to herself when she broke through, she talks freely once she becomes comfortable, as was evident during the course of the chat with us.
The transformation of this youngster has been heartening to watch. And you'd want to follow her growth in the sport... "
Ekdum cool hoke…
" 
The article is also available on SheThePeople.TV - India's biggest digital storytelling for women, dedicated to passionately championing and promoting their journeys.