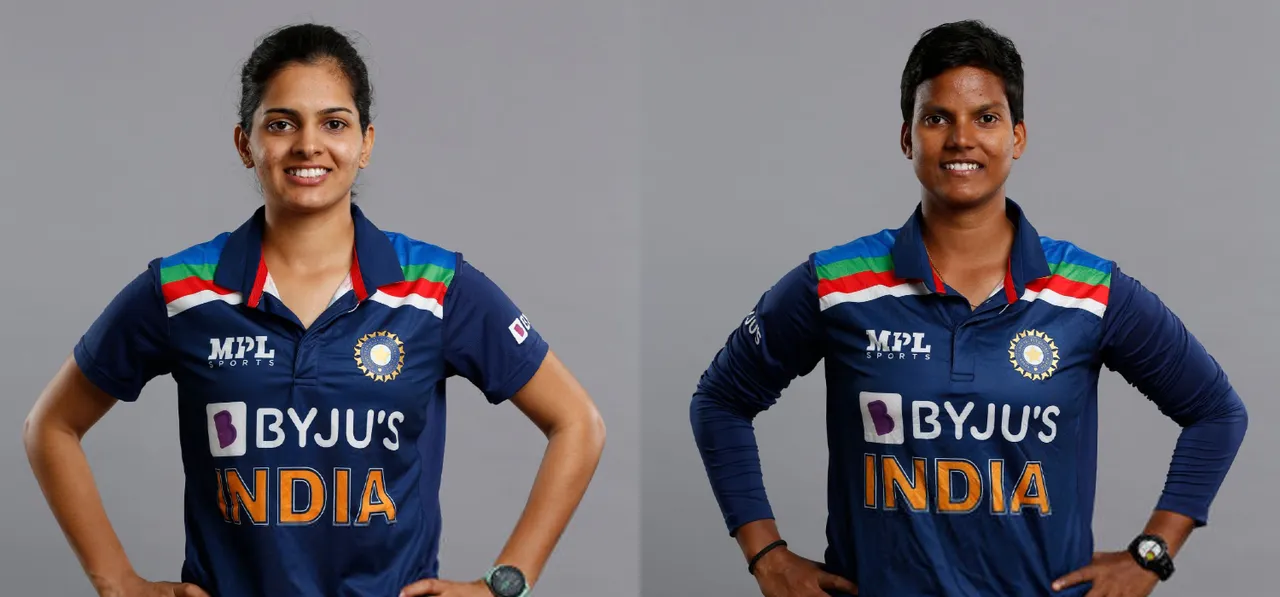 Day four of the ongoing Senior T20 League 2022 had plenty of action as Deepti Sharma, Priya Punia, and Kiran Prabhu Navgire powered their respective sides to comfortable wins.
Pondicherry vs Nagaland
Nagaland picked up a hat-trick of wins as they defeated Pondicherry by seven wickets. P N Khemnar bowled exceedingly well for Nagaland as she picked up a four-wicket haul and helped her side to restrict Pondicherry to 108 in their 20 overs.
Kiran Prabhu Navgire
played yet another sensational knock as she scored 91 runs and remained unbeaten, taking her team to victory in 17.5 overs.
Saurashtra vs Bengal
Saurashtra's decision to bat first didn't quite work in their favour as Bengal's S P Aich picked up a three-fer to limit them to 77/8 in their 20 overs. In reply, Bengal cruised to the target in 14.2 overs on the back of an unbeaten half-century by
Deepti Sharma
. She scored 50 runs off 45 balls, including seven fours.
Assam vs Punjab
Batting first, Assam scored 112/3 in their 20 overs but it was never going to be enough against Punjab's strong batting order. Assam's wicket-keeper batter Uma Chetry scored an unbeaten 63 to help them to get to 112. In response, Punjab reached the target in 16.2 overs to pick up their first win of the tournament.
ALSO READ: Shafali and Jemimah shine as Haryana and Mumbai emerge victorious in Senior T20 LeagueJammu & Kashmir vs Manipur
Riding on the power packed performance of Rubia Syed (94* runs off 52 balls) Jammu & Kashmir vanquished Manipur by 110 runs. Syed's knock included five sixes and 11 fours and powered the side to a comfortable win. Sandhya's excellent bowling spell helped Jammu & Kashmir to restrict Manipur to a mere 39 runs in 20 overs. She picked up a fantastic four-wicket haul and conceded only three runs in her four-over spell.
Kerala vs Maharashtra
Maya Sonawane's magnificent spell of 4/12 helped Maharashtra to trump Kerala in a low scoring thriller. Sonawane's scorching spell enabled Maharashtra to limit Kerala to 90 in 20 overs and Maharashtra chased down the total in 18 overs with the loss of eight wickets.
Jharkhand vs Tripura
The duo of Nidhi B and Arti picked up two-wicket hauls each to help Jharkhand pick up their second win of the tournament. Chasing a total of 110 to win, opener Mamtha Kanojia scored an unbeaten 38* to steer Jharkhand to victory by six wickets in 19.1 overs.
Uttarakhand vs Goa
Although Uttarakhand won the toss and elected to bat first, Rupali Sukhadev Chavan's brilliant bowling spell of 3/20 didn't allow them to get beyond 85 in their 20 overs. In pursuit of the target, Goa only lost two wickets and got there in 18.2 overs.
Chandigarh vs Delhi
Delhi's decision to field first after winning the toss worked in their favour as they stopped Chandigarh to 134 in 20 overs. Delhi's opener Priya Punia made the chase easier for her side as she scored an unbeaten 74* off 62 balls, including ten fours and propelled her team to an eight-wicket victory.
ALSO READ: Andhra, Jharkhand, Delhi register wins; Nagaland make it three-in-three in Senior T20Chhattisgarh vs Tamil Nadu 
In yet another low scoring affair on the day, Tamil Nadu outlasted Chhattisgarh by five runs. Batting first, Tamil Nadu only managed to reach 105 in their 20 overs and needed an exceptional bowling effort to defend their total. That exceptional bowling effort came from Eloksi Arun as she picked up a terrific three-wicket haul (3/18)  and powered her team to a five-run victory.
Madhya Pradesh vs Himachal Pradesh
Skipper Pooja Vastrakar's astounding allround effort helped Madhya Pradesh outshine Himachal Pradesh by 29 runs at the Saurashtra Cricket Association Stadium. Vastrakar guided her side to 133 runs in 20 overs as she scored a 45-run knock, including five fours and then picked up Himachal's opener Harleen Deol to give them an early setback. Himachal's skipper Sushma Verma (57* off 56 balls) tried really hard but couldn't take her team to victory.
Gujarat vs Uttar Pradesh
Gujarat's decision to bat first didn't turn out to be fruitful for them as they lost their fixture against Uttar Pradesh by seven wickets. Batting first, Gujarat scored 134 in their 20 overs predominantly due to their opener Sarvi's run-a-ball 68. But it didn't prove to be enough as UP reached the target in 18.5 overs as skipper Muskan Malik scored an unbeaten 47* off 36 balls.
Andhra vs Hyderabad
Neeragattu Anusha's unbeaten 61* off 54 balls took Andhra to a comfortable 26-run win against Hyderabad at the Siechem Stadium in Puducherry. Andhra's total of 130 runs proved to be too much for Hyderabad as they could only score 104 for the loss of seven wickets in their 20 overs. Saranya Gadwal's three-wicket haul helped her emerge as the pick of the Andhra bowlers.
Brief Scores
Pondicherry 108/9 in 20 overs (Yuvashri 35; P N Khemnar 4/30) lost to
Nagaland
111/3 in 
17.5 overs (Kiran Prabhu Navgire 91*; Rozario 1/18) by seven wickets
Saurashtra
77/8 in
20 overs (T Dharani 23; S P Aich 3/6) lost to Bengal
79/0 in 14.2 overs (Deepti Sharma 50*) by ten wickets
Assam
112/3 in 20 overs (Uma Chetry 63*; Neelam Bisht 1/16) lost to
Punjab
113/4 in 16.2 overs (Pragati Singh 32*; Devashree Konwar 1/20) by six wickets
Jammu & Kashmir
149/3 in 20 overs (Rubia Syed 94*; Chingkhei M 2/12) beat
Manipur
39/9 in 20 overs (Milan Y 22; Sandhya 4/3) by 110 runs
Kerala
90 all out in 20 overs (Sajana S 30; Maya Sonawane 4/12) lost to
Maharashtra
91/8 in 18 overs (S S Shinde 24; Mrudhula V S 3/21) by two wickets
Tripura
109/7 in 20 overs (M R Dey 29*; Nidhi B 2/11) lost to
Jharkhand
111/4 in 19.1 overs (Mamtha Kanojia 38*; M K  Rabidas 2/16) by six wickets
Uttarakhand
85/8 in 20 overs (Reena Jindal 24; Rupali Sukhadev Chavan 3/20) lost to
Goa
87/2 in 18.2 overs (Purvaja P Verlekar 31; Prema 2/13) by eight wickets
Chandigarh
134/1 in 20 overs (Monica Pandey 58*; Parunika Sisodia 1/22) lost to
Delhi
135/2 in 19.3 overs (Priya Punia 74*; Amanjot Kaur 1/24) by eight wickets
Tamil Nadu
105/6 in 20 overs (Arshi Choudhary 33; Shraddha Vaishnava 1/16) beat
Chhattisgarh
100/5 in 20 overs (Shilpa Sahu 45; Eloksi Arun 3/18) by five runs
Madhya Pradesh
133/8 in 20 overs (Pooja Vastrakar 45; N M Chauhan 3/22) beat
Himachal Pradesh
104/6 in 20 overs (Sushma Verma 57*; Priti Yadav 2/14) by 29 runs
Gujarat
134/3 in 20 overs (Sarvi 68; Anjali Singh 1/23) lost to
Uttar Pradesh
136/3 in 18.5 overs (Muskan Malik 47*; Hani Patel 1/25) by seven wickets
Andhra
130/5 in 20 overs (N Anusha 61*; G Trisha 2/21) beat
Hyderabad
104/7 in 20 overs (G Trisha 56*; Saranya Gadwal 3/13) by 26 runs