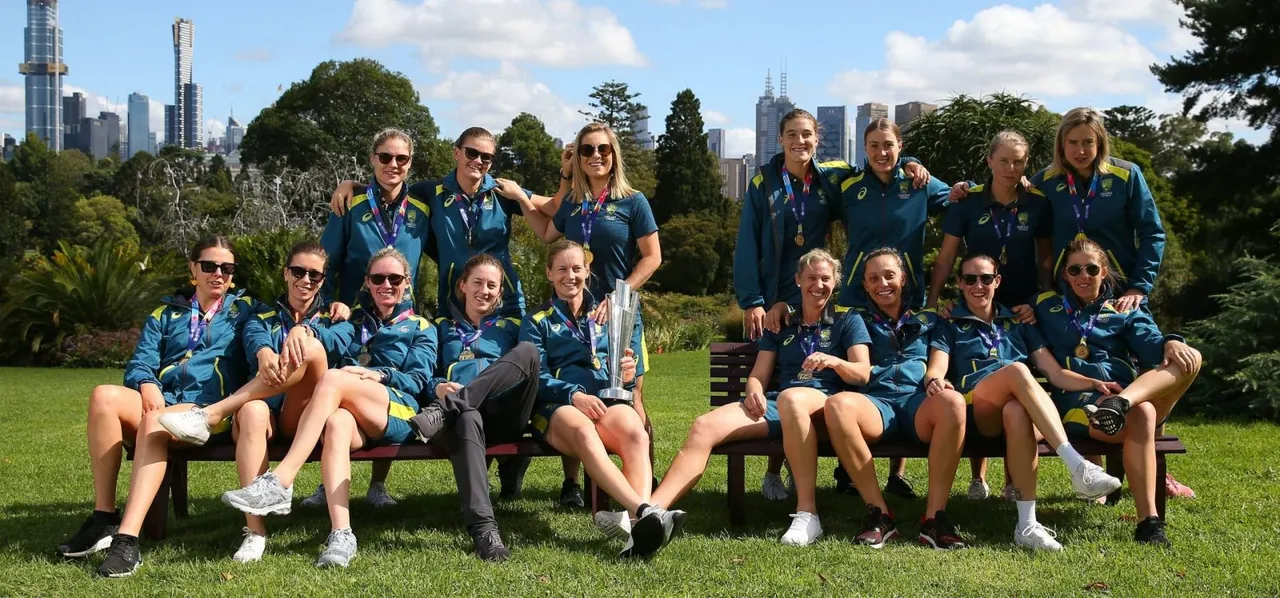 Alyssa Healy's three consecutive sixes in the World Cup final will surely stand out as one of the highlights of a night that saw many. The opener blazed her way to 75 off just 39 deliveries, a knock that was ignited on the first play of the match. Unfazed by the record crowd, the occasion, or the fear of failure, she stepped out and hit Deepti Sharma's first ball over mid-wicket for a boundary. 
India were clearly nervous: Deepti started the evening with three full tosses, and India put down both openers in the first four overs. Australia on the other hand showed not only fantastic skills but also the athletic maturity to handle unfamiliar territory, in this case the atmosphere. Far from being overawed by the spectacle of 86,174 people in the Melbourne Cricket Ground, Healy had a smile on her face throughout the game. 
It wasn't just because playing with a smile is one of the Australian team values. It was the kind of smile that comes with the awareness of the bigger picture: that cricket is temporary, and there is more to life than the sport. That being at the MCG is an incredible life experience, not one's entire life. Which is why Healy's words after the game, where she said "I'd be smiling even if we'd lost," are sincerely believable. 
ALSO READ: T20 World Cup 2020 - setting the tone for the decade
This perspective is not accidental. Like with most things in Australian cricketing factory, it is driven by a system. And even that system has a support system.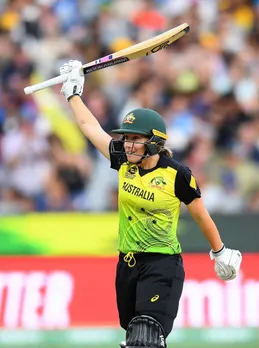 Alyssa Healy celebrates her half-century in the final of the T20 World Cup. © ICC
In the days leading up to the Final, I spoke to Brendan Drew, operations manager of the Australian Cricketers' Association (ACA) to understand what role the organisation plays in the lives of female cricketers. The most visible and well-known role is the fact that the ACA represented all Australian cricketers, male and female, in Memorandum of Understanding negotiations with Cricket Australia resulting in a joint MoU being agreed upon for the first time in 2017. That facilitated the largest pay rise in the history of women's sport in Australia, one where female player payments increased from AUD 7.5 million to AUD 55.2 million. The men's and women's teams now receive an equal base pay, which is then topped up by factors like hours of work and commerciality (how many viewers, which affects the ability to sell sponsorship). For the women's team, there is also a 'social licence element' to their payments, to address the historic underinvestment in women's cricket. 
But there is more than just financial security at play. "We have programs and services that help create fulfilling life for the players as cricketers and individuals," Drew told Women's CricZone. "That means we have ACA player managers working in each state, and they oversee a program called 'Gameplan.'"
ALSO READ: Decoding India's loss in the final
'Gameplan' is the ACA's code name for their well-being and education program, designed in consultation with player representatives. "It involves education in the fields of financial literacy, emotional intelligence, and self-awareness," said Drew. All state contracted players have access to these resources, which are tailored to suit where the player is in their cricketing career. For instance, 33-year-old Rachel Haynes can consider availing the ACA's career transition resources – such as paid internships within cricketing bodies – that help place cricketers into full-time jobs. And 16-year-old Phoebe Litchfield can give more time to cricket knowing that if she needs to take a break and pursue education, the ACA has grants that can assist with that.
"All players at all levels have equal access to our education grants," explains Drew. "Those grants for University study can be up to AUD 4000 a year to each contracted player (an amount that would fund an undergraduate degree in Australia), and we have 350 contracted players currently. The state player development managers help guide players in making career decisions." The facility also applies to players who have just lost their contract, giving them airbags for real life.
The recent spurt in Australian players taking time away from the game for mental health-related reasons has been hailed as a step in the right direction. It could have something to do with the fact that the ACA provides "psychological support when required."
ALSO READ: T20 World Cup: records made and broken
Under the 'Gameplan' program the ACA provides six free and confidential well-being counselling sessions to players and their significant others. "We recognise that balance in life, off the field, helps on field performance," said Drew.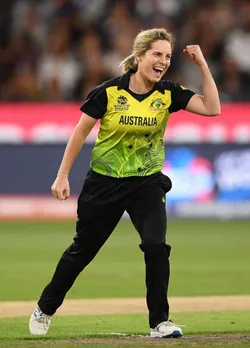 With such a strong support system around it is easy to see how Sophie Molineux made a seamless return to the Australian setup. © ICC
With this backdrop, it is easy to see how someone like Sophie Molineux could feel confident in her return to the Australian team after taking a break from the Women's Big Bash League for mental health reasons. Molineux took 3 for 19 in her second international game back after the break. She then endured further frustration, missing the league stage of the World Cup with a thigh injury that refused to heal as quickly as expected. But she played the semi-final and final, picking up a wicket in each game, including the scalp of Smriti Mandhana at the MCG. 
Besides this kind of support, the ACA has also been advocating for cricket that isn't always commercially viable for Cricket Australia (CA), the governing body. "Cricket Australia would want to look after the game, and ACA focus on the players. They (CA) have been terrific in driving the WBBL and 20-over internationals, and we have been pushing for more WNCL (Women's domestic 50-over) which the players love. Last year that increased from six games in a season to eight," Drew said. More 50-over games in a season leave Australia better prepared for next year's ODI World Cup in New Zealand.
ALSO READ: Australia's character a joy to behold: Brett Lee
"We also advocate for more Test cricket. The Baggy Green is prized possession for the players, and the dream would be to play another couple of nations in tests."
The Australian women's cricket ecosystem has been the envy of most other nations for half a decade now, but underneath all the elite displays of skill and athleticism is a system that is designed to catch the players if they fall. It makes it much easier for the likes of Healy – facing  the roar of an unprecedented crowd in a World Cup final – to step out first ball.