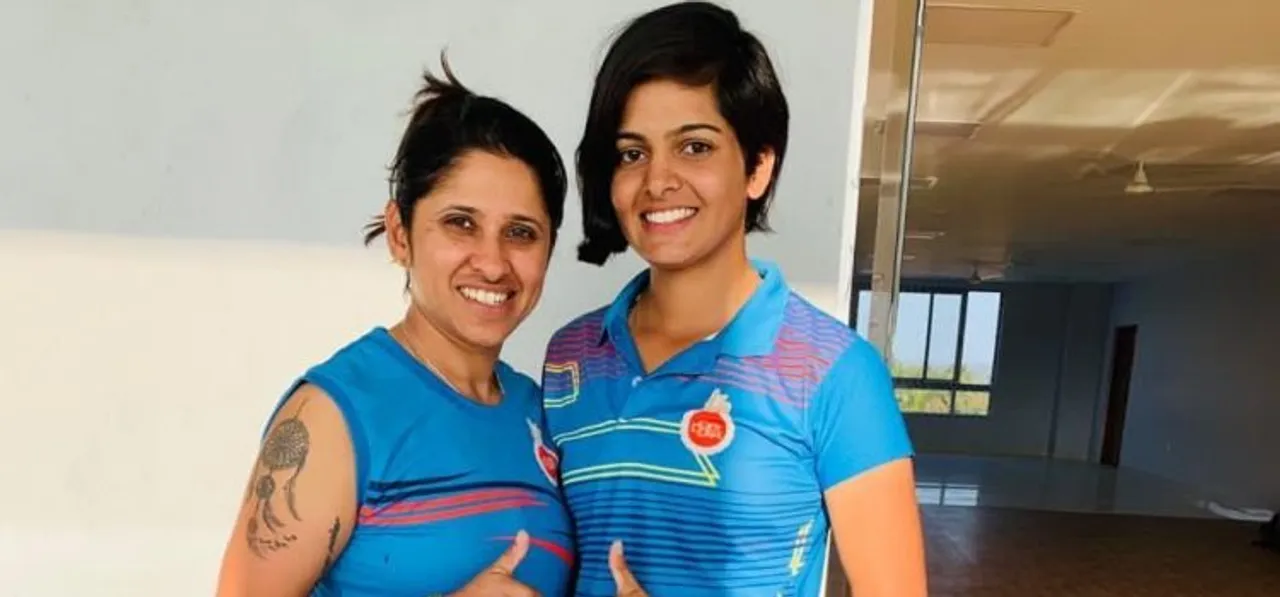 Elite Group A&B
Saurashtra vs Vidarbha
20s from M Jadeja, Jayu Jadeja and Riddhi Ruparel propelled Saurashtra to a score of 105/8. Reena Paul destroyed the lower middle order of Saurashtra as she bagged 4 wickets. A half century by LM Inamdar and an unbeaten knock of 30 from Disha Kasat helped Vidarbha chase down the total with a six of the final ball by Dharne.
Saurashtra 105/8 (M Jadeja 22, R Paul 4/24) lost to Vidarbha 110/2 (LM Inamdar 50, Reena M 1/23) by 8 wickets.
Goa vs Haryana
A solid batting performance from Haryana with Sheetal Rana hitting an unbeaten 51 and opener Shafali Verma scoring 40 helped Haryana put up 147 in their 30 overs. Seven of Goa's batters didn't reach the double figures and they got bundled out for 96.
Haryana 147/4 (S Rana 51*, Nikita 2/17) beat Goa 96/10 (SS Naik 30, P Khatkar 4/19) by 51 runs.
Tamil Nadu vs Tripura
Except for a 88 from opener Mouchaity Debanth and 25 from RR Saha, there were any significant scores from Tripura batters as they reached 172/9 in their 50 overs. Ramayshri, Aishwarya and Keerthana bagged 3 wickets each for Tamil Nadu. Tamil Nadu led by their openers Thirushkamini (72) and D Hemalatha (53) reached the target with 6 wickets in hand.
Tripura 172/9 (M Debnath 88, KN Ramayshri 3/23) lost to Tamil Nadu 174/4 (MD Thirushkamini 72, SB Sinha 2/21) by 6 wickets.
Kerala vs Karnataka
An unbeaten 44 from Minnu Mani with no significant contributions from the rest of the batters guided Kerala to 117 in 49.3 overs. 20s from Vanitha VR, Rakshita K and C Pratyusha guided Karnataka to 118/7 in 34.4 overs with Asha S bagging 5 wickets to her name. Karnataka beat Kerala by 3 wickets.
Kerala 117/10 (M Mani 44*, C Pratyusha 2/17) lost to Karnataka 118/7 (Vanitha VR 27, Asha S 5/27) by 3 wickets.
Delhi vs Gujarat
A second century of the season for Priya Punia as the in-form Delhi opener led her side to a 97 run victory over Gujarat with Punia scoring 125 of the 207 runs scored by Delhi. Latika Sharma bagged 3 wickets for the winning side restricting Gujarat to 110.
Delhi 207/6 (P Punia 125, R Chaudhari 3/28) beat Gujarat 110/9 (R Chaudhari 24, L Sharma 3/34) by 97 runs.
Maharashtra vs Punjab
A half century by Hasabnis and 20s for International stars Vaidya and Patil restrict Maharashtra to a score of 129/7 in 24 overs. Rajni Devi and Mehak Kasar bagged 3 and 2 wickets respectively for Punjab. 20s from Aggarwal, Bhatia, Meena and Bisht helped Punjab chase down the total in 23.5 overs.
Maharashtra 129/7 (TS Hasabnis 50, R Devi 3/16) lost to Punjab 130/7 (R Aggarwal 29, DP Vaidya 1/14) by 3 wickets.
 
Elite Group C
Hyderabad vs J&K
Match Abandoned
Jharkhand vs Madhya Pradesh
Match Abandoned
Team Rajasthan vs Uttar Pradesh
An unbeaten half century by opener Muskan Malik took Uttar Pradesh to the score of 107 in 20 overs with Shashi contributing 29 in 30. Kshama destroyed Team Rajasthan's top order by taking the top 4 wickets to restrict their score to 69 in 20 overs.
Uttar Pradesh 107/4 (M Malik 59*, PY Yadav 1/13) beat Team Rajasthan 69/7 (PY Yadav 18*, Kshama 4/7) by 38 runs.
 
Plate Group
Manipur vs Meghalaya
Match Abandoned
Cricket Association of Mizoram vs Nagaland
It was a one-sided encounter as none except Parate reached double figures for Cricket Association of Mizoram with six getting out on a duck. Nagaland easily chased that down after losing three wickets.
Cricket Association of Mizoram 32/8 (P Parate 12, J Rameshwari 3/1) lost to Nagaland 36/3 (Zehen 19*, S Kumari 2/12) by 7 wickets.
Sikkim vs Team Uttarakhand
A 113 runs partnership for the second wicket between Kanchan Parihar and Megha Saini with both hitting half centuries propelled Team Uttarakhand's score to 137/3 in 22 overs. Except the top 3, none of the other batters could reach the double figures and Sikkim could only reach 85/8 in 20 overs with they losing by 42 runs through VJD Method.
Team Uttarakhand 137/3 (K Parihar 57*, PD Acharya 2/27) beat Sikkim 85/8 (Archana 26, N Mishra 5/13) by 42 runs (VJD Method).