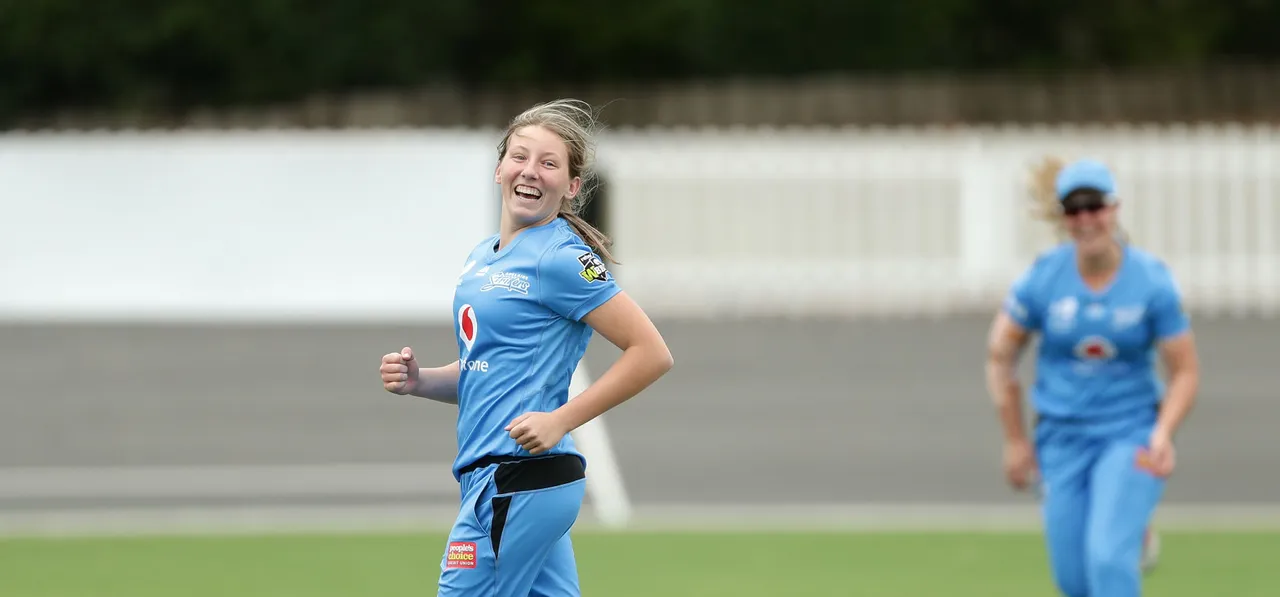 Adelaide Strikers seem to have turned a corner to move up to number four position in the points table in the season six of the Women's Big Bash League (WBBL) after
emerging victorious against Melbourne Renegades by six runs
on Sunday (November 8) at the North Sydney Oval. This was their third win of the tournament from seven matches, and second in succession after three defeats and a no result.
Allrounder Tahlia McGrath, who bowled last over of the match that got too close for comfort in the end, said she was relieved to be on the right side of the result and lauded her teammates for rising up to the challenges at different stages in the absence of regular skipper Suzie Bates.
"I was pretty nervous. I never bowled the last over before, but it was really good.
just clear in my plans and trying to execute. We got a little bit too close for our liking, but just really happy to come away with the win," McGrath said.

"We've really got to step up with her (Bates) being out and someone different does it every time, every game. Laura (Wolvaardt) has done it. Katie Mack did it and then Stafanie (Taylor) was awesome today. They would just keep putting their hand up and putting in performances with the team."

ALSO READ: Want to be consistent and make those match-winning contributions: Heather Knight

"She had a really good hit in the nets the other day, and I think she's real close. She's getting the ball really well and just got to tick a few more boxes. But yeah, stay tuned because it's going to be exciting when she's back out there," McGrath said while giving a fitness update on Bates.

Strikers' young speedster Darcie Brown has been impressive throughout the competition bowling with good pace, consistently clocking over 120 kmph and has garnered praises from various quarters. McGrath believes the 17-year-old is already a superstar and she is only going to go from strength to strength.



"Darcie Brown's an absolute superstar. We were called up from before the tournament even started that she was going to be a big tournament as she has not disappointed. We all hate facing her in the nets and it's no surprise that she's taking this competition by storm," she said.

ALSO READ: Devine blitzkrieg sinks Sixers; Lanning sets up Stars' victory over Heat

"She's a quality character, Darc, and I don't think she realizes how good she is. She just takes everything on her strides and has a bit of a joke on the way. But she is an absolutely superstar."

"It's really scary to see where she's going to go. She's just gotten stronger and stronger in the gym and she's just a natural athlete."

Melbourne Renegades' are currently at the bottom of the table having won only one of their seven matches, with the solitary win coming on Saturday against Sydney Thunder.

Meanwhile, off-spinner Molly Strano believes the Renegades' batters have been in good nick in the nets and it's just a matter of them coming together and clicking during the matches.

"We're not far off. It's just it's just a matter of time before our top order clicks and they're all in really good nick at training. It's just a few unlucky moments in the game," Strano said speaking after the defeat against the Strikers.

ALSO READ: Felt like old Renegades days, says Sophie Molineux after win over Thunder

"Batting is quite unforgiving, you get one opportunity and you can find yourself back out in the dugout. It won't be long, hopefully they can get some runs on the board towards the back end of this campaign."

Rosemary Mair has been one of the shining lights of an otherwise disappointing campaign for the Renegades side so far. Coming in as a replacement player, the 22-year-old has taken four wickets at an average of 11.25 and economy rate of 4.50 from just three matches. She held her nerve in the last over thriller against the Thunder to bowl Renegades to their only win of the competition.

Strano had special words of praise for the New Zealand pacer and called her an awesome find for the Melbourne side.

"She has been an awesome find. I got to know her on a personal front during the recent Australia and New Zealand series. She's such a great person and she's been incredible with the new ball for us."

"Just to her temperament, just to be able to be parachuted into our team where she doesn't really know many people and to perform the way she has been really good and really cool for her. Hopefully she's enjoying the experience and yeah, she's been awesome for us," Strano concluded.