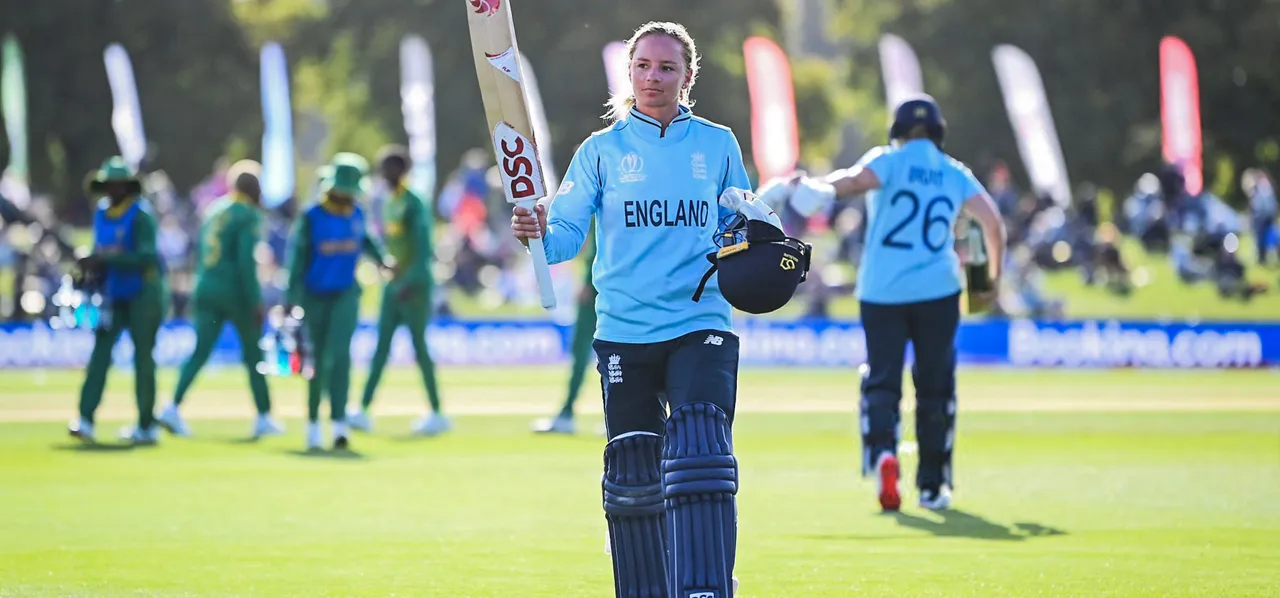 When the England team arrived in Australia back in January, they had a long tour awaiting them. If all went well, they were not going to return back to their country for more than two months. The tour featured arguably the two biggest events for the side - the Ashes and the World Cup. Having not played any international match since September, it was difficult for them to pinpoint the possible issues they would face.

The tour started off with a T20I match in Adelaide followed by two washed out matches. Then, there was a Test before a long leg of ODI cricket began. As soon as the ODIs against Australia began, the issues with the opening position started to surface. Though one place was locked by Tammy Beaumont, who had been the highest run-getter in the ODI format since the 2017 World Cup, while averaging over 50. But England's problem was narrowing down a partner for her. 

*************
During the entire World Cup cycle, England tried three batters with Beaumont. One of them was Lauren Winfield-Hill, who over the years, has had a reputation of falling in and out of form. The other one was Amy Jones, who dropped down to the middle order, for her ability to play in that specific role. And, the last one was Danielle Wyatt, who has made a mark for herself in the T20I format, being the regular opener for them in the format for a few years now.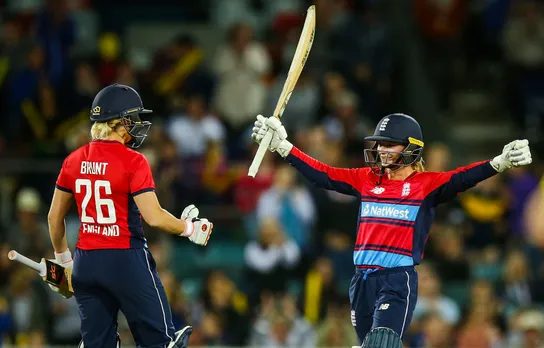 Danielle Wyatt had two T20I centuries before she scored her first ODI fifty in her 63rd game © Getty Images
But having made her ODI debut way back in 2010, Wyatt's career has had several ups and downs. On her debut, she batted at no. 7. Then, she didn't bat in an ODI for almost a year. But then, when she did, she was pushed up as an opener. That began an eight year-long period where she kept trying to figure out 50 overs cricket, while the team management continued to find a proper position for her. 
Her first-ever fifty came in her 63rd ODI match, in the ninth year of her international career. If a player is lucky, they get about 10 or 15 or at best 20 games without a fifty before they are dropped. Wyatt was persisted with because - A, she had a lot of talent, And B, she would score runs in domestic competitions and find a way back into the squad. The peak of her ODI career came in late 2019, when she notched up her maiden century against Pakistan. 
As a part of the ODI Championship, England had traveled to Kuala Lumpur to play Pakistan. In the very first ODI, Wyatt used the chance given to her and scored 110 runs off just 95 balls. Beaumont, too, got a century, but at a lesser pace. If the fact that Wyatt can be a destructive opener in ODIs was not evident till then, it was after this knock. Not to forget, by then, she already had two centuries in T20Is. However, the next ODI series she would play came in early 2021. 
*************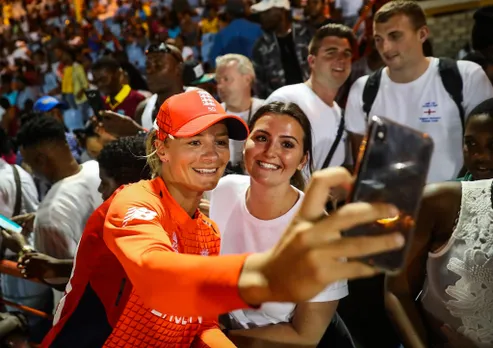 Danielle Wyatt has fans everywhere © Getty Images
When England started their next ODI series against New Zealand, Wyatt retained her place as the opener. However, her returns for that series were minimal - 17, 0 and 1 in the three games. Before you could even realize it, she was dropped from the ODI series against India at home. But a crucial fifty in the T20I decider, along with runs in domestic cricket, helped Wyatt get back her spot in the ODI team. 
ALSO READ: The glorious uncertainties of the Danielle Wyatt way
But, this time she was pushed to the lower order once again. In the second ODI, her first since the comeback, she walked in at 85 for 5 and played a superb knock of 63 runs from 72 balls to push England's total to 197. That was enough for a win and for her to retain the spot for a few more games. In the final game of the series, she smashed a 20-ball 43 batting at no. 7, showing her range and ability to come at the death and give terrific finishes to her side. With that, Wyatt made it to the squad for the Ashes and the World Cup. 
*************
The tour started with Wyatt scoring a 54-ball 70 in the first T20I, opening the batting. In the second game, she scored 14, before rain came and spoiled not just that game but also the next one. She returned to the no. 7 spot once again for the ODIs. The thing with England's batting line-up is that they have a fairly settled order. Number three and four are reserved for Heather Knight and Natalie Sciver. At number five, there's Amy Jones, while Sophia Dunkley has done enough to be their no. 6. 
That leaves Wyatt at the no. 7 position. Though it should be noted Wyatt has batted at six ahead of Dunkley as well at times. But the right-handed batter, who seemingly has many shots in her book, is the only player who might have to sit out from time to time. Simply because, her batting at seven doesn't work if England wants to play an extra bowler in the XI. With Wyatt not bowling anymore, it leaves her on the sidelines from time to time. However, at the World Cup 2022, she was able to retain her place in the team, because Winfield-Hill wasn't in the best of form.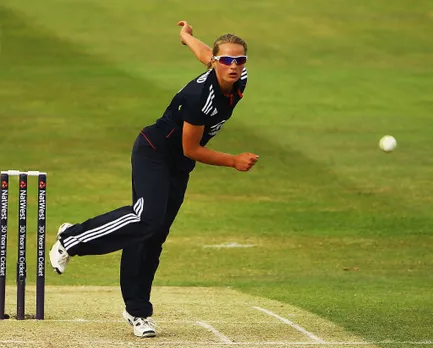 There was a time when Danielle Wyatt was more than just a batter © Getty Images
England's opening has been their bugbear. While Beaumont has been prolific with the bat since the 2017 World Cup, her partners have not found so much success. In 55 matches, Winfield-Hill has gone past fifty only four times, all of which came in 2016.
Together Beaumont and Winfield-Hill have opened the innings 15 times since the 2017 World Cup and had an average of 23.66 with only two fifty-plus stands. It seemed the management was done with this opening pair when Winfield-Hill was left out of the final Ashes ODI in Melbourne right before the World Cup, with Emma Lamb coming in, but Winfield-Hill was back in the XI once the mega-event began. 
ALSO READ: Winfield-Hill or Wyatt - Who should open with Beaumont in ODIs for England?
But more low scores and England went back to Wyatt to open the innings with their campaign sinking at one point. A win against India revived their chances, but they needed wins against New Zealand, Pakistan and Bangladesh to qualify for the knockouts. Wyatt scored a brilliant 76 not out against Pakistan. And England just about managed to make it to the semis with four wins. But a huge challenge was awaiting them. 
*************
The semi-final against South Africa. Wyatt, at this point, has had a topsy-turvy career in ODIs for more than a decade. In the last 12 months, she has gone from opening the batting to being dropped to coming back as a finisher and then getting back to opening because her replacements just didn't get enough runs. And, here came the opportunity of a lifetime. 
South Africa's fielding was shabby to say the least. Wyatt was dropped twice before she got to her fifty. Then, once when she was closing in on her century and then once after she had reached the landmark. But, the 30-year-old knew how to make the South Africans pay for their mistakes. 
She scored half of her runs (64 runs) in the V on the off-side, behind and in front of square. She cut beautifully at the beginning of her knock. Anything short and wide and she was ready to pounce on it. In fact, apart from three boundaries, she used the cut effectively, adding 34 runs in total from that shot. Once she was set, there were some slaps on the leg side too.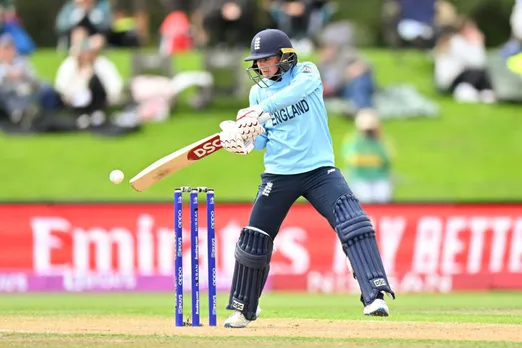 Danielle Wyatt's cut was her most productive shot during her 129 © Getty Images
What was also extremely impressive about her knock was also how she paced it. Being someone who has been known for her T20 skills, Wyatt's smart rotation of strike also stood out. She reached her fifty in 55 balls, her century off 98 balls and added 29 more from 27 balls. She hit 12 boundaries during her knock, which equates to about 81 runs coming from just running between the wickets. 
ALSO READ: Wyatt and Ecclestone take England to yet another World Cup final
Wyatt is an extremely effective player who has a full range of shots. The only thing she has not been able to do is regularly produce performances like the one she did in Christchurch on Thursday. Over the last decade or so, she has been able to model her game and keep the hard work going despite ups and downs. And, more than anything, she has been more than willing to take up whatever role the team wants to offer her. And, it all came down to a semi-final clash, where her side went in as the underdogs and with her guiding them, came out looking like a champion side. 
"I've had a weird career. Especially my ODI career has been up and down like a yo-yo. But I'm happy wherever the team wants me to bat. Yeah, obviously I've been given the chance to open the batting, which is where I want to bat and it's my job to get the team off to a good start and take the opportunity," Wyatt said at the post-match press conference. 
"Hopefully, this can be the start of a long, successful career at the top of the order."