This article was originally published in the third issue of the Women's CricZone magazine.

 

Living and growing up in India, the word 'bandh' – meaning, closed – evoked mixed emotions – frustration for some, joy for others. It wasn't pleasant for businesses that had to pull down their shutters, failing which, there were ugly consequences. But for some, it meant a day to put their feet up, finding a way to indulge in sports – be it hogging the open grounds to play, or simply watching a game.

In every sense, sport was an escape; in a 'normal' world that is.

2020 came with much promise. There was the ICC Women's T20 World Cup in February-March, followed by the men's tournament in September-October. The men's World Test Championship was to have many mouth-watering games with England touring Sri Lanka, Australia visiting Bangladesh, and of course India's overseas commitments. This was in addition to the regular dose of the Indian Premier League, which was supposed to have an 'extended' Women's T20 Challenge with four teams and seven matches.

It was also the year of the Tokyo Olympics where nearly 48.8% of the participants were slated to be women as per the International Olympics Committee's projections. The FA Women's Super League, the highest level of women's football in England, had Barclays sponsoring it for the first time and it was a riveting contest with Manchester City, Chelsea and Arsenal vying for the top spot. The Women's T20 World Cup in Australia was a huge success – a record crowd of 86,174 thronging the Melbourne Cricket Ground to watch the title-clash.

Life for women's sport, and sport in general, was good until the coronavirus outbreak. Slowly, the world began retreating into a shell, closing its doors on everything. Among other things, sport was affected. For the crores who have lived through numerous bandhs, this was a different experience altogether – a lockdown with no sport.

ALSO READ: Fitter and hungrier: The reinvention of Beth Mooney, the run-machine

While there is no right time for a pandemic to strike, was this the worst possible time for a blooming women's game to be brought to a standstill?

IMMEDIATE IMPACT

Karnataka had made it to the knockouts (quarter-finals) of the Senior Women's One Day Trophy in 2019-20 for the first time in five years. They had lost just one match in the league stage, and seemed to be carrying some momentum from the T20 tournament earlier in the season where they earned a place in the 'Super Leagues.'

When the knockouts were postponed, the players themselves thought the pandemic-induced break would just be a pause before they returned to the field soon. No one predicted that cricket would come to a complete stop.

"It was such an important tournament for us. After many years we reached the quarter-finals," Vanitha VR, the Karnataka batter who has played 22 internationals for India, tells Women's CricZone. "We were looking forward to it; we had the momentum and all of a sudden, there was a break in that."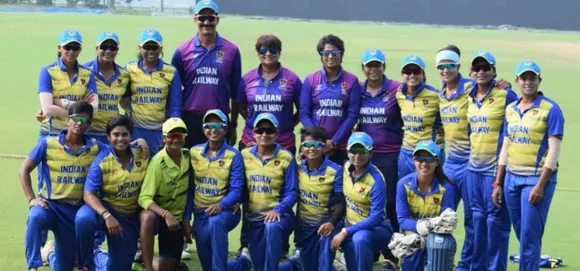 Indian Railways T20 team. © Asha Joy
For domestic cricketers, it won't be easy to pick up where they left off once cricket resumes. Since they are uncontracted and do not play in any leagues around the world, it would be easy to lose focus or lack motivation in these times, with no end in sight.
The thought of "seeing myself playing for India" is what drives Vanitha today. She has been given a weekly plan by her strength and conditioning (S&C) coach and continues to train three times a day on an open ground near her home in Bengaluru.
Over the last year, Karnataka has been one of the busier teams in the domestic circuit, Vanitha explains. After the side finished runners-up in the T20 competition in 2018-19, the Karnataka State Cricket Association (KSCA) arranged more game-time for the players.
"The last season was comparatively busier to what we've had before, which is when the season would get over in 45 days to two months. Our playing days increased and we were quite busy for six to eight months, thanks largely to KSCA."
However, with COVID-19 wreaking havoc, all plans for the current season went out the window. All this uncertainty has left the players struggling to comprehend what the future holds. Psychological impact aside, this has had a financial impact, too.
ALSO READ: Darcie Brown – the blockbuster pacer in the making
"A senior level cricketer, if she plays an entire domestic season, earns about `80,000 (closer to `1,20,000) in a season after slogging throughout the year. It's not an amount you can manage if you want to pay `10,000 a month for your training, barring your skills coaching," says Vanitha.
"There are a lot of things to compromise. They need to look after their equipment, their shoes, food, coaching and personal expenses… I don't think that 80,000 would cover that. That's why I feel a lot of cricketers are not able to give their best."
"I've seen a lot of good cricketers, India-material cricketers from Karnataka quit because they didn't have a job which would support their cricket," she says. 
Read the full article here.