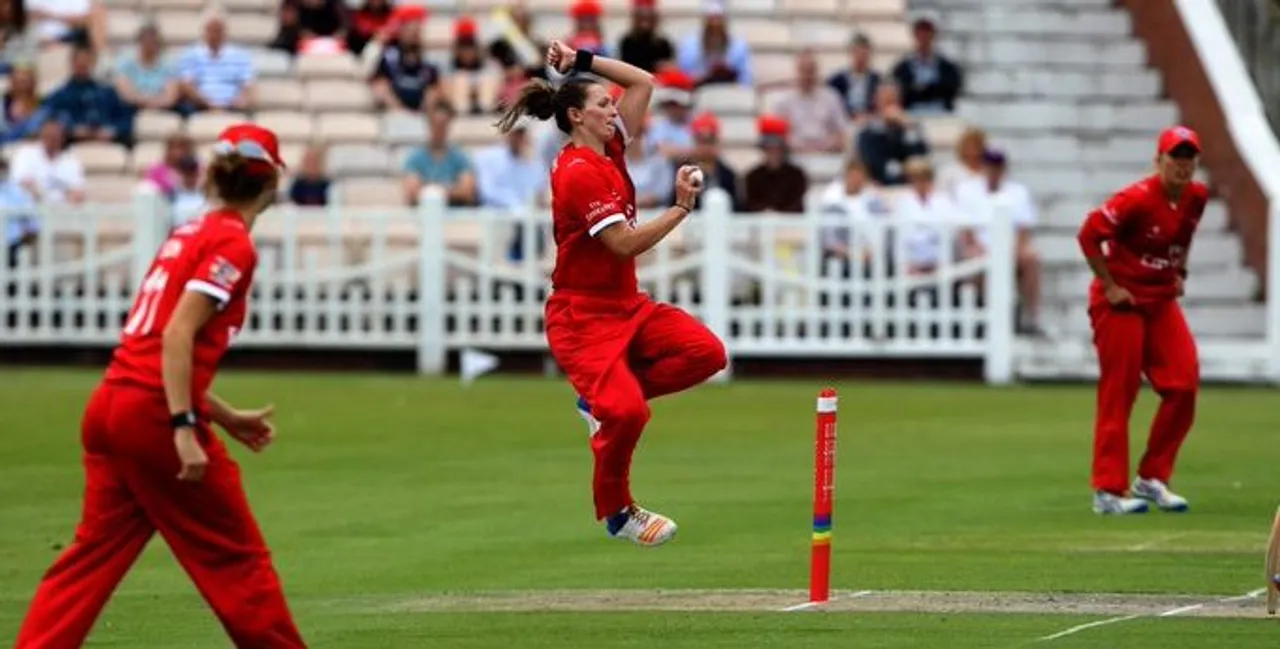 England bowler Kate Cross believes that the halt COVID-19 has made to the professional, the sport will make a large pool of cricketers (both male and female) thinking about their future by the time the season is over. Although there is going to be some action when West Indies take on England in men but it is uncertain for the rest of cricket playing countries about when play resumes.
"Regardless of this pandemic, you just don't know what's around the corner – one bad injury could end your career, or a coach comes in and doesn't fancy you as a player," the Lancashire bowler was quoted as saying to
TheCC
. "That's certainly the case for us as female cricketers. I know there's talk of these contracts at the regional level and the Hundred means there is more money for girls to earn but there's nowhere really for us to go.
"It's not like if Jos Buttler lost his England contract and drops down to county level. We don't have that. It is pretty fragile for us and it is quite scary sometimes," she added. However, for Cross, who started her career seven years back, the WBBL stints with Brisbane Heat have opened a new avenue for employment.
ALSO READ: ECB announces further financial support to help cricket get through the COVID-19 pandemic
Was it the fear that has driven the 28-year-old, off the pitch as well? "I always took university and school seriously," she said. "Women's cricket wasn't professional when I was a youngster, so I always had to have that career option in case things didn't turn out how I wanted them to. In the back of your mind, you're always conscious that it might happen, but you don't want to think about it.
"I don't want to try and do a degree or whatever it might be because you sort of feel that you might be tempting fate. You've also got the time constraints that studying puts on you, all of which can hinder what you're doing on the cricket pitch. It's quite a difficult balance," added Cross, who suffered torn ligaments and a severe sprain in her right ankle during England's final group game of the T20 World Cup against the West Indies back in March.
However, having recovered from the injury and getting some miles in the legs on her road bike back home in Lancashire, Cross is still hoping to play some cricket this summer, with a tri-series against India and South Africa still very much on the cards.
The series would be a welcome finish for the summer which would otherwise be a complete write-off. It will also be the one that would have a psychological impact on most in the professional game – an interesting piece of research for a graduate like Cross in the subject.
ALSO READ: We need to take the opportunities that are presented to us to promote women's sports -- Will Giles
"It probably would, the only problem is that I don't want to go into sports psychology," said Cross, who also co-hosts a podcast alongside Alex Hartley named '
No Balls
'. "I've probably got a lot of doors open to do that, but I would be more interested in the forensic and criminal side of things.
"You have to know people to get your foot in the door. I did psychology at A-Level and then wanted to do a degree that I knew I would enjoy, which is why I picked it. The year I finished University I got offered a professional contract. They had come in that year and that winter I made my England debut. I kind of didn't have to think about work experience, I'm not sure whether that's a good thing or a bad thing," added Cross.
The right-arm bowler also revealed that she would like her job to be exactly like the one in Silent Witness (British television series) but not quite sure how to get there. "I think I've seen how differently people react to it (sports psychology)," she elaborated.
"Some people really buy into it, read all the books – Lauren Winfield springs to mind. Then you see the other end of the spectrum, someone like Sophie Ecclestone, who is just so talented that if you start trying to get her to think it completely messes with how good she is. That sounds crazy, but she just has so much raw talent. It's not something I've seen everyone buy into. I think if I went into a job like that I would be constantly battling against people's personalities"