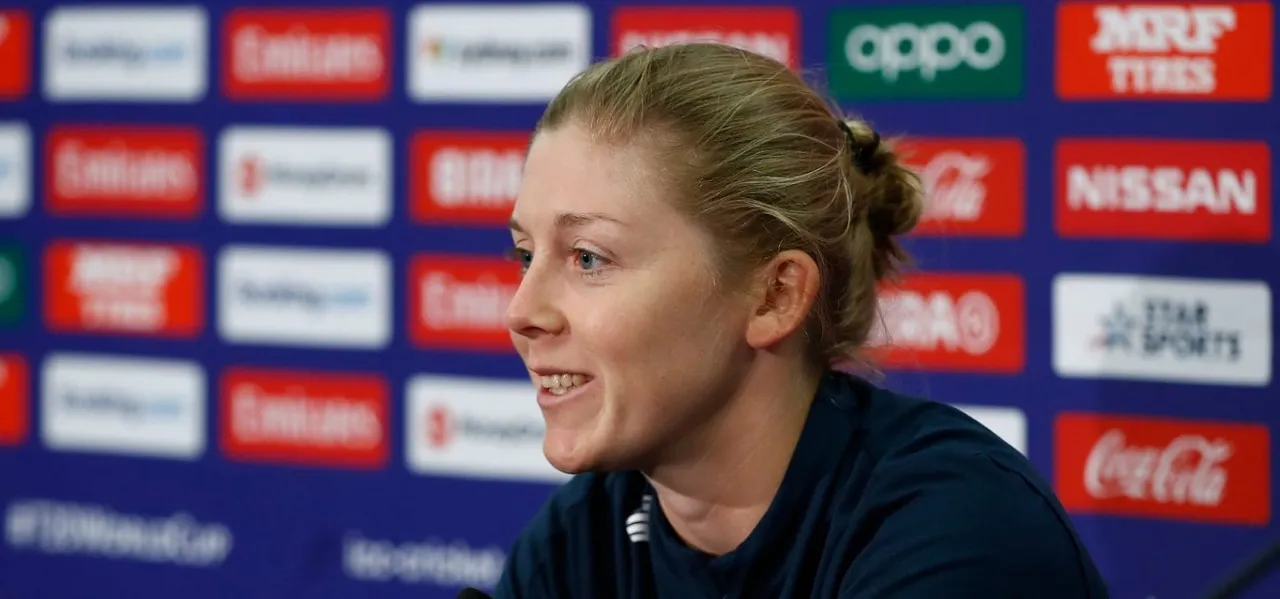 England skipper Heather Knight has said they need to be consistent for longer periods of time to be competitive in 50-over cricket. Knight was speaking after the 30-run defeat against New Zealand XI in the second warm-up match on Tuesday (February 16).
Batting first, New Zealand XI scored 316 for 5 from their 50 overs with the help Natalie Dodd's 91 and uncapped Brooke Halliday's 79. Sophie Ecclestone was the most successful bowler for England taking two wickets for 38. While chasing, England were bowled out for 286 in 49.3 overs losing 12 wickets in the process. Knight and Wilson batted twice in the 13-players-a-side match. Danielle Wyatt and Ecclestone impressed with the bat scoring fifties, while Knight also went her past fifty during her second turn. For New Zealand XI, seamer Claudia Green took five wickets for 56 runs.
"I think our preparation hasn't been ideal. We were a little bit off the pace, for me, today, in a number of areas. We did some really good stuff but getting back into the groove of 50-over cricket you have to do those things for a lot longer, and more consistently," Knight said speaking after the match.
"As bowlers you need to find that consistency to build pressure and as batters you need to go on and score those big scores."
ALSO READ: New Zealand tour vital to get experience of the conditions before World Cup: Heather Knight
Knight said that coming straight from winter in England and playing the matches have been tough on them, but is hopeful that the experience in these two games will serve as a good preparation for the series.
"We've obviously come out of an English winter without being able to train properly and then straight into a couple of warm-up games, but these two games have been really good preparation and they'll really sharpen us up for that first ODI when we need to be hitting our straps against New Zealand in a week or so."
Despite the defeat, Knight said they would rather take a match like this than having an easy win as they prepare to get ready both mentally and skill-wise ahead of the first ODI on February 23.
"It was perfect really – exactly what we needed to be able to sharpen up and get match-ready because obviously we haven't played ODI cricket for a long time," Knight added.
"Credit to the New Zealand Development XI, they gave us a bit of a humbling there to be honest, but that's really good preparation for us and it identifies exactly what we have to do and how we're going to have to work hard across the next few practice sessions here and then at Christchurch ahead of the first ODI."
30-year-old Knight also lauded Ecclestone for the way she batted and believes the left-arm spinner has the ability to grow into a genuine-allrounder for the side in the future and fulfil the role that Katherine Brunt plays now. Ecclestone scored 52 from 48 balls in the match, batting at nine.
"Sophie was brilliant. She's actually worked really hard on her batting over the last six months or so, so I was really pleased to see her get the rewards today. She's got the potential to be a genuine all-rounder in the future, to play that Katherine Brunt role and move herself up the order, so really good signs for her. She hits one of the cleanest balls in the team, to be honest, so chuffed for her and it was really nice to see her contribute runs down the order," Knight concluded.