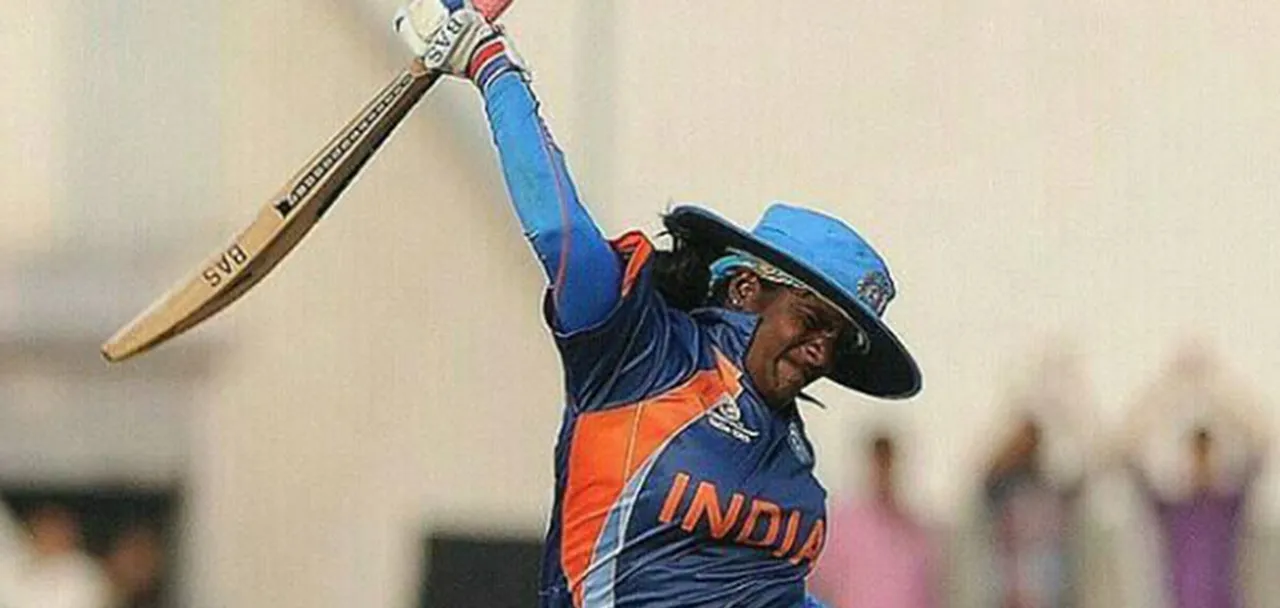 MD Thirushkamini and Indrani Roy hit centuries to help their respective sides to win on day six of the Women's Senior One Day Trophy on Tuesday (March 16). Thirushkamini's 114 unbeaten headlined Railways' 143 run win against Haryana in Elite Group B match in Rajkot. In Surat, Roy remained 130 not out to guide Jharkhand to a six wicket against Gujarat in Elite Group A.
In other Group A matches, skipper Madhusmita Behera's five-wicket haul helped Odisha to a 43-run win, while Hyderabad skipper Vellore Mahesh Kavya starred with a four-wicket haul in their five-wicket win against Chattisgarh.
In Rajkot, Assam registered their first win in Group B as Saurashtra succumbed to their third successive defeat, while Shrayosi Aich's 4 for 25 helped Bengal defeat Uttarakhand by 79 runs.
ALSO READ: Century for Jincy George, a ton missed by Bharti Fulmali on Day 5 of Senior One Day Trophy
In Group C, Andhra continued their winning run with their third win from as many matches and Anuja Patil's 88 not out and a two-wicket haul helped Maharashtra to a 55 run win. In another match in the group, Uttar Pradesh beat Chandigarh by 16 runs at the K L Saini Stadium, Jaipur.
In Plate matches in Bengaluru, Pondicherry continued to top the group with an easy ten wicket win against Arunachal Pradesh, while Mizoram registered their third win from as many matches. Rinki Rajak's 74 helped Sikkim sneak home with a two-wicket win in the final ball of the match against Bihar.

Group A, SuratOdisha
163/8 in 50 overs (Sushree Dibyadarshini 59*; A B Das 3/14) beat
Tripura
120/10 in 48.2 overs (Mouchaity Debnath 31; Madhusmita Behera 5/15) by 43 runs
Chhattisgarh
133/10 in 49.3 overs (Shivi Pandey 38; Vellore Mahesh Kavya 4/25, Yashasri 3/28) lost to
Hyderabad
134/5 in 43.1 overs ( Anuradha Nayak 35; Pransu Priya 2/28) by five wickets
Gujarat
229/5 in 50 overs (Sarvi 90, Renuka Chaudhari 52;  Arti 2/30) lost to
Jharkhand
230/4 in 47.1 overs (Indrani Roy 130*; Krutikaben 2/35) by six wickets
Group B, RajkotAssam
161/10 in 49.3 overs (Monikha Das 60; R B Dabhi 2/20) beat
Saurashtra
155/10 in 47.2 overs (M Jadeja 53; Nibedita 3/33, Rashmi Dey 3/35) by six runs

Railways
287/1 in 50 overs (MD Thirushkamini 114*, S Meghana 88) beat
 Haryana
134/4 in 50 overs (Bhawna Ohlan 38; Asha S 2/18) by 143 runs
Bengal
231/4 in 50 overs (P P Paul 73*, Mita Paul 60*; Radha Chand 2/48) beat
Uttarakhand
152/9 in 49.4 overs ( A N Tomar 82*; Shrayosi Aich 4/25) by 79 runs
Group C, JaipurMaharashtra
242/7 in 50 overs (Anuja Patil 88*; Rupali Chavan 3/42) beat
Goa
187/10 in 45.2 overs (Tejashwini Duragad 69; P B Garkhede 4/41) by 55 runs
Andhra
202/7 in 50 overs (S Hima Bindu 49; K P Choudhary 3/26) beat
Rajasthan
(S R Jat 78; G Chandra Lekha 3/23) by 48 runs
Uttar Pradesh
219/7 in 50 overs (Anjali Singh 62, Shobha Devi 60; Amanjot Kaur 3/61) beat
Chandigarh
203/9 in 49.1 overs (Kashvee Gautam 60; Anjali Singh 2/31) by 16 runs

Plate, BengaluruMizoram
221/4 in 50 overs (Buley Ruchita 84*, Zuali 84) beat
Manipur
200/5 in 50 overs (Rebika S 51; Zuali 2/22) by 21 runs
Arunachal Pradesh
42 in 34.4 overs (Jaya 5/9, Amruta Saran 3/11) lost to
Pondicherry
44/0 in 7.1 overs (Bhakti Tamore 32*) by ten wickets
Bihar
186/10 in 47.5 overs (Apurva Kumari 81; Sarika Koli 3/24) lost to
Sikkim
187/8 in 50 overs (Rinki Rajak 74; Rachana Kumari 3/22) by two wickets