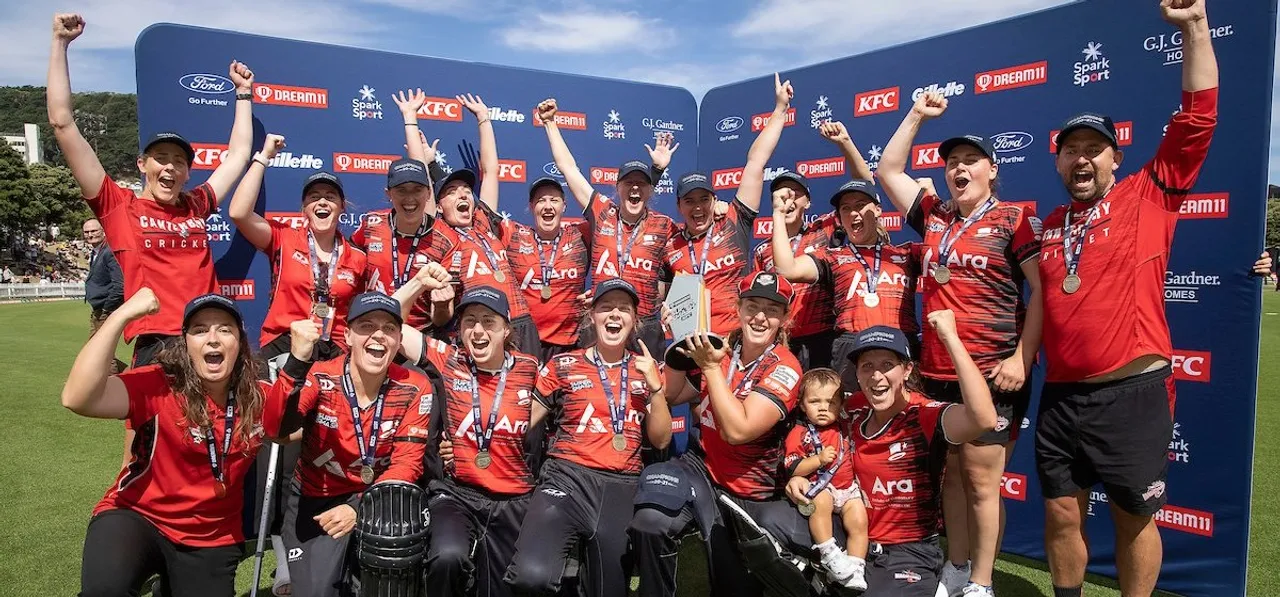 New Zealand's domestic T20 competition, the Super Smash, will kick off on November 26, New Zealand Cricket announced on Wednesday (October 27). The 64-match tournament will kick off with a rematch of
last year's final
with defending champions Canterbury Magicians taking on Wellington Blaze under lights at the Hagley Oval.
The tournament will last a total of nine weeks with the six teams -
Auckland Hearts
,
Canterbury Magicians
,
Central Hinds
, Northern Brave,
Otago Sparks
and
Wellington Blaze
- set to play each other twice, home and away, through the group stage. The top team will then proceed straight to the final which will be played on January 29. They will be joined in the title clash by the winner of the eliminator that will feature the second and third placed teams in the group stage.
David White, NZC chief executive said he was excited to announce the schedule for the 2021-22 season that was delayed slightly due to the complications thrown up by Covid-19 and the related lockdowns in New Zealand.
"It's taken a little longer to confirm the arrangements but it's certainly been worth the wait – with more men's and women's domestic matches to be screened live on Spark Sport and TVNZ than ever before," he said. "This competition continues to go from strength to strength and I'm confident this season's version will continue the trend and draw record viewership numbers."
ALSO READ: The irrational belief that fuelled Canterbury's magical win 
According to the current schedule matches will predominantly be played on Fridays, Saturdays and Sundays all across the country. A variety of new venues will see Super Smash action this season with Central Hinds set to play their first match in Palmerston North since 2018, Otago Sparks scheduled to play at Queenstown's John Davies Oval for the first time ever and Northern Districts turning out at Whangārei's Cobham Oval for their first appearance in five years.
Expressing her excitement at the launch of a new season NZC's Super Smash league manager, Nicky Britten, admitted that the current Covid-19 situation in the New Zealand meant there remains potential for the schedule to be tweaked.
"We plan to bring all the action to fans wherever they might be; whatever they might be doing, and on whatever the device they might have access to," she said. "In partnership with our broadcast providers, we've seen viewership of the Super Smash league rise significantly and we fully expect that trend to continue this summer. We look forward to top domestic cricket returning to several iconic regional hubs, and the provision of selected free-to-air matches reaching bigger and wider audiences."
All of the country's superstars are expected to be available for the start of the domestic tournament with no internationals scheduled for New Zealand until the start of 2022.
Fixtures:
26 November: Canterbury Magicians v Wellington Blaze
27 November: Auckland Hearts v northern Brave
28 November: Otago Sparks v Central Hinds
3 December: Northern Brave v Otago Sparks
4 December: Canterbury Magicians v Auckland Hearts
5 December: Wellington Blaze v Central Hinds
10 December: Canterbury Magicians v Central Hinds
11 December: Auckland Hearts v Wellington Blaze
12 December: Otago Sparks v Northern Brave
17 December: Northern Brave v Auckland Hearts
18 December: Central Hinds v Otago Sparks
19 December: Wellington Blaze v Canterbury Magicians
23 December: Northern Brave v Canterbury Magicians
24 December: Wellington Blaze v Auckland Hearts
26 December: Canterbury Magicians v Otago Sparks
27 December: Central Hinds v Auckland Hearts
28 December: Otago Sparks v Wellington Blaze
29 December: Otago Sparks v Auckland Harts
30 December: Central Hinds v Northern Brave
31 December: Central Hinds v Canterbury Magicians
6 January: Wellington Blaze v Otago Sparks
7 January: Auckland Hearts v Canterbury Magicians
8 January: Central Hinds v Wellington Blaze
14 January: Northern Brave v Central Hinds
15 January: Auckland Hearts v Otago Sparks
16 January: Northern Brave v Wellington Blaze
21 January: Canterbury Magicians v Northern Brave
22 January: Auckland Hearts v Central Hinds
23 January: Otago Sparks v Canterbury Magicians
24 January: Wellington Blaze v Northern Brave
27 January: Elimination Final
29 January: Grand Final