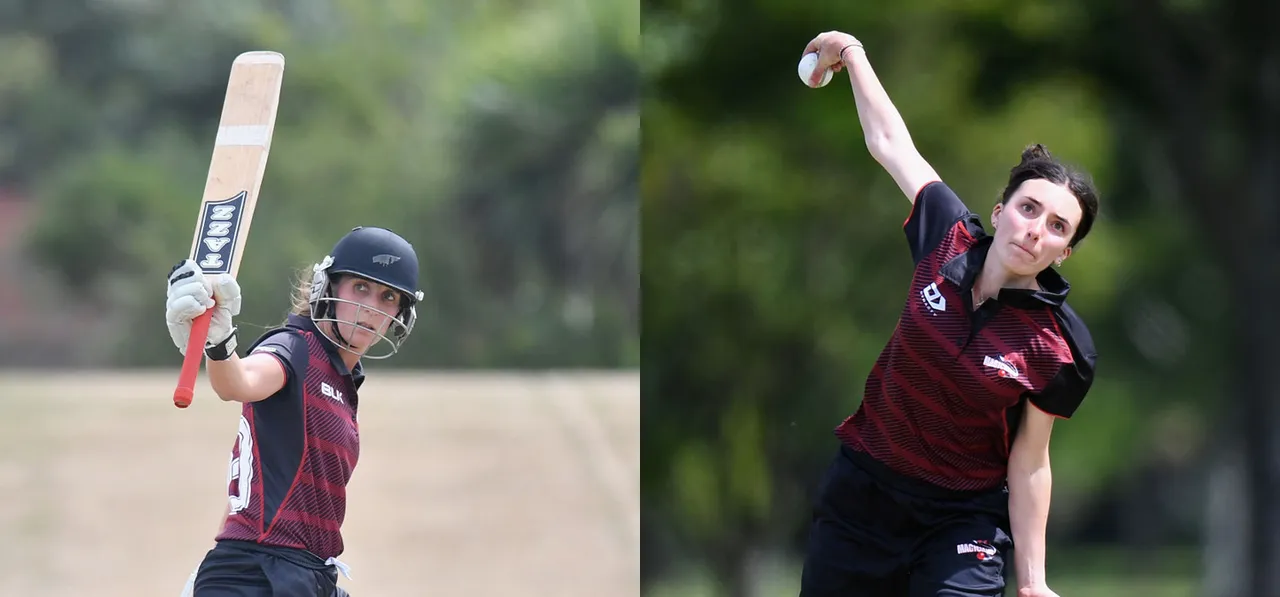 Kate Ebrahim's fifty and Sarah Asmussen's three-wicket haul helped Canterbury Magicians make it four-in-four with a 35-run win over Northern Districts in the Hallyburton Johnstone Shield at Cobham Oval in Whangarei on Sunday (December 6).
Defending a score of 249, Magicians overcame an excellent allround performance from Brooke Halliday to get past the Northern Districts, the second day in row. Halliday and Caitlin Gurrey put on a 143-run opening partnership and Northern Districts looked on course to chase the target.
However, once Asmussen, coming in as sixth bowler, castled Gurrey in the 24
th
over and Gabby Sullivan got the big wicket of Halliday for 77, Magicians didn't allow Northern Districts to form any partnerships taking last nine wickets for 52 runs to bundle them out for 214.
Asmussen was the most successful bowler for Magicians with figures of 3 for 41, while Sullivan and Jacinta Savage took two wickets each.
Earlier, electing to bat, Magicians found themselves in early trouble with Kayley Knight striking twice to remove the openers Frances Mackay and Emma Kench with the score reading only 13.
ALSO READ: Allround Jacinta Savage headline Canterbury Magicians' thumping of Northern Districts in round three of HBJ Shield
Ebrahim in the company of Natalie Cox put on a 107-run partnership to take the score to 120 in the 24
th
over. She then shared a fifty partnership with Savage to take the score to 173. Magicians lost three wickets - including that of Ebrahim for 63 - at the same score with Halliday striking twice.
Melissa Banks played an aggressive knock of 45 offf 33 balls even as wickets kept falling at the other end to take the score to 249 before she became Halliday's third victim in the final over. Halliday finished with figures of 3 for 28, while Knight had two wickets to her name.
At Queen's Park in Invercargill, Auckland Hearts registered a three-wicket win over Otago Sparks despite a late wobble, while chasing a moderate target.
Opting to bowl, Hearts reduced Sparks to 3 for 29 by the 11
th
over with FC Jonas taking two wickets. Even though skipper Bella James and Polly Inglis added 54 runs to take the score to 83, JL Barnett removed both of them in space of two overs.
From there, none of the batters got going for Sparks with Inglis being the only one who got past 20 runs. 41 extras from Hearts helped them reach 154 before they were bowled out in 48.5 overs.
Barnett was the most successful bowler for the Auckland side with four wickets to her name.
In reply, Hearts lost in-form Bella Armstrong for a duck in the second over, but captain Lauren Down scored 24 to take the score over 50 before Katie Perkins and Regina Lili'I played patient knocks of 39 and 45 respectively to keep them on track to overhaul the target.
Even though Lili'l's dismissal with the score reading 150 caused a bit of panic, it was too little too late for the Otago side as Hearts went past their score in 37.1 overs. Emma Black
,
ME Loe and Sophie Oldershaw picked two wickets each for Sparks.
Elsewhere, an unbeaten 63 not out from Jessica McFadyen helped Wellington Blaze open their account in the tournament with a closely fought two-wicket win over Central Hinds at the Donnelly Park in Levin.
Opting to bat, Hinds got off to a bad start losing in-form Jess Watkin for a duck in the opening over bowled by Maneka Singh. From there Kate Chandler led Blaze's bowling efforts to reduce the unbeaten Hinds side to 64 for 6 in 24.5 overs.
However, New Zealand international Hannah Rowe and Georgia Atkinson scored their maiden fifties for Hinds and shared a 111-run partnership to take the score to 175. But their dismissal in consecutive overs meant Hinds innings finished at 187 in 49.5 overs.
Chandler was the most successful bowler for the Wellington side taking 3 for 39.
Chasing 188 to win, Blaze lost Georgia Plimmer and skipper Thamsyn Newton early, even as Rebecca Burns played a patient knock of 33 at the other end. Once Burns was dismissed by Watkin, they lost wickets at regular intervals to leave themselves struggling at 105 for 6.
Batting at five, McFadyen with Xara Jetly in the company took the score to 149 in the 43
rd
over before Jetly was trapped in front of the wicket off Watkin. Needing 39 runs from last seven overs, McFayden batted on bring up her fifty from 62 balls and eventually got the Wellington side over the line in the 49
th
over.
For Hinds, Watkin, Atkinson and Mikaela Greig took two wickets each.
Brief Scores:Canterbury Magicians
 249/10 in 49.3 overs (Kate Ebrahim 63, Natalie Cox 45; Brooke Halliday 3/28, Kayley Knight 2/29) beat 
Northern Districts 
214/10 in 46.2 overs (Brooke Halliday 77, Caitlin Gurrey 49; Sarah Asmussen 3/41, Jacinta Savage 2/23) by 35 runs.
Otago Sparks
 154/10 in 48.5 overs (Polly Inglis 23; JL Barnett 4/31, FC Jonas 2/28) lost to 
Auckland Hearts 
155/7 in 37.1 overs (Regina Lili'I 45, Katie Perkins 39; Emma Black 2/27
,
ME Loe 2/27) by three wickets.
Central Hinds
187/10 in 49.5 overs (Hannah Rowe 62, Georgia Atkinson 58; Kate Chandler 3/39, Maneka Singh 2/20) lost to
Wellington Blaze
188/8 in 48.5 overs (Jessica McFadyen 63*, Rebecca Burns 33; Jess Watkin 2/23, Mikaela Greig 2/30) by two wickets.