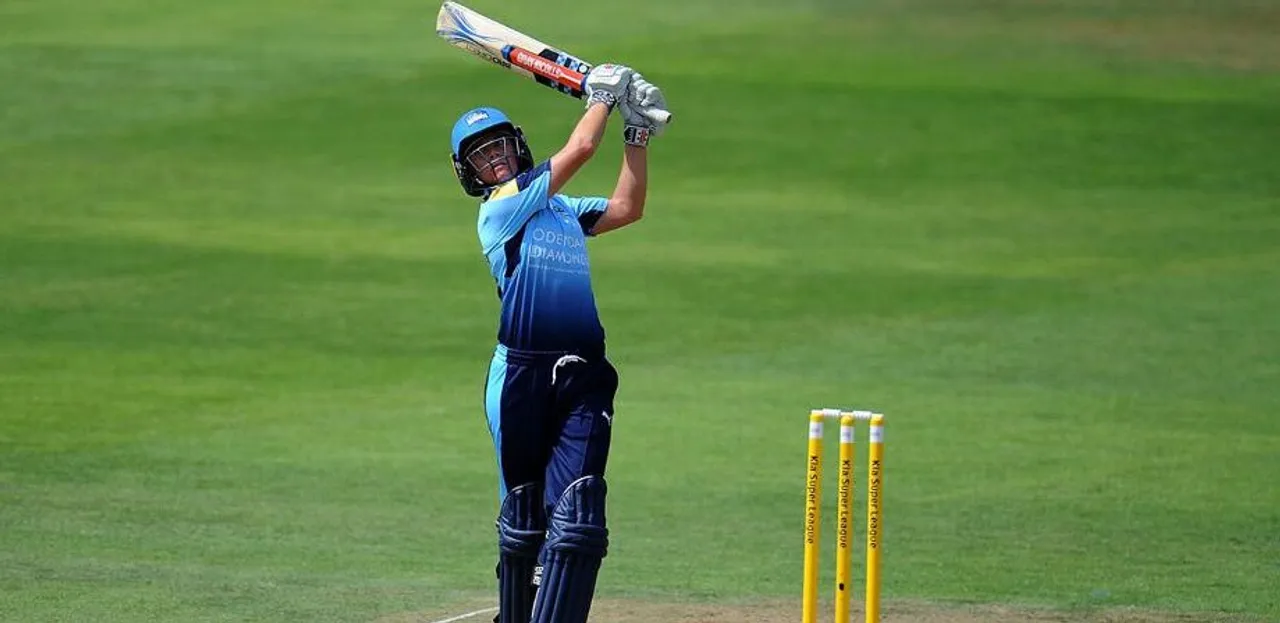 When you aren't winning games, it makes finally getting over the line all that more difficult. So, it proved for both Lancashire Thunder and Yorkshire Diamonds at Liverpool on Tuesday (August 13). Roses clashes are always hard-fought, and this game was no different. Both teams had opportunities to win. Yorkshire Diamonds finally won by nine runs in a game that quite unexpectedly went down to the final over.
Thunder needed 152 runs to win. It was more than they would have hoped to be chasing after fighting back in the second half of Diamonds' innings.
Thunder rejigged the batting order with Georgie Boyce demoted to four. Tahlia McGrath opened with batting with Sune Luus. They were in the runs early on taking 10 runs from the opening over of Linsey Smith.
Helen Fenby the leg-spinner with the unusual action - where there is a flurry of arms before the ball is released - made the breakthrough. McGrath was bowled for 14. Luus followed McGrath back to the pavilion for five in the next over as Katie George took the first of two wickets.
As is the way of Harmanpreet Kaur she took control of the innings essentially starving Sophia Dunkley of the strike. Dunkley who is an explosive batter herself faced only 14 balls in 8.4 overs.
Kaur herself wasn't going at an especially quick rate and the run-rate went going up to two a ball. Alice Davidson-Richards came into the attack and removed both batters in two overs. Kaur was brilliantly taken by Jemimah Rodrigues, her Indian teammate, in the deep - a low catch for which she had to quickly move forward. She had to depart for 37. Dunkley was caught by Hollie Armitage for 5 a little before that.
Katie Levick and Leigh Kasperek are difficult bowlers to get away and they controlled the middle overs brilliantly. With the run-rate climbing and the match seemingly slipping out of their grasp, someone had to step up for Lancashire Thunder and it was Emma Lamb who did just that.
She was first involved in the run out of Boyce for 14 as the two batters collided running through for a second run. However, she shook off that disappointment, put her head down and proceeded to bat Thunder back into the game.
Last season, Lamb had helped bowl her side to a four-run win at this ground with two wickets in the final over of the game. This year it was her batting that put them on course to win the game.
In the space of eight balls, she went from four off five balls to 32 from 14 balls that included a six and two fours from Davidson-Richards third over and then two more fours off Smith.
However, the left-arm spinner got her revenge, bowling Lamb in the same over. It was the wicket that seemed to turn the match in Diamonds' favour. Even though Lamb had reduced the equation to 28 off 18 balls, they were up against it with only four wickets - and no real recognised batter left.
Sophie Ecclestone is a much-improved batter this year and her cameo of 13 from just six balls carried on that momentum that Lamb had brought into the game. But when she was stumped looking to launch Kasperek it was clearly game over.
Ten runs were needed from the final over with only one wicket in hand. Katie Levick got the match-winning wicket to bowl Thunder out for 142 - Diamonds had snuck home by the barest of margins.
Earlier in the day, Diamonds got off to their best start in this year's WCSL as both Lauren Winfield and Alyssa Healy shared a first wicket partnership of 68.
Both were watchful at the start, but Winfield chose to take control of the innings dispatching the first poor delivery she received for four. It calmed the nerves to come in the first over.
The next two overs went for just five runs. Thunder's two experienced international bowlers Kate Cross and Sophie Ecclestone put the brakes on the scoring.
It was the first over from Alex Hartley - fifth of the innings - that the batters took the attack to the fielding side. Winfield, who was one of the few players to come out of the Ashes with any credit, carried on that form with the bat. Standing upright she hit Hartley for a four and a six within three balls of each other straight down the ground. The six was sweetly timed - easily the shot of the day.
Diamonds were going well nearing the half-way mark. With two balls of the tenth over to go, they were 68 without loss. Dunkley was into her second over. Winfield had already got a boundary off the over and it was not imperative for Healy to improvise. She did, however, trying to reverse-sweep fine past the keeper and could only watch as she played it onto her stumps. It was an un-Healy innings - more scratchy that free-flowing, more grit than elegance. Yet, it it the kind of innings that could possibly ignite her season.
Hollie Armitage who was one of the few highlights from
game against Lightning
again was in good touch. She was able to rotate the strike with Winfield and with Thunder taking the pace off the ball with a battery of spin from Lamb, Dunkley, Hartley and Ecclestone, it was something that Diamonds really needed to do.
Ecclestone finally dismissed Winfield for 56 runs - getting her to play all around an arm ball that crashed into middle stump.
From there on, Diamonds' innings seemed to fall away as they lost three wickets in eight balls. Armitage misjudged a slower ball from Cross, in the process becoming the third player of the innings to be bowled. She fell for a 25-ball 33.
Rodrigues struggled with an innings of just two from seven balls, picking out Sune Luus to give Cross her second wicket of the day. She was unable to turn over the strike or find the boundary - searching for the ball on more than one occasion.
A couple of big last overs saw Diamonds reach their total of 151 - something that seemed very unlikely heading into the last four or five overs. Eventually it was just enough for Yorkshire to defend - JUST out of reach of Thunder.
Despite the loss, Cross' team look good for their first win. Although it may take something special, they do seem to have found a bit of a formula - now all it needs is some tweaking to be perfected. Diamonds on the other hand can take great cconfidence from this win - they fought hard to stay in the game at all stages and held their nerve to pull off a brilliant win. 
Brief
 Scores: 
Yorkshire Diamonds 
151/6 in 20 overs (Lauren Winfield 56, Holly Armitage 33; Kate Cross 2-31) beat 
Lancashire Thunder 
142 in 19.1 overs (Harmanpreet Kaur 37, Emma Lamb 32; Katie George 2-16, Alice Davidson-Richards 2-25) by nine runs.