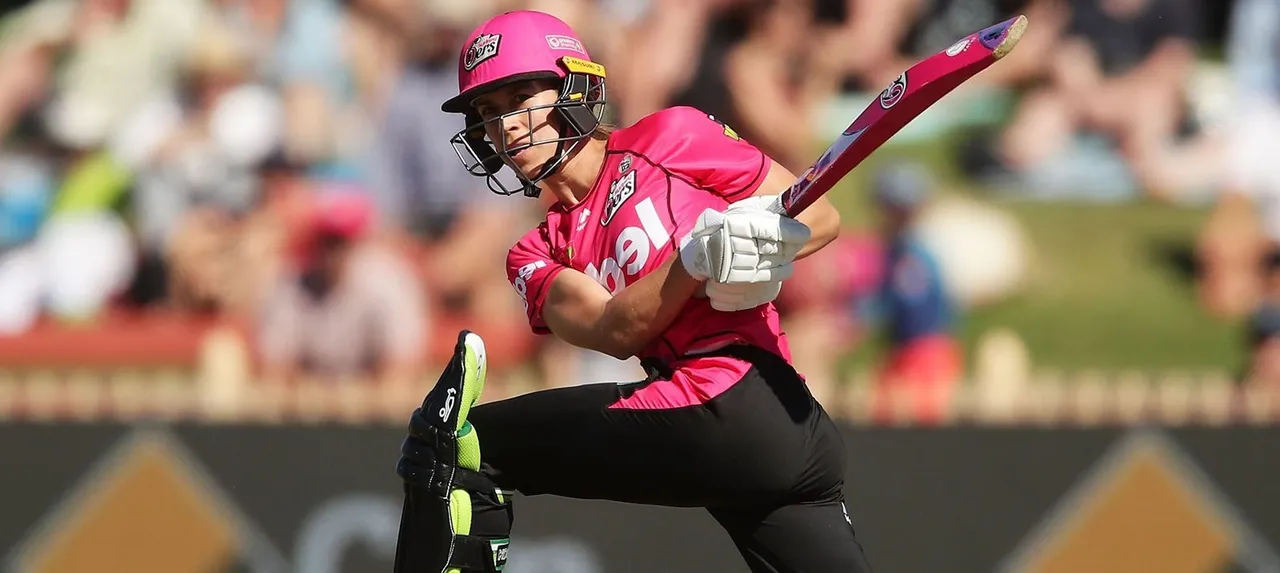 Sydney Sixers all-rounder Erin Burns has been a key part of her side in the WBBL. Burns not only scored 250 runs with a strike rate of 129.53 and picked up 11 wickets in the last season, but it was her incredible dive to stop the boundary helped Sixers to earn a dramatic entry in the WBBL final.

Now she embarks on her biggest challenge so far, as the 31-year-old arrived in Loughborough with the 13-player Australia 'A' group on Tuesday.

Their first assignment is a match with England's senior side at Haslegrave Ground on Saturday, the start of a month-long tour that will see the Australian group tested by both the white and red ball.

"I was pretty surprised to be honest," Burns told cricket.com.au of her call-up for the 'A' tour. "It's something I've not really been a part of before, I've had a few dips and dabs here and there with various fringe squads, but it's pretty cool to get over to England and sink your teeth into a full tour.

"Being in a different environment in Aussie colours and in the Aussie set-up and having access to different coaching staff, I'll be pretty keen to develop a few skills and different techniques and pick a few brains.

"There's nothing better than first-hand experience and against a quality set-up like England, I think it'll be really good for my game."

Burns' only previous experience with Australia A was a tour of New Zealand in 2012.

Burns who works as a physic, got married new wife Anna and enjoyed a honeymoon in Italy since the start of 2019. "I just got back from my honeymoon at the start of May, so it took a bit of a grovelling effort (to get time off) really but my boss is a legend, he is beyond accommodating," Burns said.

"An opportunity like this, they don't come up often. This year has been absolutely crazy.

"The Big Bash was huge and then the Governor-General's XI game was the week before we got married, so it was crazy up until that. We had the wedding, we housesat for a bit, went on honeymoon for a bit then moved house and now I'm going away.

"It's been good, I'm always on the go that's been cool because there's been a lot of things thrown at me that I wasn't expecting."

Burns has been something of a journeywoman in Australian domestic cricket; an underage New South Wales player hailing from Wollongong, the sheer wealth of talent in her home state forced her to look further afield to chase her dream of a state contract.

That opportunity presented itself with the newly formed Tasmania side in 2010, where she spent the next seven WNCL seasons, while she was also a member of the Hobart Hurricanes' first Rebel WBBL squad.

She shifted closer to her home base of Sydney in 2017-18, signing with the ACT Meteors in the 50-over WNCL (and joining the Sydney Sixers in the WBBL), but was still faced with the need to train remotely, given her job was Sydney-based.

Then, finally, her outstanding domestic record was rewarded with a Breakers contract for 2019-20; Burns coming full circle following a mini-exodus from NSW that included Ellyse Perry's shift to Victoria and Nicola Carey's move to Tasmania.

"It's been great, the last time I played in light blue colours was underage stuff so it's been a while," Burns said. "Coming back I thought it would feel weird, but playing with the Sixers the last few seasons and being around those same faces has helped with that transition across.

"It's been nice to keep everything local and not having to train remotely. That's been fantastic."