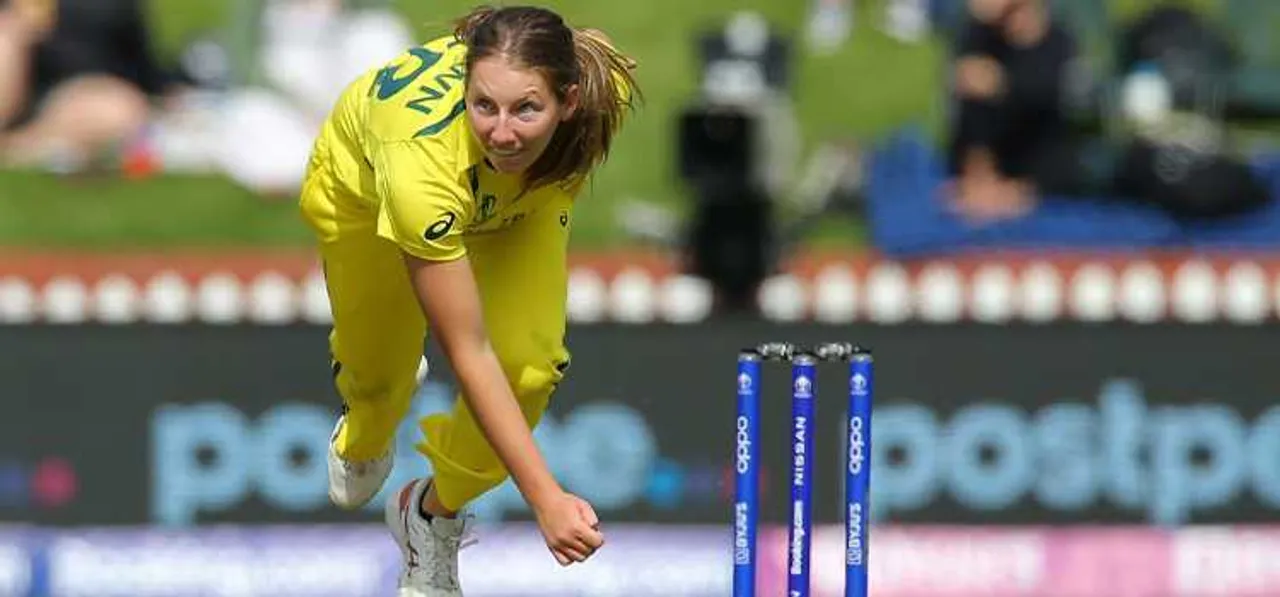 Darcie Brown is 19; she turned 19 during the
World Cup
. Darcie Brown is a bespectacled teenager off the field. By her admission, Brown is not a fan of sledging, to the point that she feels awkward about it. If you see her on the field and haven't heard of her before, you wouldn't mistake Brown for a fast bowler.
It's Sunday afternoon, the stage is the windy Basin Reserve in Wellington and the World Cup 2022
match
between Australia and New Zealand is going on.
The hosts are chasing 270 for their second win in the tournament. By general consensus, Australia haven't scored enough. Despite the late onslaught by Ashleigh Gardner, the commentators on air aren't talking about the momentum Australia might have leading into the second innings. On top of that, New Zealand chased down a total of 321 with seven overs to spare in the warm-up fixture ahead of the tournament.
Brown is opening the bowling, in place of the experienced Megan Schutt, alongside Ellyse Perry. Schutt's ability to swing the new ball is world class, she did that job in all the 30 matches she has played since the World Cup 2017. However, taking the new ball isn't new for Brown, she has done it in all the previous five ODIs of her nascent career.
ALSO READ: Darcie Brown - the blockbuster pacer in the making
Perry and Schutt opened the bowling in the warm-up match. Brown came on as the first change and didn't take a single wicket. She also had an expensive wicketless spell during the run-fest in Hamilton on her World Cup debut on March 5 and was rested from the second game against Pakistan a day after her birthday. For all practical purposes, Brown hasn't left her mark on the tournament so far.
******
However, we are back to Wellington on Sunday afternoon, Brown is opening the bowling in place of one of the world's best swing bowlers. Meg Lanning has put her faith in the young pacer.
The 19-year-old's job has been made easier by the veteran Perry. She has taken out Sophie Devine with a peach of a delivery, the chief tormentor from the warm-up match. Now it's time for Brown to show what she is capable of.
Over number two, ball three, Brown gets a 117 kph ball to go away from Suzie Bates. The experienced right-hander is beaten all ends up. Commentators are all excited and Natalie Germanos says, 'We haven't seen this sort of length from the New Zealander bowlers; we didn't see much of swing either. Kind of what happens when you get it really full.'
******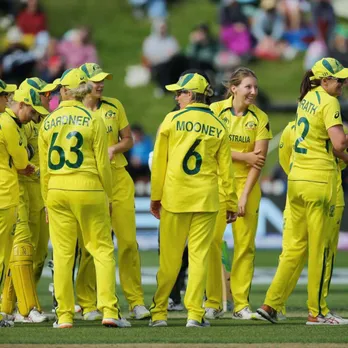 Darcie Brown celebrates a wicket with her team-mates © Getty Images
When Brown came on the scene, the expectation was that the speedster will unleash a barrage of bouncers to take down batters. Even head coach Matthew Mott talked about attacking teams with the duo of Tayla Vlaeminck and Brown, it's difficult to say whether Vlaeminck's injury forced the think-tank to change their plans. However, Brown was always clear in her plans. BOWL FULL, BOWL FAST, use bouncers judiciously.
"I've been trying to actually bowl a bit fuller and then use the short ball as an actual weapon, especially in the India series, I was bowling some short pies," Brown told
Espncricinfo
ahead of the World Cup.
******
Brown gets the fourth ball to nip back into Bates and the opener is on the front foot and then misses the next delivery while trying to push at an outswinger.
Third ball of Brown's second over is almost a replica of the third ball from the first over, Bates has no answers for it. Finally, Brown decides it's time to unleash a bouncer to end the over, it's not that short, but Bates pulls it awkwardly to deep square-leg for a double. Seeds of doubt have been planted.
At the other end, Perry takes out Devine with an incredible delivery as the New Zealand skipper is beaten neck and crop and is bowled.
ALSO READ: When I play cricket, I always smile, that is my motto: Amanda-Jade Wellington
Over number six, Brown now gets a ball to go away from the in-form Amelia Kerr. Next delivery is a little fuller, Kerr thinks it's there for the drive and goes for the drive. Beth Mooney pulls out a stunner at second slip. New Zealand 23 for 2.
Satterthwaite  plays out rest of the over, it's a maiden.
******
"I think Pez (Ellyse Pery) and Darcie set the tone perfectly at the top of the bowling innings. I don't think I've ever seen Darcie bowl that well to be honest," Ashleigh Gardner said in the post-match interaction.
"With a young quick, you're going to get some really good games out of them, and then sometimes, some inexperienced games and I guess that's the beauty of what Darcie possesses. She's got that raw pace and sometimes scares batters into taking their wickets. But yeah, I think today, she controlled the ball beautifully. She bowled really nice outswing and a couple of times she was unlucky not to take the edge of Susie's bat."
******
Over number eight, Brown continues her spell.
Two more dots. Third ball, back of a length delivery, Bates goes for a pull, but it's not quite there and she top edges it and is caught at square-leg by Tahlia McGrath. New Zealand 24 for 3.
McGrath gets herself into the act and removes Maddy Green for just three in the eleventh over.
Brown is now in her element, she is bowling her sixth over. First ball, starts off very similar to the deliveries she bowled to Bates, but the ball doesn't swing across and strikes Frances Mackay on the pad. The batter reviews in hope, but there's no surviving Brown.
New Zealand go from 22 for 0 to 35 for 5. GAME, SET, MATCH.