"We can't deny that the same facilities were not afforded to the women's side that was availed for men's cricket," read a statement from Bangladesh Cricket Board (BCB) president Nazmul Hassan, just days before Bangladesh were set to depart for Australia ahead of the
T20 World Cup
. As Bangladesh faltered in each one of their games during the tournament - even self-destructing in a relatively straightforward chase
against New Zealand
- Hassan's words were not hard to believe.
Soon after the team's return, on March 21, BCB Director and Chairman of the women's wing Shafiul Alam Chowdhury Nadel made an announcement about the increase in the TA and DA (travel allowance and daily allowance) of the players besides working on the significant increments in their international match fees. Improvement in hotel arrangements, food and nutrition were also discussed.
However, as the board continue to find ways to help the team - attempting to level the playing field - one question remains unanswered. Is investment all that Bangladesh requires to deliver better results at the top level? Or is there something more?
ALSO READ: Tales of a grandmother's support: Fargana Hoque recounts her early days
Former Bangladesh coach Anju Jain said investment aside, the board needed to first create a strong pathway system. "They need more opportunities and BCB needs to form a better domestic circuit," Jain told
Women's CricZone
in a freewheeling chat. "There are no such domestic tournaments; just only one or two tournaments. They need to have a good domestic exposure along with better opportunities at the international level, playing against competitive sides."
While the men have a structured domestic setup, the women lack one – something which has been most talked about since Bangladesh
won the Asia Cup
beating arch-rivals India in the final narrowly in 2018. It is true that women's team is not the 'golden goose' - as is the case all around the world - but that is a poor excuse for the game to be ignored. Age-group tournaments, and a well-structured provincial tournament will go a long way in helping the country identify and streamline talent.
Within Bangladesh's men's team, it is because the likes of Shakib Al Hasan, Mushfiqur Rahim and Tamim Iqbal have come through age-group tournaments, and a strong domestic structure that they are so successful at the top level.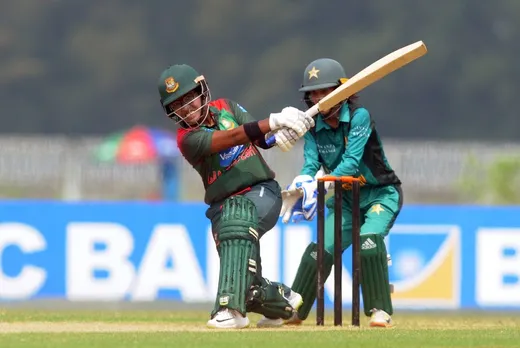 Bangladesh played only two ODIs in 2019 - against Pakistan in Pakistan. © BCB
"I think, for me, the difference that comes in for the women is the lack of opportunities to play at the competitive level. It was something that we have been trying to address. When we joined the kind of schedule they had, it was not up to mark," said Jain, who along with Devika Palshikar (assistant coach), Kavita Pandya (trainer) and Anuja Dalvi (physiotherapist) joined the backroom staff in May 2018.
"They have got one National One-day Premier League (10-11 teams) and a T20 Premier League (7-8 teams). That's the only tournaments that Bangladesh women get to play. There are no age-group tournaments. They do have clubs where these girls go and practice, but they really lack the club tournament culture."
"There is not a single women's academy in Bangladesh, nor does BCB run one. There are no setups as such of having annual or zonal camps. It's only those two leagues from where the players get picked up based on the performances, and (they) want miracles to happen within 10-15 days of national camps," rued Jain.
ALSO READ: Fishing nets, batting and Netflix: Nigar Sultana's innovative lockdown days
This has a lot to do with the awareness of the game too. Outside Dhaka, there is hardly any cricket competition for women in the country.
At a time when the men's side are beating heavyweights like England, South Africa, West Indies, and Pakistan to name a few, their women counterparts are still stuck bossing the lower level competitions, but unable to build on that potential when facing higher ranked teams. While the team's win percentage increased following the appointment of Jain & co. they have not played nearly enough cricket against the top eight teams, the former coach said.
"We weren't nowhere in the scene five years back. After we took over (Jain, Palshikar, Pandya, Dalvi), we can proudly say that the winning percentage has definitely shot up," said Jain. "Before us Bangladesh women's team never won so many matches consistently. We definitely wanted a few more competitive games to further bridge those gaps. After the 2018 T20 World Cup, there were almost six-seven months of no cricket for the team."
ALSO READ: Anju Jain appointed head coach of Baroda
From 2015 to 2017, Bangladesh played 25 international games across formats managing to eke out only three wins while losing 21. One game ended in no result. The numbers show slight improvement between 2018 and 2019 where Bangladesh won 24 out of 45 games. Out of the total 70 games across five years, 48 were T20Is and 22 ODIs.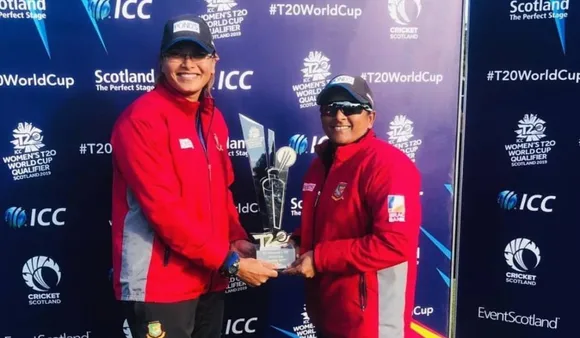 Under Anju Jain (R) and Devieka Palshikar, Bangladesh's results were much improved. © Anju Jain/ Facebook
Interestingly, Bangladesh have never faced the likes of Australia, England and New Zealand in ODIs since they were handed international status in 2011. They played against Australia and New Zealand for the first time in the T20 World Cup earlier this year in Australia. Captain Salma Khatun too stressed on the fact that lack of top-level exposure is hampering them grow as a cricketing nation.
Asked about whether there were any attempts made to stage a bilateral series with any of those top nations, Jain put the ball in BCB's court. "I think BCB can answer that properly because that's what we focused on," she stated. "Last time when we were in West Indies (for the T20 World Cup in 2018), we managed to approach England Cricket Board and straightaway they accepted to send a U-19 or A team."
"For the men, I think the BCB has tie-ups with bigger teams that they have to play bilateral series but for the women, I don't think they have one. That's why we suggested and requested to start at least playing (against) the A teams. That's how we managed to play against India A. They took the annual program from us, we knew we are not going continue but still we gave them a proper plan to approach bigger teams," informed Jain, who was appointed as
Baroda head coach
.
ALSO READ: Improve on standard, strengths of players, says Anju Jain
"Before the World Cup we played only one ODI (two) which was against Pakistan and we didn't travel with the team (to) Pakistan. Then, we played three one-day games against the India A team in the Emerging Asia Cup in Sri Lanka but it was an Under-23 side more or less with some seniors."
Jain started her coaching career with Orissa in India's domestic circuit. She then went on to coach Tripura and Assam before being elevated to the job top, becoming head coach of India.
Speaking about her experience with the Bangladesh side as a coach, Jain was in full praise of BCB. "It was a roller-coaster ride. In my first assignment, we won the Asia Cup and then the Ireland series and 2018 T20 World Cup Qualifiers but then suddenly our performances dropped in the World Cup. The next year in 2019 we had a pretty good year. We came close to winning against India and New Zealand in the T20 World Cup. It's been a massive growth with those girls and a great learning experience," she said.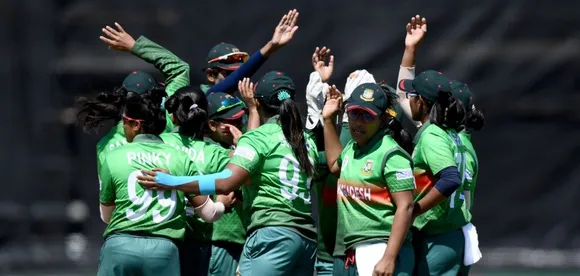 Bangladesh came close to toppling New Zealand in the T20 World Cup. © Getty Images
"Since the day we joined, whatever we had asked for we managed to get from the BCB. Just before the T20 World Cup in Australia, we tried to have a Champions Cup in the lines of Challenger Trophy like what we have in India rather than the league where the competition is not that great. We managed to get four teams and played on a round-robin basis. In those ways BCB supported us."
Recently in an interview with
Women's CricZone
,
Devieka alleged
that few individuals in the BCB wanted to take all the credits without working. Elaborating on that pretext, Jain said, "You know when the team starts doing well then everybody wants a piece of it. Before that nobody wants to get involved. What Devieka meant is that there were one or two people who have their own agendas and interests. The rest starting from BCB CEO and President, they have been very supportive."
ALSO READ: Left Bangladesh role after speaking to CEO, says Devieka Palshikar
"It's only one or two people who joined very late and then they want all the credit for not doing anything. I can challenge those officials and see if they can name all the players. They know nothing about their own women's side but still, they want all the credit," said the recipient of the Arjuna award in 2005.
The trajectory of Bangladesh women's cricket has definitely risen, but a lot of time, investment and hard work are needed to touch the graph which the men have attained in the last few years and are known as the most unpredictable and feared cricketing nation in the world.
"To date, if everybody asks me what my biggest achievement with Bangladesh is, I will just maintain, 'everybody has started taking the game very seriously at the international level which is our biggest take away' that we could manage in the last two years. Before that nobody used to take Bangladesh seriously. It was like a walk in the park."
Surely Jain & co. have left a legacy to follow. But the question remains as to whether Bangladesh will continue their upward trajectory, or the suggestions of their former coaches have fallen on deaf ears.