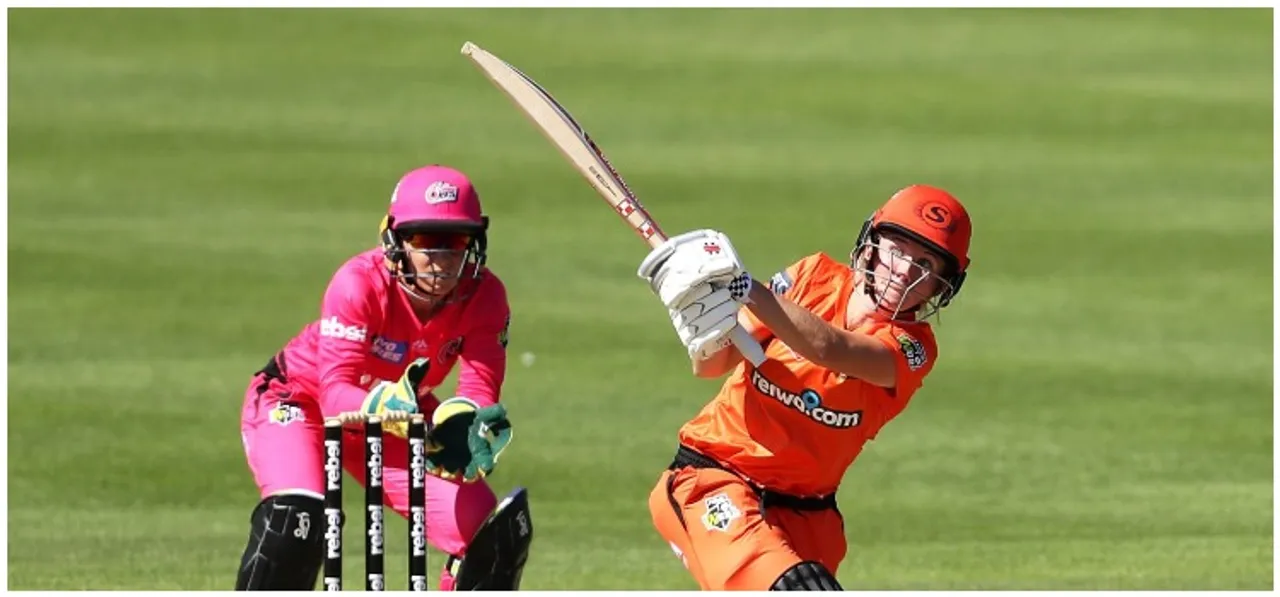 Clearly Beth Mooney's focus is not merely on scoring fifties but making bigger, match-winning contributions to her team's cause. "I'd been told that I could have a long international career if I got myself fit enough to be able to withstand long tours and be able to make runs at the end of an innings,"
she'd told Women's CricZone Magazine
earlier this year.
That explains her scores towards the business end of tournaments: 65, 14, 102, (most recent first) in the last three matches of WBBL04; 56*, 15, 50*, 86 in the last four games of WBBL05 – Brisbane Heat, for whom Mooney played then, won both the editions of the competitions – 78*, 28, 60, 81* in Australia's fifth
T20 World Cup title-winning run
.
Now, representing Perth Scorchers in WBBL06, she has registered scores of 60, 48*, 49, 45 in her last four matches and is all set to face Melbourne Stars in the semi-final on Wednesday (November 25). How does she manage to rake up such scores in different team environments?
"I've been really blessed with the teams I have played in to have really high calibre of players around me that make my life really easy," Mooney said during an online press conference on Tuesday, deflecting praise on her partners.
"Sophie Devine's been hitting the ball really well, Alyssa Healy does the same at the top for Australia. It's been a really great year for me, jumping over to the Scorchers; they are a great group of girls and also led really well by Shelley Nitschke. So I've got no complaints with where my game's at and my capacity to contribute to whatever team I'm in."
Mooney has scored 524 runs in 13 outings so far at an average of 58.22, leading the charts. She has four half centuries to her credit. Not too far behind in the run-scorers list is Sophie Devine, the Scorchers skipper, with 448 runs to her credit. However, in order to search for the next Scorchers batter in the list, a pair of binoculars or a microscope would have to be used, for Chloe Piparo with 117 runs is the third best for them, 41st overall, in WBBL06 at the end of the league stage.
The hole in the middle order of Scorchers is evident, for their run-chases have often been hampered because of this. The fall of Mooney and Devine is all it takes for them to come crumbling down, as was seen in their
last league clash against Adelaide Strikers
. Chasing 160, a win would have guaranteed them a spot in the finals, without having to take the net run-rate route. Scorchers were comfortably placed at 118 for no loss, with Devine and Mooney going strong. However, once they were dismissed in relatively quick succession, the chase lost steam and the side in orange fell short of Strikers' score by three runs.
ALSO READ: The paradoxical ways of Mignon du Preez
For Mooney, who's had stronger middle order to follow in the past – be it with the Heat or the national side – the frail batting line-up could be a worry. But she is unperturbed.
"Each game presents different opportunities and different scenarios to each individual and I've been pretty fortunate throughout my career to be thrown into different scenarios in a game and been put under a lot of pressure," said the southpaw.
"It's a really great opportunity for this group. We're starting from basically square 1; we're all on zero points when you head into a semi-final. For me it's just about doing what I've been doing throughout my whole career and this year as well and making sure I get us into winning position and I've got no doubt that everyone else in the team wants to be in the same situation where we can win the game and get us over the line."
Her partnership with Devine has been one of the talking points this season, not just now, but from the moment Scorchers managed to acquire both players.
"It was a bit annoying being asked the same question (about Devine-Mooney combo at the top)" admitted Mooney.
"As a purist of the game, it's really exciting to see that people care so much. They get just as excited as I did about being able to open the batting with Soph. So I shouldn't get too annoyed with how involved people get or how excited they get just like me."
"What's really impressed me is when you jump ship to another team, there's always a little bit of anxiety around whether you can perform at the same level as you did in the team before. To do that and just perform with freedom and play with someone like Sophie Devine, who's been hitting the ball tremendously well, has been a real godsend for me and maybe sort of enjoy my cricket a bit more."
And the icing on the cake, perhaps would be this – "During the Big Bash I tend to not get a lot of sleep during this time of the year, but I've got a little bit more than usual (this year)!"
ALSO READ: Backing each other in tough times has been key for turnaround, says Delissa Kimmince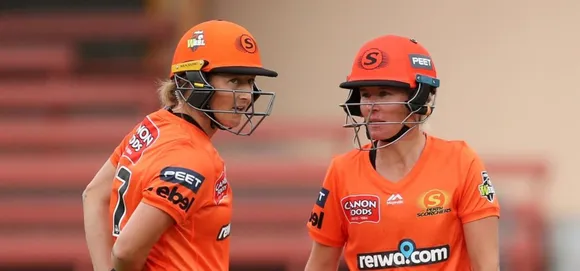 Sophie Devine (l) and Beth Mooney have been prolific for Perth Scorchers at the top. © Getty Images
Ten hundred-run partnerships have been stitched in the WBBL06 so far. Four of them belong to Scorchers' batters; three between Mooney and Devine. The fourth was between Devine and Piparo. Looking at the way the openers have batted, it would be hard to believe that they are playing together for the first time.
"There's been a few conversations here and there between Soph and I, but it's been a sense of familiarity in terms of playing cricket with each other. It feels like we've played together for years," said Mooney about their equation.
"I'm not sure that it's something we can learn along the way or something you can teach but it's just something that happens I guess. Soph and I are quite similar personalities. We enjoy our time on our own when we're not at cricket but once we are there, we are really engaged with the group and engaged with each other and making sure we get the best out of everyone around us and each other as well."
"For me, it's about the fact that we can be really honest with each other when we are out there and hold no prisoners with what we're trying to do once we get out on to the field."
Mooney, who often deflects praises on to others, was generous in her praise of Devine.
"Must be nice being that good that you can come in and take the game on after a couple of games off. I think just the way Soph goes about it, she's pretty composed and calm and quite clear on her plan and how she goes about it."
"She's gone through waves in her career in terms of being really destructive and taking the game on and then probably gone a bit the other way in the last 18 months but I've been really excited about the balance I feel she's found in her batting and making sure she knows when to take the game on and when to let me have a go."
ALSO READ: Sophie Devine named Player of WBBL06; Meg Lanning named captain of team of the tournament
Her stroke-play aside, Mooney's no-nonsense, straight talk is a rarity in an era when diplomacy is the go to word. It was clearly evident when she said, "When you come into a competition like this, your no.1 goal is to make the finals and we did that. Doesn't matter whether it's by ten points or by 0.5 of a NRR," about the manner in which Scorchers made the top four.
"We're here now and obviously four teams have gone home and we're one of those who haven't. We've worked really hard to get to this point and I think in terms of what we've been able to go through during the games holds us in good stead moving forward. We've been put under pressure a lot whilst we haven't sort of come to the fore in those situation, that'll hold us in good stead tomorrow night against a quality Stars line-up."
Once again, most eyes would be on Mooney amidst a sea of orange, given how stellar a role she's played in the title wins of the teams she's been a part of.