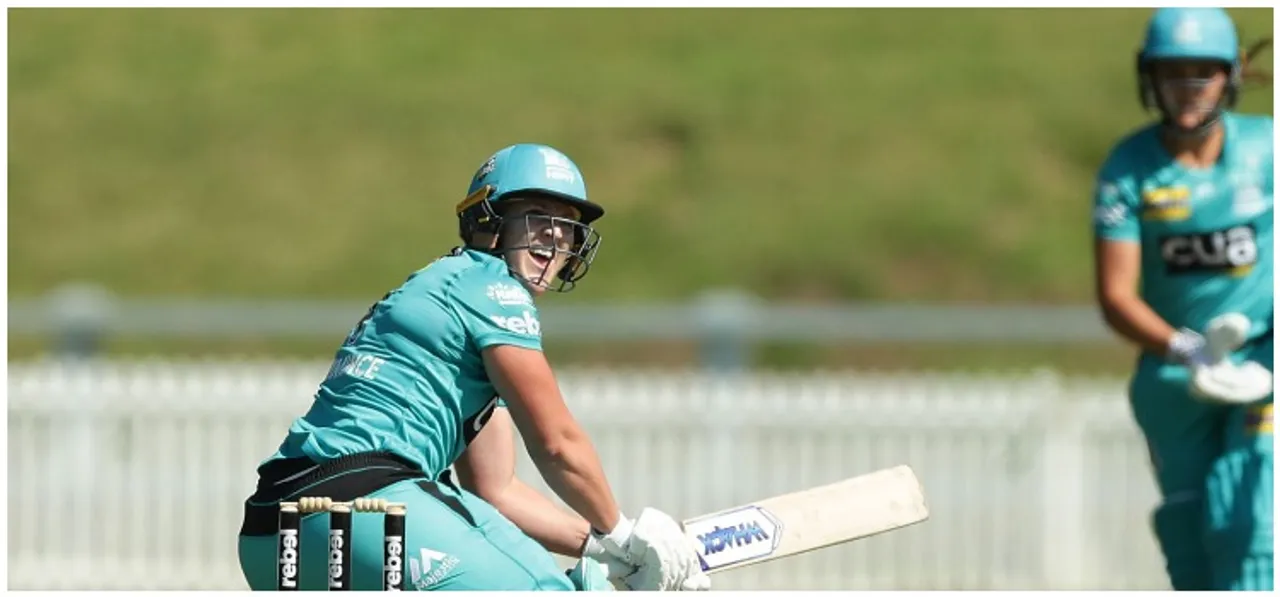 Stella Campbell had been taken for a four, six and a couple by Laura Kimmince on the first three balls of her third over, the 15
th
of the innings. Then a ball later, aiming for a yorker, she let out a high full toss. Kimmince managed to play what could be one of the most outrageous shots of the sixth edition of the Women's Big Bash League (WBBL).
Kimmince almost got ready to play the reverse paddle before being startled by the height of the ball. She half-ducked and just raised her bat like a periscope from the reverse shot position and managed to get it past short third man for four. She, however, was dismissed in the next over but she'd played her part with a ten-ball 23 walking in at six, as
Brisbane Heat downed Sydney Sixers
by three wickets on Tuesday (November 17).
"Honestly, I've been fairly disappointed up until the last couple of games with how my season was going but obviously given that bit more freedom to go out there and give it a crack and so far it's working alright," said Kimmince after the win, also revealing that she worked on bettering her reverse shots. She had also scored a quickfire 41 off just 17 balls in Heat's win against Adelaide Strikers on Saturday (Nov 14).



No way! How on earth has Laura Kimmince gotten this to the boundary?!

Play of the Day for sure! @CommBank #WBBL06 pic.twitter.com/b8cS0uxKrh


— Rebel Women's Big Bash League (@WBBL) November 17, 2020
"(I worked on getting a) better reverse shot than what I had previously. I try to keep that stable base as much as possible and trusting that I can hit the ball out of the park when I need to."
Kimmince also heaped praise on her "super impressive" Heat captain Jess Jonassen, who was appointed to the role ahead of this season.
"She's just a bit different to (Kirby) Short," said Kimmince. "Not to say one is better or worse, just a different style of leadership. (Head coach Ashley) Noffke tends to be a lot more of a chatter especially, so Jono curbs her a little bit from our point of view."
While it was the fourth win on the trot for Heat, it was the fifth successive defeat for Sixers in WBBL06. The loss put the side in magenta down to sixth on the points table while Heat rose to take the second spot.
ALSO READ: Madeline Penna, bowlers hand Adelaide Strikers a comprehensive win over Hobart Hurricanes
Sixers' Lauren Cheatle, who made a
successful comeback
from injury, said that they are ready to play in a must-win situation.
"It will be difficult but it's something that we're ready for and we don't have a choice to get to the finals we have to win and we know that."
Cheatle also said that Ashleigh Gardner, who was ruled out of the clash against Heat because of concussion, and Hayley Silver-Holmes, who also was injured, seem to be on track for a return this week.
"I saw her this morning and she looked quite better," said Cheatle of Gardner. "Her health is paramount and hopefully they'll test her and hopefully she'll be good to go. She's not just a big hitter, (but also) takes wickets and stops balls in the field. She is dynamic and an allround T20 player, someone you really want in your team."
I saw (Silver-Holmes) run and she looked good, I'm not medically sure. Hopefully she's back for us as soon as possible," she concluded.
Sixers next face Sydney Thunder, while Heat take on Perth Scorchers on Wednesday (Nov 18).