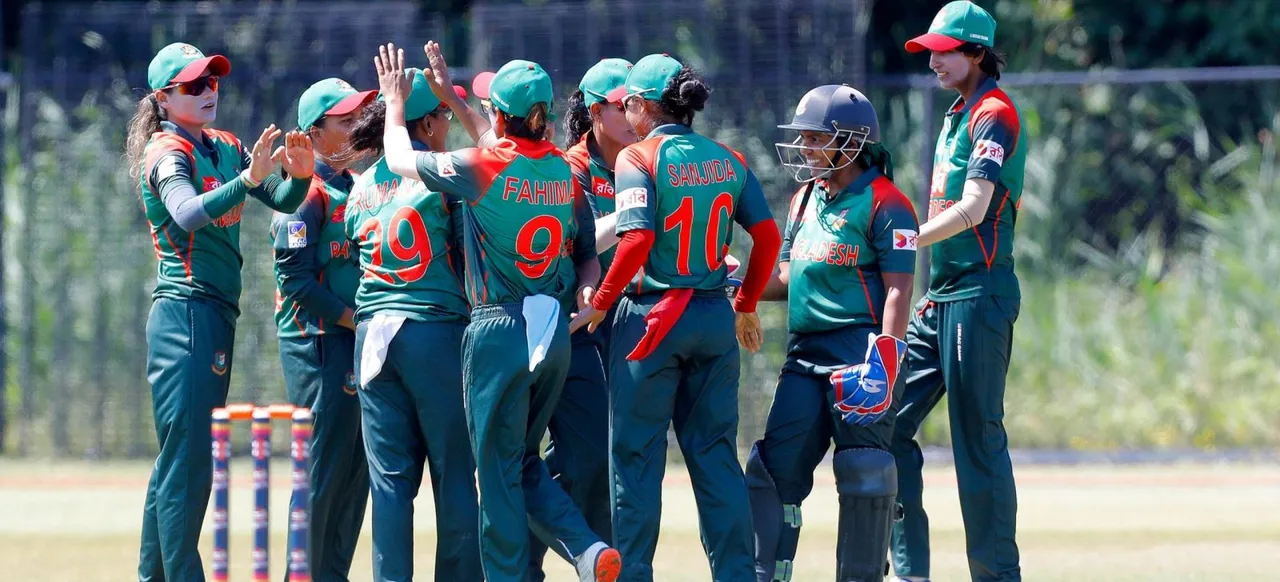 Three months back if anyone would have told Bangladesh can win back to back tournaments, no one would have believed that. But now it is a reality. They have won three back to back series and are currently riding high on success. Starting from small towns and struggled for years, the journey was not at all easy for them. They never got their recognition too but recently they are getting it for their wonderful performances.

They first did wonder after beating India twice and Pakistan once in the Asia Cup last month. In Fahima Khatun's words, "Beating India in Asia Cup was a huge achievement for us. We never thought of that. It felt great. Asia Cup has set the stage for us." It is true that Asia cup has changed everything and after that, they never looked back.

Bangladesh convincingly won the Ireland series. Their performance improved day by day. They were unbeaten in the Qualifiers too. Head coach Anju Jain, who joined the team just before the Asia Cup, told, "It was not at all a surprise as the girls have potential to do better. I told them not to participate only; you all have to make your presence felt."

She further added that without performing, there is no point having potential. She was happy with their performances in the tournament. "Definitely it felt great. I think the credit goes to the players only as they played really well. Happy to see the way they have responded to our training methods." Assistant coach Devieka Palshikaar too felt great, "It was a great feeling. Behind the success, there is a lot of hard work from the players."

Not only coaches, players are also happy with their performances. Bangladesh made some records too in the recently concluded tournaments. Jahanara Alam picked up 5 wickets in a match against Ireland. Fahima Khatun took the first hat-trick for Bangladesh, Panna Ghosh scalped 5 wickets in the final game of the Qualifiers.

Though coaches thought these were the players' hard work which paid off but players' owe their success to their coaching staff. They thought this became possible because of their guidance and constant help. In Rumana Ahmed's words, "Coaches are the main reason behind the success. They were always ready to help. Moreover, they understand us better and know what we need and when before we ask. Though they are with us for the last 2 months but it feels like they are with us for a long time."

Communication played a big role in the success as well. They said, "coaches gave us full freedom which helped a lot. We could communicate well with them."

All-rounder Rumana Ahmed is thankful to assistant coach Devieka Palshikaar. She expressed, "My confidence level became low before the Asia Cup as I was constantly failing to perform well. But it was Devieka ma'am who helped me a lot. Not only she helped me to do better in my bowling but also helped to gain my confidence back."

Player of the Match in the final match of Qualifiers, Panna Ghosh said, "I didn't think of the wickets, I had only one plan and that was to give dot balls." Along with cricket, Ghosh plays volleyball at the professional level too. "In Ansar, volleyball is the main sport where I am working for the last couple of years. Because of my height, I am a smasher in volleyball."

Not only cricket, she used to play football with her brother. But loved cricket more. Ghosh learned her basics from a girls' training camp and thankful to her coach for everything. She was utterly surprised after winning the Asia Cup. She expressed, "At first I couldn't believe that we beat India in the final. It took some time to sink in that zone. Because we never beat India before that."

The story wasn't same for Fahima Khatun, the first player who took the hat-trick in the T20I from Bangladesh. "Being a science student, I faced a lot of problems. Even still I am facing the problem as I am a law student now. My brother didn't want me to play cricket. From 2009-11, I stopped playing for studies. I started again in 2011."

While talking about her journey, she shared, "I scored 89 and picked up 3 wickets in my first district match. Then I got the call from Khulna and selected for Barishal division. I was a medium pacer then. I picked up 6 wickets by giving 13 runs in 10 overs against Rajshahi and it was printed in the newspaper."

"But after this performance, I didn't get the call for the camp that year. That was the time when everyone used to say that there is no future in cricket. I also started doubting myself and was so devasted that one day I threw all my cricketing stuff outside. But my elder sister picked up everything and handed over to me. It was my elder sister who had blind faith in me and because of her I'm here today."

Talking about the hat-trick, she explained, "I was too low before the match as I couldn't perform well before but everyone supported a lot. I am happy that I could manage to contribute. The whole team congratulated me after the hat-trick. Everyone was very happy and appreciated a lot."

Head Coach Anju Jain and Assistant Coach Devieka Palshikaar too were happy seeing their improvement. They expressed their happiness, saying that Panna's 5-wickets-haul was special as she didn't get the chance in Asia Cup but grabbed every chance in Qualifiers. Fahima too performed really well in the tournament.

In Head Coach Anju Jain's words, "The team is very confident now and ready to take on any challenge. They are not dependent on one or two players now. In every match, different players are performing." Keeping an eye on the T20 World Cup in November, they all think fitness will play a big role there. They want to work on that part too along with their batting, bowling and fielding. The team will attend a fitness and fielding camp in the next month.

Bangladesh team is finally getting their due attention from not only their country but also from other countries. Hope this is just the beginning of many more successful tournaments. Women's CricZone wishes team Bangladesh lots of success for the future.