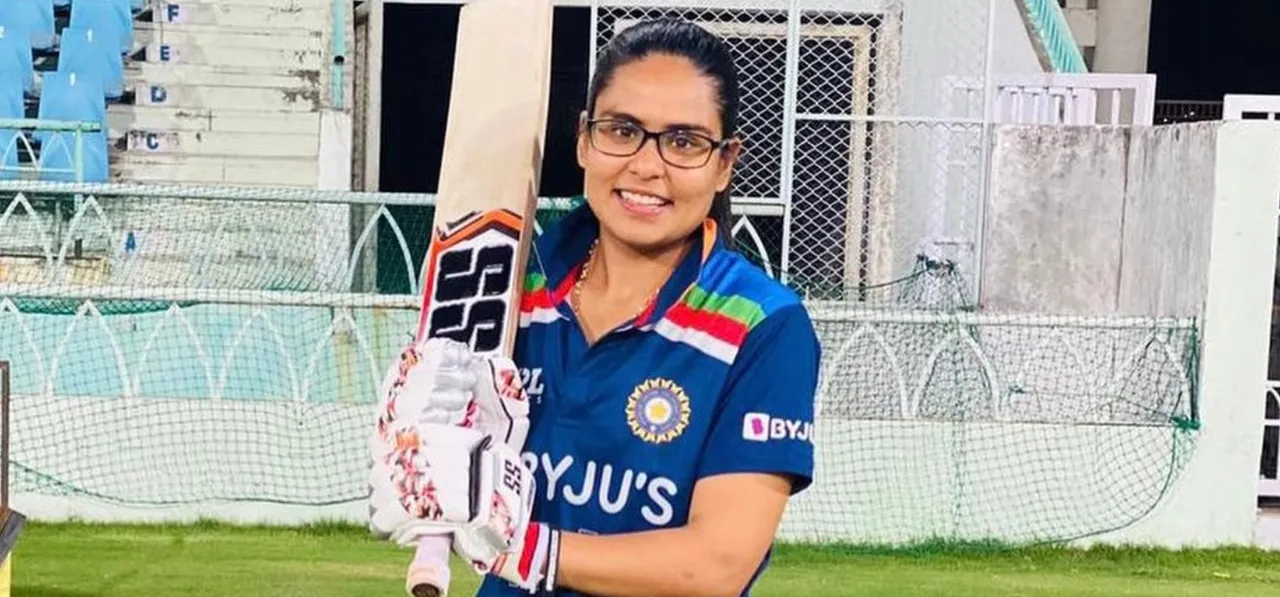 Former India captain Rahul Dravid once famously said, "No dream is ever chased alone. As I look back, I have many people to thank for supporting me, teaching me, and believing in me." The same is true for all those who dare to dream and strive to achieve them. And one of those is Delhi's skipper, Ayushi Soni.
Ayushi took up the sport when she was only 12 years old and soon fell in love with it. Her father, a university cricketer himself, saw her passion for the game and decided to add wings to her dreams. He enrolled her in professional training. But when you strive for something extraordinary in life, you are met with challenges of the same magnitude.
Members of Ayushi's extended family disapproved of her dreams. "They didn't want me to pursue a career in cricket. They used to tell my father why are you allowing her to play. There's no future for her as a woman cricketer," recalled Ayushi.
But her father was determined to see her excel and achieve big, and hence he decided to part ways with the naysayers.
Her father has always been supportive of her, and his support has helped Ayushi conquer many a battle. But not all battles are fought in tandem. For some, you need to tread alone even if they require you to stretch yourself to limits.
Back in 2018, Ayushi was playing for Delhi and doing well. But she was far from content with her fitness.
ALSO READ: The Times They Are a-Changin' for the mighty Indian Railways
"In 2018, I realised that I needed to do something different to play for India. I started working out much harder, hired a personal trainer, and changed my diet and fitness regime completely. I love eating pizza and ice cream but I even gave up on those to get into my best possible shape," said Ayushi.
Her consistent brilliance with the bat, sacrifices, work ethic, and sheer perseverance all bore fruit as she was finally picked for India in their home series against South Africa in 2021.
But the news of getting selected for India seemed so flabbergasting to Ayushi that she couldn't believe her ears.
"It was a normal day. I was just doing my usual stuff and suddenly I got a call in the afternoon saying that you have been picked for the Indian team. I thought that the person was trying to prank me. I told him that I'm in no mood for a joke and that's when he said that he was calling from BCCI (Board of Control for Cricket in India) and that he wasn't kidding. But my mind was still not able to register it and it wasn't sinking in. When I started getting all the congratulatory texts and phone calls, that's when I realised that it is a reality. I then called home and gave the news to my father and mother. My mother got really emotional. When I met my father after getting selected, he hugged me and said that 'this is just the beginning. You have to do better now'," mentioned Ayushi.
India selection allowed Ayushi to share the dressing room with some of the biggest names in Indian cricket and provided her with a wide array of learnings.
"It turned out to be an exciting experience for me. It was my first opportunity to interact with the likes of Mithali Raj, Harmanpreet Kaur, Jhulan Goswami, and Smriti Mandhana. I was ecstatic to share the dressing room with them. I observed how they stay calm and composed even in a very high-pressure situation. In addition to that, I also saw how they conducted themselves on the field as well as off it," told Ayushi.
The Senior T20 League 2022 turned out to be a disappointing outing for Ayushi both individually and as a skipper as she couldn't do well in any of the games and Delhi failed to make it to the
knockouts
.
But the forthcoming Women's T20 Challenge will see her in action again for the Supernovas. And the experience of having played in the tournament before might as well work wonders for the 21-year-old, as she aims to make a comeback to the Indian team in the days to follow.
"I want to make a comeback to the India squad and really look forward to playing in the Women's T20 Challenge 2022. That is my primary goal at the moment," said Ayushi.