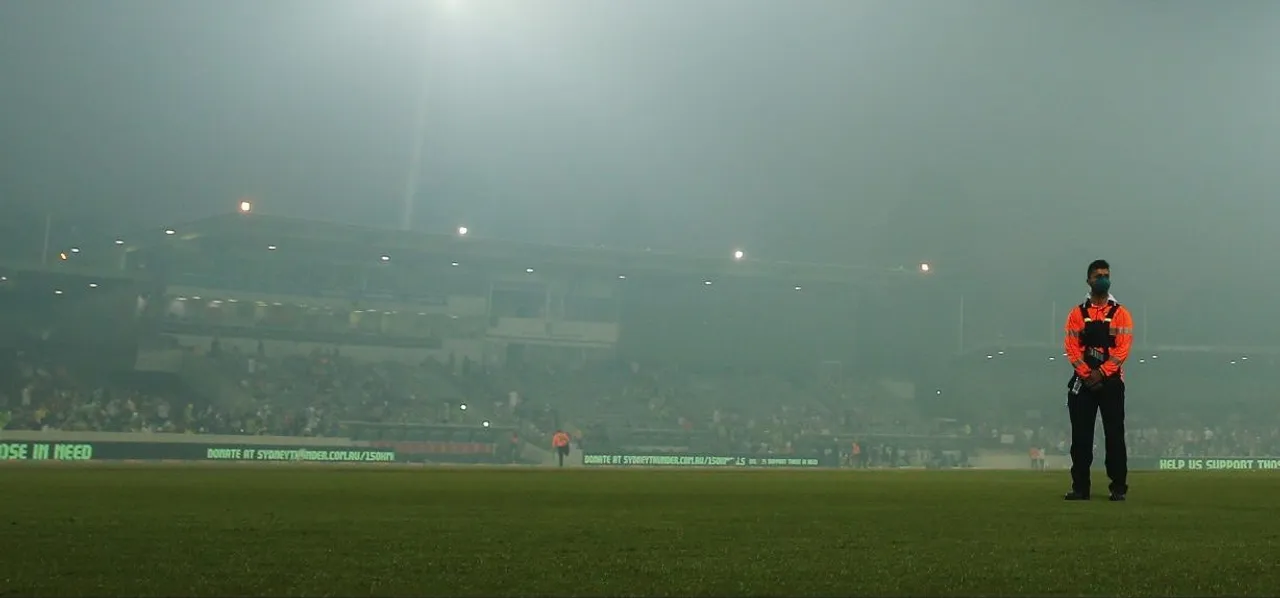 wp:paragraph
Australia's bushfire crisis may well interrupt the start of the T20I tri-series involving Australia, England and India beginning at the Manuka Oval in Canberra on Friday (January 31). The air quality continues to deteriorate alarmingly— edging close to what the International Cricket Council (ICC) deems "very unhealthy"— while the general temperatures in and around the city are high as well.
/wp:paragraph
wp:paragraph
On Wednesday (January 29), Canberra was covered in smoke as a huge fire burnt uncontrollably in Orroral Valley. It is feared that the fire— that appears to cover more than 10,000 hectares— is likely to burn for several weeks.
/wp:paragraph
wp:paragraph
For the two opening matches on Friday and Saturday (February 1), temperatures are expected to hover in the low 40s, with air quality expected to range between the "unhealthy" to "very unhealthy" level.
/wp:paragraph
wp:paragraph
"An air-quality index reading of 180 to 197 is predicted for Friday afternoon and 153 to 157 for Saturday. The Australian Institute of Sport regards a figure of between 150 and 200 as "hazardous" for "endurance-based and high-intensity exercise" and cautions that "outdoor training should be rescheduled indoors and exposure should be minimised for everyone"," Andrew Wu wrote for Sydney Morning Herald.
/wp:paragraph
wp:paragraph
Decisions on whether play should be suspended will be left to the ICC Match Referee, who will work off the advice of doctors present. In the case of the tri-series, Cricket Australia doctor,  Dr. Phillipa Inge, will be in the ears of the match officials.
/wp:paragraph
wp:paragraph
According to ICC guidelines, until the air quality falls to a reading of 201— still the the "very unhealthy" bracket— no action needs to be taken.
/wp:paragraph
wp:paragraph
So far, only one match has been suspended through the 2019-20 domestic season— a Big Bash League game involving Adelaide Strikers and Sydney Thunder— due to poor air quality and visibility. Although the Sheffield Shield encounter between New South Wales and Queensland was not abandoned, it was played in smoke-ridden conditions.
/wp:paragraph