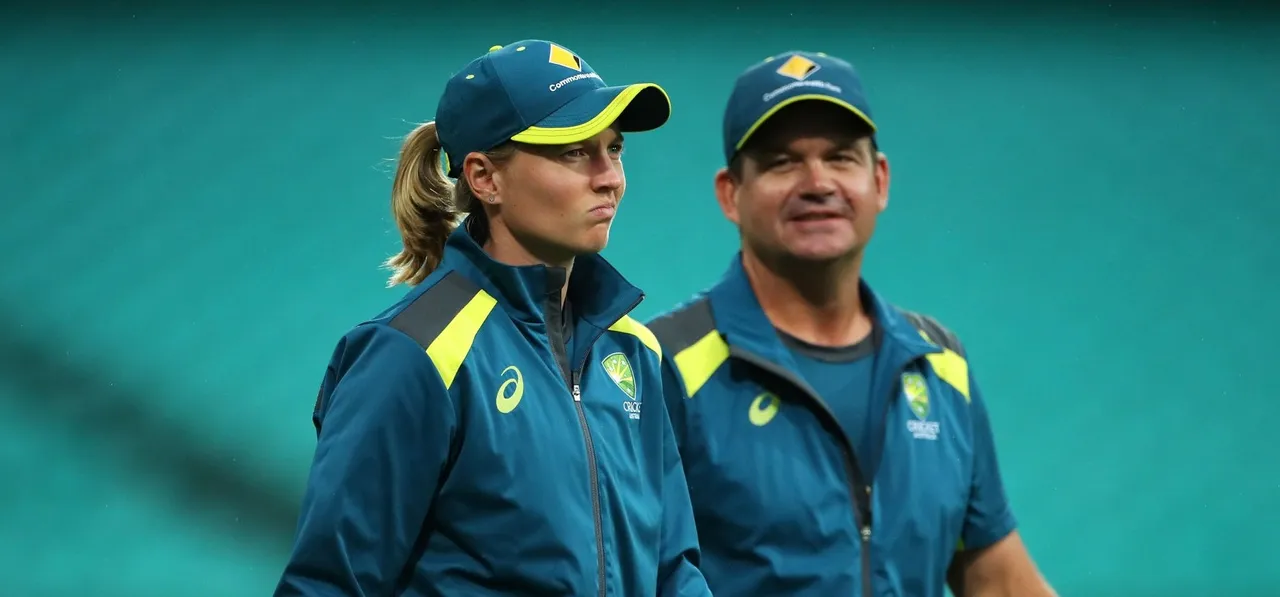 Head-coach Matthew Mott says Australia want to add more pace to their bowling attack and be aggressive against teams upfront leading into the World Cup 2022.
"We certainly want to make a statement with some fast bowlers. I think over here the conditions of swing will suit our bowling attack. I think it's a real point of difference which we've now got, which we haven't really necessarily had that much in the past for a while," Mott said during a virtual media interaction in New Zealand on Wednesday (March 17).
"The selection panel is really committed to trying to get pace into our attack. I think for a while in the world game, pace off the ball has worked extremely well and we have certainly used that well. But we do feel like with the World Cup coming up, there's always changes and we are trying to stay ahead of the changes and see what will work over here."
Australia will have a problem of plenty having
many pace bowling options
along with Tayla Vlaeminck, who is returning from an injury, Australian squad includes Belinda Vakarewa, allrounder Tahlia McGrath, uncapped quicks Darcie Brown, Hannah Darlington. They will compete with allrounder Nicola Carey for a place in the XI to join experienced Megan Schutt and Ellyse Perry.
ALSO READ: India to tour Australia, New Zealand around the turn of the year
"There will be a pace flavour and swing. We want to take wickets upfront, which is always part of our winning measures that we judge ourselves on. That's why you see the Darcie Browns in there and obviously Tayla Vlaemincks here that can come in, hopefully ruffle feathers and hurry a few up, swing and hit the wickets," Mott said.
"The other part of that it's there's probably a little bit of short-term pain on that potentially those bowlers will go for more runs. But we need to back our long-term plans as well. We feel like we've got other options that can cover, but definitely going to try and take them on with pace up front."
Matthew Mott said they will be looking to manage Valeminck's comeback considering her injury history, while Perry might start straight away as she had some game time in WBBL and WNCL.
"In Tayla's case, right from the outset, we won't be looking to play her in every game over here, she's aware of that. We're going to manage her back through her return to play," Mott added. "Ellyse has come off some really good cricket and so she'll have to get in there somewhere. Then it's about managing a couple of really unlucky players who will miss out," Mott added.
He added that uncapped Brown and Darlington have so far impressed the management with their skills. "They have both done exceptionally well in domestic cricket. They bring very different skill sets. I think no doubt Darcy's got a bit of pace, swings the ball. And along with Tayla Vlaeminck is hopefully one of the new breed of young quicks coming through. Hannah is a little bit more of a T20 specialist at this stage of her career and her chances of pace, disciplined lines and cool-headed are what really attracted the selectors."
ALSO READ: Megan Schutt impressed by speedster Darcie Brown's control
Brown impressed everyone with her pace and ability to swing during WBBL and then in the WNCL. She was named the Young Gun of WBBL06, while Darlington was the second highest-wicket taker during the season and was instrumental in leading
Sydney Thunder to the title
.
"We obviously have a World Cup here in twelve months' time. This squad and the nucleus of this will have a great opportunity to show what they've got in these conditions and put their name in the selectors thoughts for next year," Mott concluded.