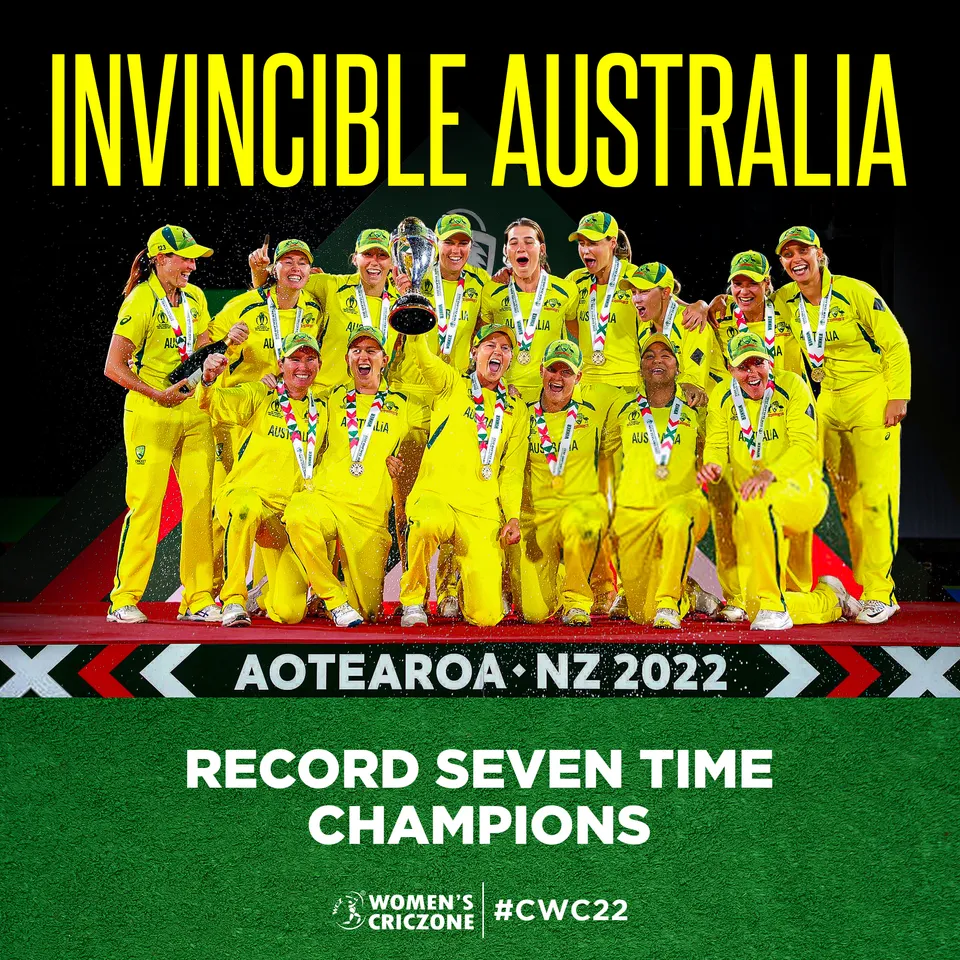 "I don't think relief is the right word. I think it's pride. I'm so proud of this group. I use the word reinvent, but you can use whatever word you want. We came together as a squad and decided, this is how we want to play our cricket from now on. And that we're going to be the best team in the world and for all 15 people in our squad and I think the girls outside of the squad that have come in and contributed to be able to buy into that has been unbelievable.
I think that's a culture created by the lady sitting next to me (Alyssa Healy) and Rach (
Rachael Haynes
) – So yeah, not relief. I think I'm just really proud of this group to have done what we've done over the last five years. And I think the trophy in our hands is sort of just the final little piece of the puzzle that needed to happen," these were the words of an emotional Australia skipper Meg Lanning during the post-match press conference of the 2022 World Cup final.
Australia routed arch-rivals England by 71 runs in the summit clash of the 2022 World Cup at the Hagley Oval in Christchurch on Sunday (April 3). This was their record seventh ODI World Cup title. Wicket-keeper batter Alyssa Healy pummeled the English bowlers and smashed the highest individual score in World Cup finals. She hammered 170 runs and helped Australia post a winning total.
ALSO READ:
Wello, TMac and the big South Australian Dream
"I was just watching the ball and trying to hit it and trying to get our team to a really good total. So at no point did I think of anything. I think Moons (Beth Mooney) at one point literally said to me, you could get 200 here. And that was probably the first time that it even crossed my mind that I can score that many runs, it was just, watch the ball, hit it. Get our team to a good total," said Healy while reflecting on her marathon knock.
Australia have been in phenomenal form for the past four to five years. They won two ICC World T20 titles in 2018 and 2020 respectively. And won 26 ODI games on the trot leading into the World Cup.
Speaking on where does this World Cup win rank amongst all the achievements, Lanning said, "I think yeah, there's no doubt that this is pretty high on the list, we obviously go out there to win every game that we play, but it's not easy, you're playing against extremely good teams who are chasing you really and they're coming out to play their best cricket against you. So, we've been able to really evolve as a group and play the style of cricket that we've spoken about."
ALSO READ:
Healy show helps Australia clinch seventh World Cup title as Sciver wages a lone battle
Lanning not only appreciated the players who are a part of the World Cup winning squad but also acknowledged the efforts of the support staff and the other people who are a part of the team management.
"There's been a lot of hard work going on to get to this point from players and support staff as well and not just the players who are here there's a lot of others as well who've been part of it through the journey so yeah, just as a squad and players and staff - there's a lot of hard work and it's nice to get the reward here at the end," added Lanning.
On one hand where Australia scripted history, defending champions England missed out on making it two titles in a row. England skipper Heather Knight was disappointed with the outcome of the final but heaped praise on her teammate Natalie Sciver for her brilliant knock and also appreciated Healy for her magnificent innings.
"Yeah obviously I'm very disappointed. I am really proud of Nat and the fight she put on, obviously to give us a chance of winning, but we unfortunately didn't have anyone with her to be able to really maximize. All credit to Australia for the way they played in a final.
ALSO READ:
The rise and rise of Ashleigh Gardner: Australia's stormbreaker
It was pretty amazing and they made it very tricky for us to set fields, it was a very good wicket and innings by Alyssa. One of the best I've certainly seen live. So yeah, obviously disappointed but I think we can take a lot of pride in what we've done as a group, the way we fought throughout the competition to be in this position and the way we fought tonight," said Knight in her post-match press conference.
Although disappointed by the result of the summit clash, Knight looked fairly content with her side's temperament and how they fought their way back into the tournament.
"I think the character and the resilience in the group to turn it around after those first three games when obviously we were in a pretty tough situation shows volumes. I think it will take a little bit of time to digest what went wrong. And I think also, it's fair to say credit to Australia and their players and they put their best game on the biggest stage so - fair play to them," added Knight.
Reflecting on her knock, Sciver expressed how it was batting with the tail. And how realistic the possibility was chasing the mammoth total set by the Aussies.
"Yeah, I think actually when Charlie Dean was there we had a really good chat like if we were there with two - three overs to spare. We knew that - I mean, it would be a big ask but, there would be a chance that we could get over the line. And you could tell that - yeah, the Australians were really keen on obviously taking our wicket and changing the momentum again. Because we did have a bit of momentum, I guess. But just if anyone had stuck around for a bit longer it would have been maybe a different story," mentioned Sciver.