Australia is all set to return to cricket with the six-match series - three T20Is and three ODIs - against New Zealand at the
Allan Border Field
starting with the first T20I on Saturday (September 26). Skipper Meg Lanning says they will need to pick their strongest eleven throughout the series to compete with New Zealand even with the cramped schedule.
"We will be picking our strongest team each game. We need to do that in order to compete with New Zealand," Lanning said during the media interaction ahead of the first T20I on Friday (September 25). "There will be an element of management but it will only be if the players are not fit to be able to play. We have to keep an eye on everyone throughout the ten days, but we will be putting in a team out there that's strongest every time."
"Series is six games in pretty quick succession, so (a) little bit of management there. But we're pretty confident that we'll have everybody else (other than Ellyse Perry) to pick from."
Lanning confirmed that
Perry won't be available for selection
as the allrounder is still recovering from the hamstring surgery she had and is working on her path to return to international cricket.
ALSO READ: Australia start favourites even as they sweat on the fitness of Ellyse Perry
"She's still working through her return-to-play plan. When she ticks off all those markers, she'll be available, but she's still working through that, so we won't see her tomorrow," Lanning said. "She's doing everything she can to get up and play, but she's got a very good plan in place. Everyone has looked after her, and once she gets through that she'll be available."
Australia picked an
18-member extended squad
for the series keeping the schedule and the bio-secure protocols that are in place due to the ongoing COVID-19 pandemic in mind. Uncapped Maitlan Brown, Belinda Vakarewa and Tahlia McGrath are the new additions to the side from the squad that played in the T20 World Cup in March.
Lanning, who has played 104 T20Is for Australia, said they have an array of options to choose with everyone looking in good form at the nets and picked out Sophie Molineux and Vakarewa for special praise for the way they performed during the warm-up match against New Zealand on Thursday.
"There are many options that we have got and they all provide a bit of variety as well. Obviously, Sophie Molineux did well yesterday and she has done it for a little while and it was nice to see her start of the season well," said the 28-year-old.
ALSO READ: Returning on the back of strong domestic performance, Belinda Vakarewa hopes to make it count
"But whatever option we go with I am extremely confident that we will be able to get the job done and our spinners have done a good for us over a long period of time. The great thing is we got options and everyone is in form and it will be tough to get that final eleven picked."
"I think Belinda Vakarewa was really impressive, especially with the new ball. Suzie Bates came out pretty hard at her too and she was able to hold her back and get her wicket in the end," Lanning said about the young pace bowler.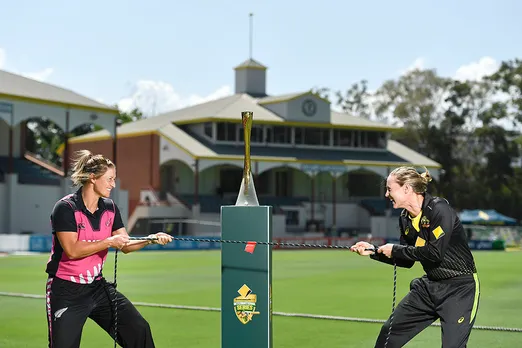 Sophie Devine (L) and Meg Lanning ahead of the AUS-NZ series. © Getty Images
"I was really impressed with everyone yesterday, just to be put under that pressure and be able to show their skills, that's great. We had people coming into the squad, new players who haven't been involved for a little while, and to be able to play well was so encouraging."
Lanning downplayed the victory in the 40-over warm-up match against their trans-Tasman rivals saying both teams probably were easing back into the action and expects New Zealand to be really competitive once the series starts.
"We won't really know how each team is playing until we get out there and play in the real stuff out there," Lanning added while talking about New Zealand skipper Devine's remark about pandemic making it a level playing field for both the sides.
ALSO READ : If there's any time to do that, it's now: Skipper Sophie Devine eager to knock Australia off their perch
"I think both sides to be honest, probably didn't play their strongest lineup or go to play at certain points when they might have. So, it's probably similar from our end where we were trying to give people (an) opportunity and see what they have got and we were still able to put out a good performance."
"Yesterday was a practice game and tomorrow is the real stuff and it is going to be a tight contest and we always enjoying playing against New Zealand. They have got some real good match-winners and some good depth as well. The proof will be in the pudding in terms of our performances over the next ten days."
"For us to be able to get out on the park and play some cricket is really exciting and we feel really fortunate and it is important that we can build it on the momentum we got through the (T20) World Cup back in March. Hopefully, it's not lost, I don't think it will be. We built a really good base up to that moment. So, it's exciting (that) we are able to get out there and in Australia, it will be the first of national event to take place and everyone is looking forward to it," she concluded.
Both teams will observe a moment of silence ahead of the first T20I and will wear black armbands during the match as a tribute to Dean Jones.