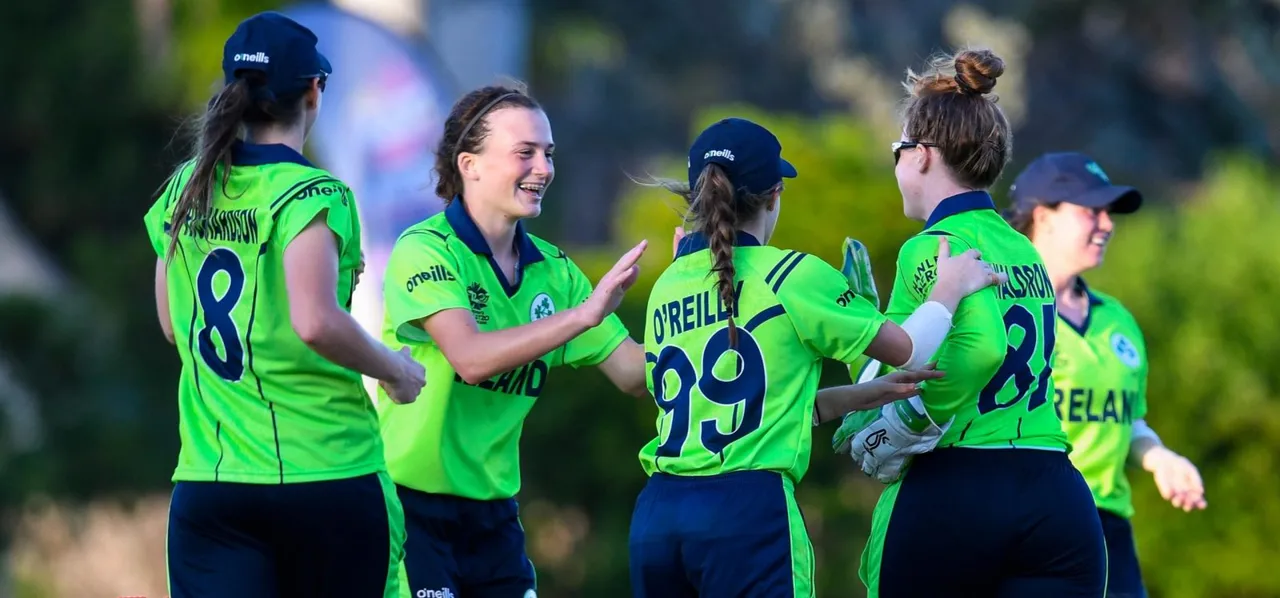 Ireland have started their World T20 campaign with losses. Their first match was against mighty Australia; where Australia won by 9 wickets and their second match was against Pakistan, where Pakistan won by 38 runs. Ahead of their match against India, the team spent a quieter day, with some gym sessions, team meetings and physio sessions etc.

Head Coach Aaron Hamilton recently shared the journey with the side through the World T20 tournament so far. He adviced his squad to relax and focus on enjoying their cricket.

As most of the batters failed miserably against Pakistan, Hamilton said: "Yesterday's game was, in all honesty, a missed opportunity for us. Probably the biggest issue for us was dot balls - we didn't display enough ability in turning over the strike and keeping the board ticking over. With the ball, we were really good with the power play, but we just didn't capitalise on it. Coming out of it there were probably three overs where we conceded 12 or 13 runs an over. But we finished bowling out our overs well."

Isobel Joyce was the highest run scorer for the team yesterday. She scored a 31-ball 30. Apart from her, Clare Shillington was the only batter who could reach the double-figure (27 off 25). While talking about this he said, "I thought with the bat Isobel Joyce was very good, she started slowly but made up her runs as she went. And once again Shillers played well out front. However, as a batting unit we probably just needed to play straighter for longer - most of our dismissals were going across the ball."

"Our fielding was quite good. We put down a couple of harder chances - Shauna Kavanagh had a spectacular effort, and if it had stuck, it would've been fantastic," he further added.

"But with the ball, Lucy O'Reilly was fantastic, all the way through the innings. Now that she's got some overs under her belt, she's now showing what she's capable of. She finally got her loads up to where they need to be. For Lucy it's more of a mindset thing as well - this is her third world cup, so she knows and understands what is required," he said while talking about Lucy O'Reilly; who scalped three wickets in the last match.

"Going into the last two games we'll be working on improving our scoring shot percentage, to rotate the strike. The team just need to relax and have some fun, to believe in themselves and believe they deserve to be here. We also need to extend our good patches for longer. The best teams can do that, they can make their good patches last longer in a game. That comes with playing more good quality cricket. That'll improve over time - we're getting there," shared the coach.

19-year old pace bowler Lucy O'Reilly performed really well with the ball, picking up three-wickets against Pakistan, including Nida Dar, Aliya Riaz and Bismah Maroof. She has been receiving praises from everyone. "I think the experiences of playing at two previous world cups have helped me adjust with nerves. Playing in a tournament like this is a huge step up compared to any international, to be honest. Nerves can be a huge factor that can affect players, but luckily I've been able to channel them this tournament," she said.

"Apart from that it is about the enjoyment of it all, staying calm under pressure against the best in the world can be daunting, but luckily I've done it two times before, so that's definitely something I've taken from the past two world cups."

Veteran commentator Alan Wilkins' has praised her performances and technique. In reply, she said,  "I'm absolutely flattered to receive the comments I did from Alan Wilkins, and I'm feeling quite confident after the Pakistan game. I actually haven't been bowling that much recently - I did take a year out for my Leaving Certificate and was away quite a bit this summer, so I actually wasn't that confident coming into the tournament."

"Basically I felt I was a bit underprepared - but with the training we've had with the lead up and the facilities we now have at Abbotstown over the last six weeks, luckily it's all paid off and hopefully I can put some more performances for the team over our next games."

Lucy O'Reilly was Ireland's leading wicket-taker at the ICC World T20 Qualifier. She was also a part of inaugural ICC Women's Global Development Squad in July.

"I thought the Global Development Squad was absolutely brilliant - to play against some of the best players in the world and with a different group of girls. Probably the main takeaway was learning to work with different individuals and sharing knowledge, and just the chance to bowl at the best players in the world was a great challenge, but something I loved doing."

Ireland will face India on November 15 at Providence Stadium, Guyana.