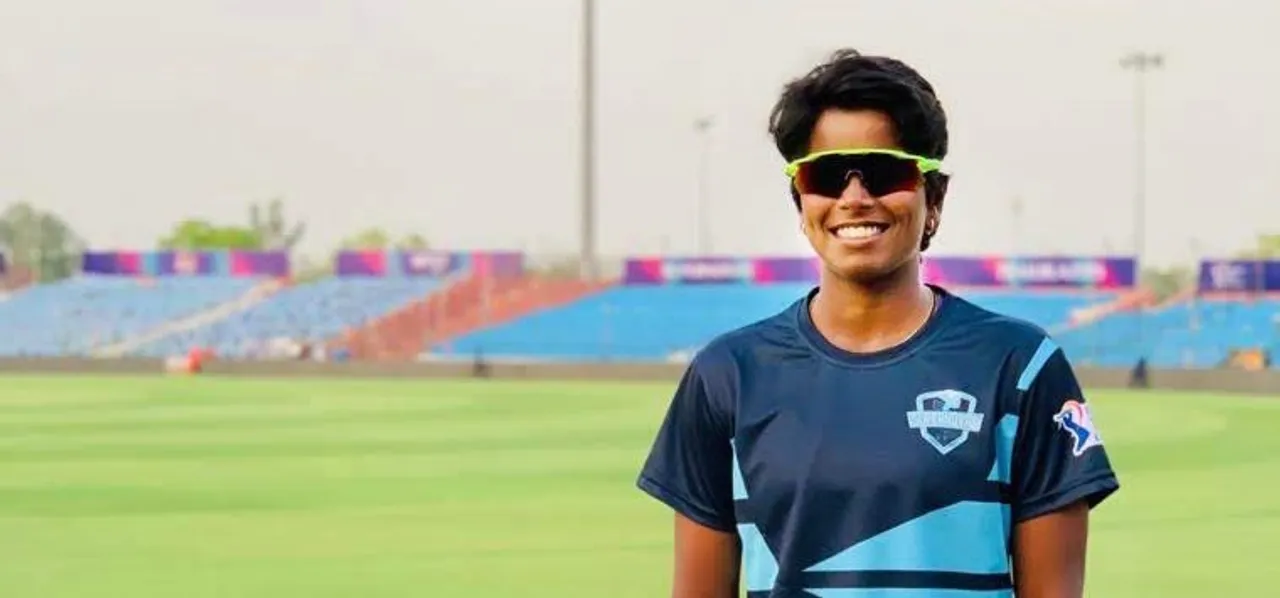 March 8, 2020 was a significant date in the history of women's cricket. The famed Melbourne Cricket Ground was packed to the rafters for the ICC
Women's T20 World Cup final
between Australia and India – 86,174 enthusiastic supporters, celebrating the women's game.
As 11 Indian players took the field, carrying the hopes of a nation on their shoulders, a certain Arundhati Reddy sat in the dugout, watching the action unfold. Her emotions we mixed. She was thrilled to be part of such a big occasion – her first World Cup final – but there was a large part of her that yearned to be in the thick of things. While Alyssa Healy quickly blasted a scarcely believable 39-ball 75, the young quick made a quiet promise to herself: "Next time I will be part of the action on the field".
Having played a key role in an unfancied
India C's win in the T20 Challenger Trophy
in Cuttack earlier this year, and
built her confidence as an allrounder
when India A travelled to Australia in late 2019, Reddy went into the World Cup on a high.
At the start of the tournament, she had found herself in the thick of the action. Handed an opportunity after Pooja Vastrakar suffered a minor hamstring injury during the tri-series involving Australia and England, the seam bowling allrounder put in promising performances, bowling steadily and proving to be an asset in the field. She was part of the XI in the team's opening two games of the T20 World Cup
against Australia
and
Bangladesh
before being
replaced by Radha Yadav
.
ALSO READ: Shashikala Siriwardene is raring to go in the Women's T20 Challenge
So, as Reddy watched her teammates scurry around the field, trying to keep a rampaging Healy quiet, it may have felt like an opportunity lost. However, the snub only strengthened her resolve to improve and become an "undroppable" part of the side.
A little over seven months since the Indian players last featured in a competitive match, Reddy and co. are preparing themselves for 'season three' of the Women's T20 Challenge – a four-match competition to be staged between November 4 to 9 in the UAE. Confined to her home in Hyderabad through the lockdown period, the 23-year-old has been quietly working away at her craft – waiting for a chance to showcase her improvement.
"I'm really very excited because this is the longest I've stayed away from playing competitive cricket," Reddy tells
Women's CricZone
. "So, I'm really looking forward to this tournament. Apart from the chance to play alongside and learn from some really experienced international cricketers, I'm just excited to be back on the ground and get the chance to play again. I can't wait to run in and bowl in a game – I've really missed that feeling."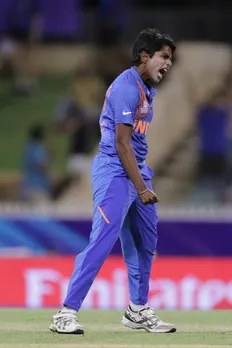 Arundhati Reddy celebrates a wicket against Bangladesh at the T20 World Cup. © ICC
Like most of her teammates, the first couple of months for Reddy in lockdown involved plenty of uncertainty and confusion.
How was one to 'prepare' without space or equipment? What were they looking forward to? Would all that momentum be lost overnight?
With every series under a cloud, and no clarity around planning or preparation, she took a while to get used to the 'new normal'. But a few weeks into lockdown, she saw the time as an opportunity to begin her 'Mission Undroppable'.
Cue the gathering of exercise equipment from various sources, and the setting up of a makeshift gym on her terrace. A clear training plan was then put together by her trainer with a focus on gaining muscle and strength. And that was followed by a structured bowling plan – drills and exercises that could be done in a confined space – that allowed her to work on the consistency of her action.
ALSO READ: Arundhati lives her dream with mother's support
"During the initial few months (of the lockdown) I set up things at my place – I got all the gym equipment and stuff and worked out on my terrace, and went for the odd run. I'd spoken to my trainer and after the lockdown was lifted, I hit the gym. He's asked me to get stronger and build more muscle, so I've been trying to work on that aspect because this period - this off-season - is not going to come again. I wanted to use the time to get fitter and stronger and improve in any way possible."
"As far as my skills are concerned, since I've only started practicing like three months back, I've tried to get back into my rhythm and be more consistent," she says.
When she first broke into the side, Reddy was a bit of a one-trick pony who could swing the ball early, but found the going tough in the middle and death overs. However, with 20 T20Is and several tours under her belt, she is getting used to the grind of international cricket, and the constant need to evolve.
"I think the main thing is that I've got a little more experience on how to play against good teams and how much I should improve as a player. Because, when I actually got in
, there was not much variation in my bowling. I was really inexperienced at that time, but now I feel that I understand how to go about it at the international level."

Visibly stronger, she is now prepared to turn her focus to the tournament ahead. While she is clear that the hard work has only just begun, Reddy is confident that "sticking to the process" will reap rewards in the long run.

"I think the main goal for me is to be more consistent and execute my plans better every time I'm being given the ball, and every time I get to bat. I want to win games for my team, so that's the main goal for me this time."

ALSO READ: Richa Ghosh looks forward to Women's T20 Challenge experience in UAE

In 2019, Reddy watched on the sidelines as Radha Yadav's heroics helped Supernovas clinch a thrilling win over Velocity in the final of the Women's T20 Challenge in Jaipur. She didn't play a single one of her team's three matches, but the chance to rub shoulders with the likes of Lea Tahuhu, Sophie Devine and Natalie Sciver is something she holds close to her heart.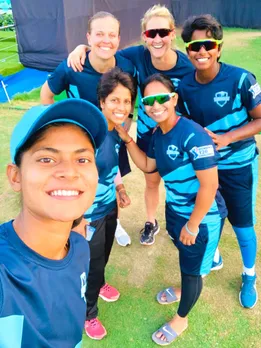 Reddy had the opportunity to rub shoulders with Sophie Devine and Lea Tahuhu during the 2019 Women's T20 Challenge. © Special Arrangement

"Having three top quality pacers in my team, it was obviously a great learning for me. I think most particularly what I learnt from them is how to prepare for games. They were very professional with how they went about things be it their training or the practice or even their eating habits," she reflects.

"I still remember I saw Sophie Devine working out - hitting the gym - even before the games on the game day. And their practice and preparation -about how they want to bowl to each batsman before a game - they plan it very well and that's something that was a very good learning curve for me."

Now, with the likes of Ayabonga Khaka and Shakera Selman to learn from, Reddy will be hoping to kick off her mission on a positive note. Either way, the lessons will be keenly jotted down in her book of memories. There is plenty to take back with her.

"This is only the start of the journey, and I'm well aware of that. I want to be able to win matches for whichever team I play for. I know I can do it – I've shown glimpses – but it's about being consistent and not trying too much. I understand I need to stick to what I am good it rather than worrying too much about the opposition. I'm more confident in my skills now, and that's a step in the right direction."