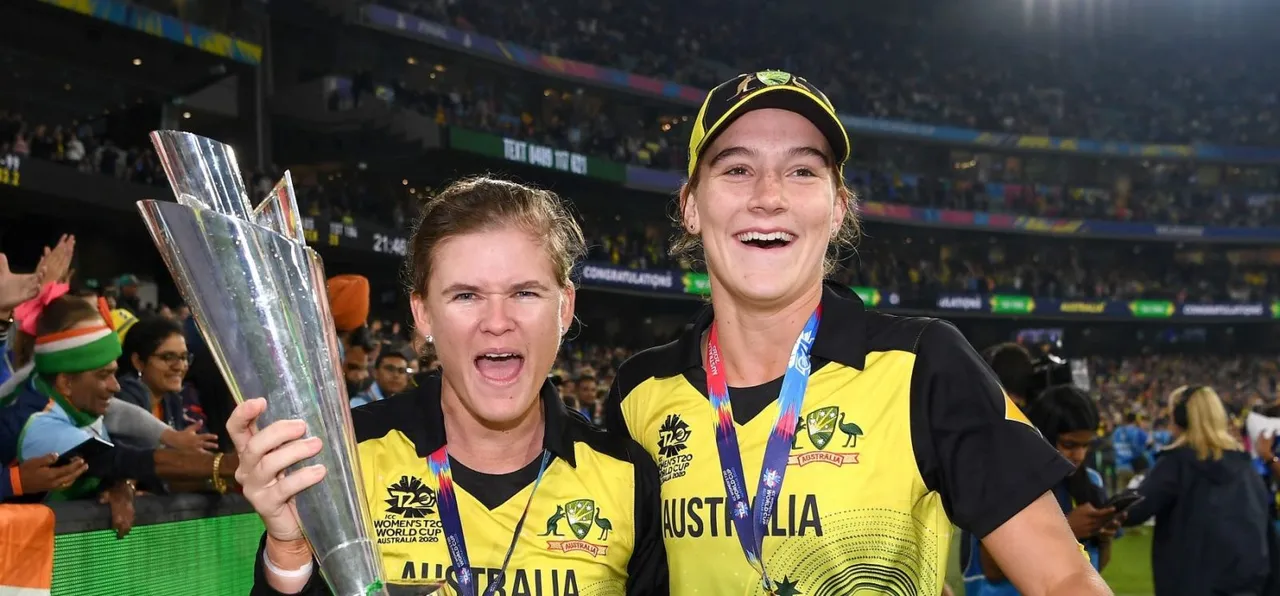 To call Annabel Sutherland's last six months a roller coaster ride, would be a bit of an understatement. Since October last year, the 18-year old has passed her driving test, appeared for Year XII exams, played in the Women's Big Bash League, made her debut for Australia and also become a Women's T20 World Cup winner.
In October 2019, ahead of the WBBL, amidst the hullabaloo of professional cricket, Sutherland was attempting to balance her academics with training - something she found quite challenging.
"It was tough. It was a busy part of the year so I wasn't around the group as much as I would have liked," Sutherland told melbournestars.com.au. "It made me understand how much I enjoy the Big Bash. (Every day) I was indoors studying, preparing for exams and then completing exams and it made me realise how much I love being a part of the Stars, so when I did get to run out on the field with the girls, I made sure I was having heaps of fun."
ALSO READ: Megan Schutt recounts Australia's World Cup win
Soon after the WBBL, where Sutherland put in impressive performances for the Melbourne Stars, and showed similar promise for Australia A, the allrounder earned a call-up to the Australian team for the tri-series and World Cup at home. While the selection may have come like a bolt from the blue, the person most surprised was Sutherland herself.
"I had just woken up and he (Shawn) told me that I had been selected in the Tri-series squad (to play India and England) and the World Cup squad. I was a little bit in shock, so I didn't give much," she laughed.
"I hung up and Will was the only person home, but he was still asleep, so I woke him up to tell him. Then I got on to mum and dad who were playing golf with my younger brother Tom. They were all very proud."
Sutherland made her debut against England and scored a quickfire unbeaten 22 in a thrilling encounter, to help almost take Australia over the line. Her composure and ability to find the boundary stood out.
Despite her early success with the bat, Sutherland had to wait for two more matches before she picked up her first wicket - that of Richa Ghosh who top-edged a delivery to Tayla Vlaeminck.
ALSO READ: Ellyse Perry undergoes hamstring surgery
"My hair was completely messed up by Midge (Alyssa Healy) and Tay (Vlaeminck) who came in and basically ruffled up my hair, but it was really special, and the girls got around me which was really nice," she said.
Then the teenager went on to play three matches in the World Cup, against India, Bangladesh, and New Zealand.
"I still can't believe that I was a small part of what happened. To even play once, let alone three times during the World Cup was very special. I never thought it was close to a reality to play in a home World Cup this year so for that to have happened; I'm very grateful," she said.
Although Sutherland did not take an active part in the final against India at the Melbourne Cricket Ground in front of a record 86,174 crowd, she recalls the experience and memories of the special night on March 8.
ALSO READ: T20 World Cup setting the tone for the decade
"That was so cool. 86,000 – it was seriously unbelievable. I remember standing out there with Molly (Strano) and we were running drinks and I remember doing circles, looking at the crowd. It was definitely one of the best moments I have been a part of," she said.
After clobbering India by 85 runs, the hosts' celebrated with pop star Katy Perry, joining her on stage for her final song of the concert, 'Firework.' The entire team was seen singing, dancing and hugging Perry, who allowed Meg Lanning and co. to take centrestage.
"We got told that we were going on stage, so we sprinted around, and we were waiting for about 10 minutes and then got let on for her last song. She was awesome and the whole thing was very very cool," Sutherland concluded.