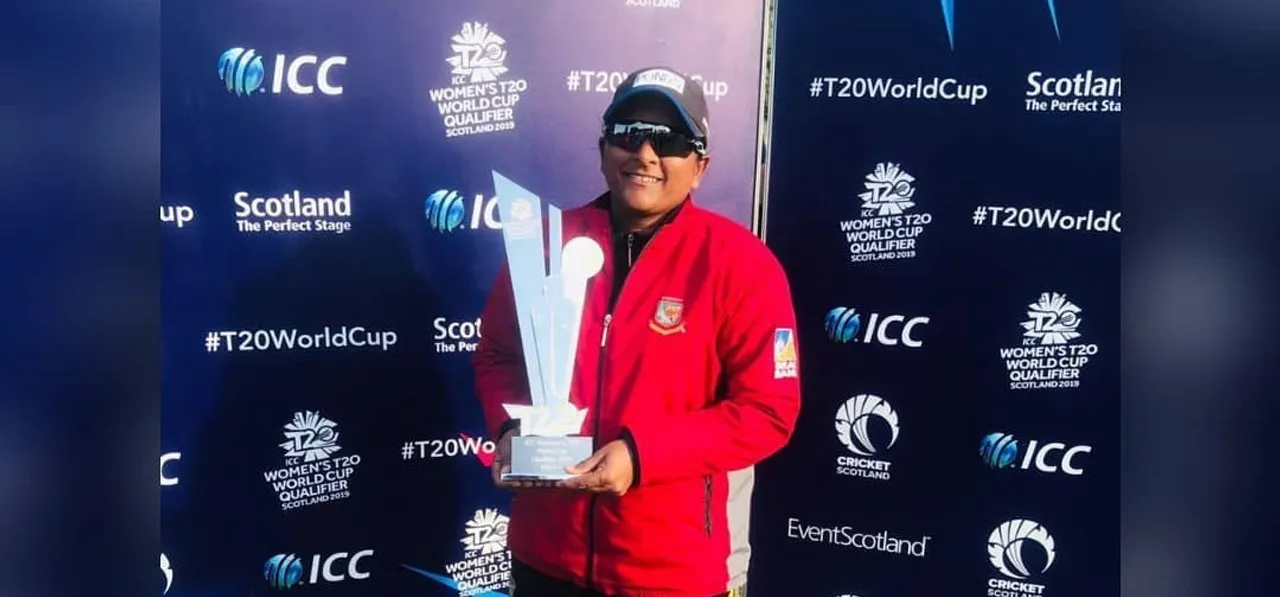 Anju Jain has been appointed as the head coach of the Baroda senior women's team for the 2020-21 season, the Baroda Cricket Association (BCA) announced on Wednesday evening (June 3). The Bangladesh head coach will be joined by Devieka Palshikar who will work as her assistant coach. The decision was taken on Tuesday (June 2) by the apex council.
"I will be joining the Baroda women's team as soon as I get guidelines from BCA," Jain, who previously worked with Vidarbha before taking up the job with Bangladesh, told
Times of India.
Jain's appointment comes after the
suspension of Atul Bedade
who worked with the team through the 2019-20 season. The former India batter was suspended after a player's parent complained to the BCA about harassment earlier this year. However, the
suspension was withdrawn
on Tuesday after the complainant decided to withdraw the complaint.
ALSO READ: Baroda Cricket Association lift suspension on Atul Bedade
Jain, who enjoyed a successful career spanning over 12 years, retired in 2005 after India finished runner's up in the 2005 Women's World Cup in South Africa. She was then appointed as selector before she decided to test the waters as a coach.
"When I was part of the selection committee I realised that it's not for me," Jain said during an ICC 100% Cricket webinar, '100% Coaching' on Tuesday. "I really did not enjoy it, and I think I discovered that my passion lay in being on the field. I cannot just sit on the sidelines and watch the game. Since I was not playing I thought the second best thing I could do was coaching."
Jain worked with the Indian team during a time of great upheaval between 2011 and 2013. Her second stint as the coach of an international team came in 2018 with Bangladesh when both she and Palshikar were at the helm of the team's maiden
Asia Cup triumph
in Kuala Lumpur. Following that they oversaw to slightly underwhelming T20 World Cup campaigns in 2018 and 2020.
With their contract with Bangladesh having ended in March, there was much speculation about whether Jain would be retained in her position as head coach.
ALSO READ: Rewind: Bangladesh's collective surge dethrones India
"Her contact with us was up to March. We were considering the performance of the World Cup. She must have felt that chances are slim of extending her contract and so she decided to leave. She did not inform us anything about it. As the contract ended she was there was nothing like resigning from the post or things like that," the head of BCB women's wing, Nadel Chowdhury, was quoted as saying by
Cricbuzz.
The duo of Jain and Palshikar, who have played together since the early 2000s for Air India, have extensive experience working together as coaches. Having been in charge of several zonal camps within India, before heading to Bangladesh, the pair have established a wonderful understanding.
The former India skipper said one of her priorities as head coach of Baroda would be to first win the trust and confidence of the players and create a positive environment. Having worked with a few of the Baroda players during various zonal and national camps over the years, Jain says she believes it will allow her to bond with the team quickly.