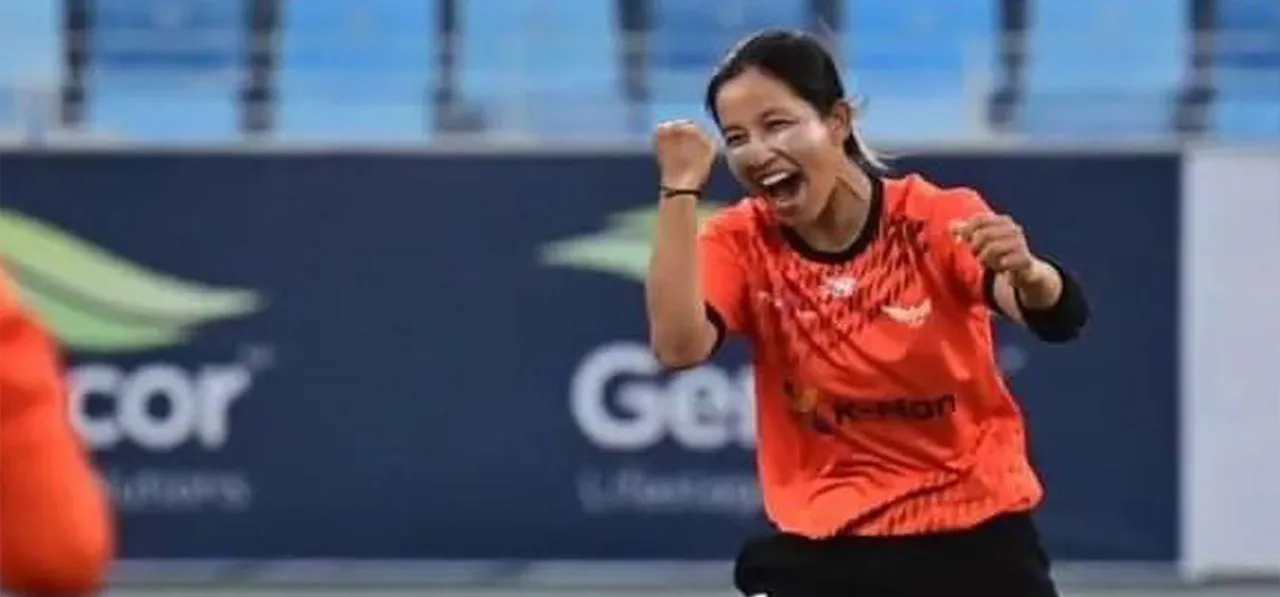 Not much is known about Bhutan, the country. There is an element of enigma that surrounds the country. And likewise, Anju Gurung of Bhutan brought that element of enigma with herself when she came to Dubai to participate in the Fairbreak Invitational T20 tournament. When she opened the bowling against Warriors in the first game of the tournament alongside Jahanara Alam for Falcons, that's when the world took notice of her. And everyone was awestruck. But why?
One of the key elements of being a successful fast bowler is to have a good height so that you can extract some bounce off the surface and Gurung lacks that. But she personifies the adage which says "It's not the size of the person in the fight, it's the size of the fight in the person that matters."
Gurung compensates for her lack of height with her natural ability to bring the ball back into the right-handers. A glimpse of the same was on display when she uprooted the stumps of Sophia Dunkley while the dasher from England was looking to decimate the Falcons' attack in the sixth match of the tournament.
In a chat with Women's CricZone, Gurung talks about her struggles as a cricketer, cricket in Bhutan, her strengths as a pacer, experience of playing in the Fairbreak Invitational 2022 tournament and a lot more.
Excerpts:Q: What are your earliest memories of playing the sport?
Well, I started my cricket at the age of 13 when I was in primary school. One day our sports teacher announced that there is a new game that we are going to introduce named cricket. I found the name interesting and hence signed up for it. I hadn't even heard of the sport prior to that day. From there on I started training and enrolled in training camps and that's how it pretty much started for me.
Q: How has your family supported you in your cricketing journey so far?
The amount of support that I have received from my family members is incredible. A lot of credit goes to my mother for the kind of success that I have enjoyed in my career. She never differentiated between my brothers and me. There are a lot of parents who give preference to their male child in comparison to their girl child. But that wasn't the case with my mom. She has been my backbone from the very beginning of my career.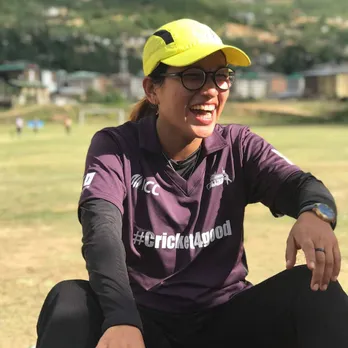 Anju Gurung © Anju Gurung/Instagram
Q: What are the challenges you faced during your cricketing journey?
I have met quite a few challenges in my career. We do not have a lot of facilities back there in Bhutan in terms of training purposes, not only for cricket but for a lot of other sports. So, making consistent progress with every passing day was an arduous journey. I kept training with whatever limited resources I had. But I never gave up and that's why I am here playing in the Fairbreak Invitational 2022 tournament (chuckles). 
ALSO READ: Fearless Dunkley looks to build on 'Summer of Sophia' as exciting future awaitsQ: How did you feel when you made your debut for Bhutan?
The feeling was so surreal that it's very hard for me to put that into words. I made my debut for Bhutan back in 2008 and since then I have come a long way. Getting the opportunity to tour other countries helped my game to grow immensely. When I toured overseas and saw the lush green outfields over there, I was overjoyed. We don't have such grounds back at home. There are a lot of stones and pebbles on the grounds where we play at home. So, we can't throw ourselves around while fielding. 
Q: Who is your cricketing role model? 
I look up to Jigme Singye, who is the captain of the Bhutan men's team. He is someone who plays really well and has been inspiring a lot of kids in Bhutan to take up the sport. Whenever I get the opportunity I make sure I watch him live.
ALSO READ: Getting the opportunity to open alongside Deandra Dottin is a dream come true: Kavisha Egodage



I dedicate my first wicket to all well-wishers back home. Please continue to give me much love and prayers, I need them.🇧🇹🙏🇧🇹🙏🇧🇹@BhutanCricket @fairbreakglobal pic.twitter.com/Q19ptByqBG


— Anju Gurung (@Anju_aries) May 8, 2022
Q: After picking up your first wicket in Fairbreak when you dismissed Sophia Dunkley, you put out a tweet dedicating that wicket to all your supporters back home and asked them to show faith in you and support you more. Can you talk us through the whole moment?
I was extremely happy. She was well set and was going berserk and hence the moment I got rid of her it brought a lot of happiness to me. She could have easily taken the game away from us and that's why we as a bunch were delighted to see the back of her. The moment I got her clean bowled I felt a gush of emotions and it reminded me of the journey that I have been through thus far. I got a lot of congratulatory texts and calls from Bhutan and that added to my ecstasy.
Q: For a tall fast bowler, it becomes easier to extract bounce from the surface and that eventually helps in making life difficult for the batters. But you are not very tall. So, what are the other weapons you have as a fast bowler that you use to compensate for your height?
I rely on my natural inswing. From the very beginning of my career, I have been working on the same and have developed a lot of control over it. The ability to swing the ball upfront enables me to provide my team with early breakthroughs.
In addition to that, I also have a good yorker along with a deceptive slower ball that helps me to outwit batters when they try to come after me, especially during the death overs. So, I have enough weapons in my armoury to get the better of batters when they try to dictate terms to me.
Q: How is the condition of women's cricket back in Bhutan? How does the Bhutan women's team prepare for the competitive tournaments?
Cricket, as a sport is not very popular back in Bhutan yet. But its popularity is on the ascent. With every passing day, more and more youngsters are taking up the sport and that is a very positive sign for the growth of cricket in our country.
As far as preparing for tournaments is concerned, we often test ourselves against the Bhutan men's team. That in a way helps us in gearing up well for our tournaments. We have some good coaches that guide us on how to approach a tournament and we go from there.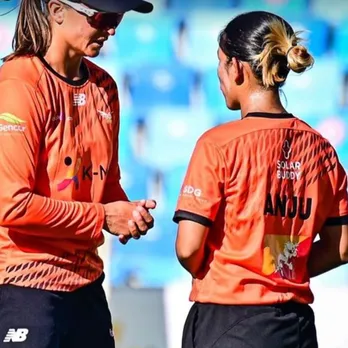 Anju Gurung in discussion with Suzie Bates during a game © Anju Gurung/Instagram
Q: Talk us through the kind of experience you have gained while playing in the Fairbreak tournament.
It feels like a dream. I had never imagined that a day would come when I would get the opportunity to rub shoulders with one of the best players in the world. That for me is itself a huge thing. Now, I know where I stand as a cricketer amongst the best in the business.
Also, the opportunity of sharing the dressing room with Suzie Bates, Danni Wyatt, among others at Falcons has helped me learn a lot about the game. The learnings I've had in the tournament thus far are invaluable and will hold me in good stead going ahead in my career.
Q: What are the goals you have kept in mind going ahead in your career?
Well, the primary goal is to do well for Bhutan at the international level. I hope one day we get to test ourselves against the very best oppositions out there. So, I am working very hard every day to make that dream come true. Additionally, I would love to play in more competitions akin to Fairbreak, like the Women's Big Bash League (WBBL), The Hundred among others. That will act as a catalyst and help me grow as a player.