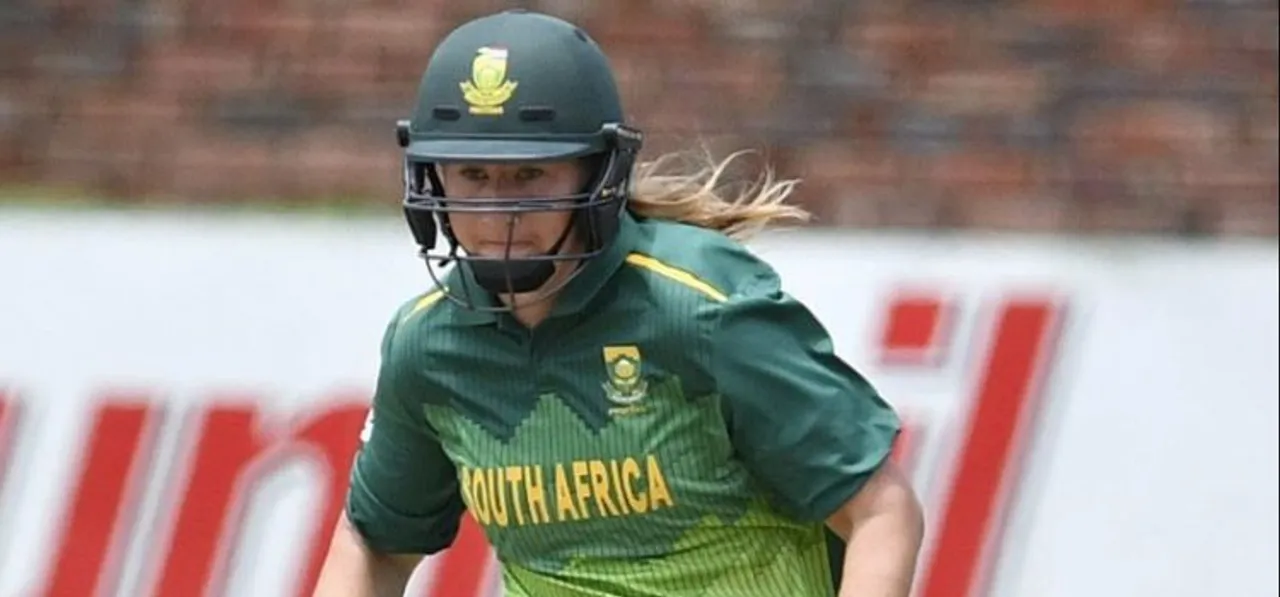 Western Province batswoman Andrie Steyn, who recently struck a brilliant century against Boland in the Cricket South Africa (CSA) Women's Provincial League, is back in the Proteas Women set up and she is fully focused on scoring runs and enjoying her cricket.

Steyn is part of the identified squad of 26 players whom the CSA selectors are looking at ahead of the 2021 ICC Women's World Cup. "It is always exciting when you have an opportunity to play yourself into a World Cup side," said the 22-year old.

In an exclusive interview with Women's CricZone, Steyn said, "I am fully focused on scoring runs at the moment and if I continue to do so, then I am pretty sure that I can put myself in a great position to be selected (World Cup) when the time comes. My batting has grown a great deal over the past few months and I am more prepared now than ever to ensure I do the job required of me."

The young Proteas batswoman has had a roller-coaster ride ever since making her debut against Sri Lanka as a 17-year-old in Colombo.  In her 28 One Day International (ODI) appearances for South Africa, she has only managed to score 675 runs at an average of 25.96. Steyn is aware that these numbers are not on par with the international standards, let alone her own true potential.

"I would most certainly like to improve those numbers, scoring more runs will mean regular or more game time, my focus at the moment though is to make the most of every game I play, provincially or internationally and the numbers and game time will then take care of themselves."

Steyn has four half-centuries and a century under her belt for the Proteas. "It gives me confidence knowing I have done it before and I will definitely be looking to add more centuries and fifties to the tally."

The 22-year-old was tasked with the role of an opening batswoman in the past for the Proteas and at times would bat at three where she is more comfortable as a player who looks to anchor the innings, bat through, keep the scoreboard ticking and put the bad ball away.

For Steyn though, it doesn't necessarily matter whether she opens the batting or required to come at three, what matters is to score runs. "In the past few seasons I have taken more of an anchoring role at three, I enjoy batting at three and I am very comfortable in the position. Regardless of opening or batting at three, the most important thing is to score runs so honestly, that is the only way to ensure you keep your spot."

The Proteas struggled a lot with the bat for the majority of 2018 as the batting unit failed to build partnerships and adapt to the different playing conditions. Steyn is strong through the cover region and has the ability to bat long and find the gap with ease.

In her last six 50-over games for Western Province, the Durban born batswoman scored 291 runs with a high score of 104 against Boland. In 2017, she was one of the standout players for Western Province in the 50-over competition, averaging 57.33.

"2017 was a great season for me; I was really batting well and with confidence. We played the Quadrangular Series in May of 2017 in Potchefstroom where I scored my maiden 100 against Ireland along with the 83 against India…I am having a great provincial season and this year I am confident that I will be able to put big scores on the board in the next few months."

With a batting strike rate of 67.74 in T20 Internationals, Steyn believes her style of batting is suited for T20 cricket. "The last T20 international I played was in 2016 which is a while back and my batting has developed a great deal over the last three years. The T20 format is something I have been working at hard at and I am looking forward to playing more T20 cricket in the future."

"I have been working on being innovative especially with the direction that women's cricket is moving into, it forces you to constantly improve your skill by adding different shots and options to your game," said the South African Under-19s Women player.

At the age of 17, Steyn was selected to be part of the Proteas T20 World Cup squad. She said the experience was a learning curve. "Having the opportunity to represent your country at a World Cup is an absolute honour."

"I was very nervous being surrounded by players who I looked up. The T20 World Cup was a massive learning curve for me, you realise the level of cricket you need to be able to play at if you want to be a success in international cricket.  I guess in that situation all you can try to do is learn as much as you can from experienced players," said the Durbanite.

A good limited overs batswoman according to Steyn is someone who is able to adapt quickly to different playing surfaces and situations while being able to keep a calm head under pressure and have the ability to put the bowler off her length before she settles and then to be able to take advantage of that.

The Western Province star was ruled out of the 2017 Women's World Cup after suffering an ankle injury but for Steyn, the injury was not necessarily a massive setback as it gave her more determination and appreciation for the opportunity to play for her country.

"Being forced to come back come home early with an ankle injury was a tough time for me and it was also really tough having to come back early from the world cup. Fortunately for me though I was only 20 at the time of the World Cup and I had great support at home to get me going within three months again."

Apart from having to keep up with the demands of provincial and international cricket, Steyn is also a student at the University of Stellenbosch where she is studying her honours degree in high-performance sport.

The classy batswoman said the key is time management in order to fit in both studies and cricket. Luckily, Steyn enjoys doing both so making time isn't too difficult." I do often have to pick though between doing something with friends or studying and this aspect is probably the most difficult, if you have the discipline to study when you need to then there is definitely still a large amount of time left for the demands of cricket."

On top of Steyn's priority list is to play as much as she can for South Africa and hopefully other leagues around the world. She does not only want to score plenty of runs for the Proteas but also focusing on completing her honours degree at the end of the year and do her Masters degree as well.