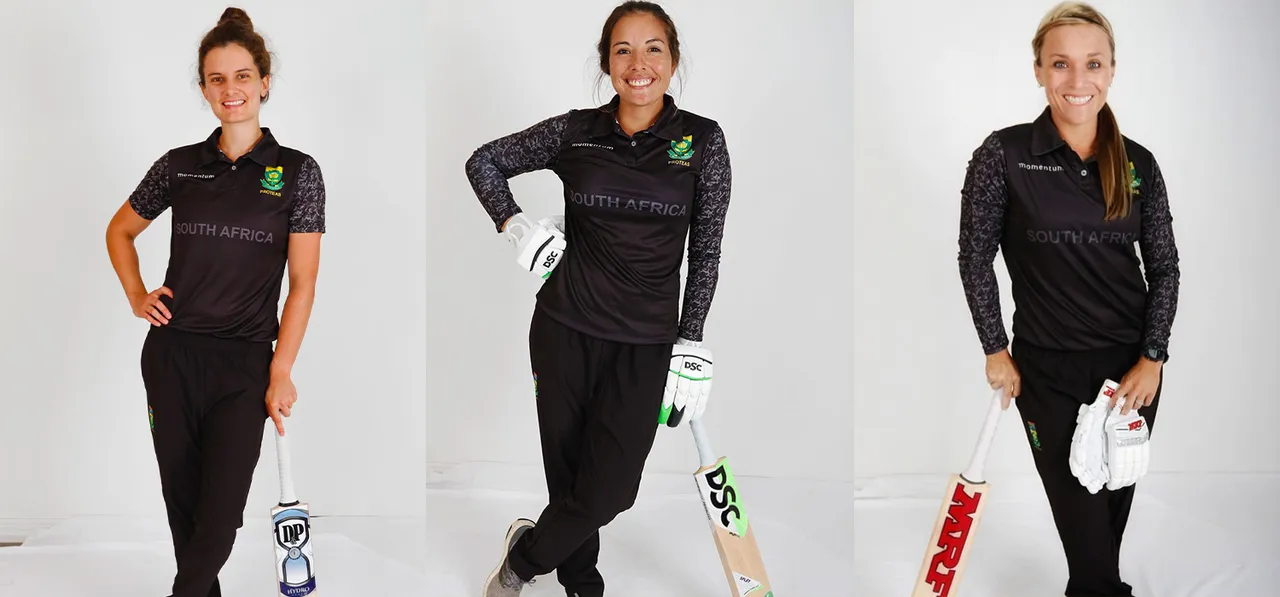 South Africa will be taking the field in a black kit during the second ODI against Pakistan on Saturday (January 23) as part of their initiative to create awareness against gender-based violence against women in the country. This will be the first
'Black Day ODI'
that's set to become annual event during South Africa women's home fixture going forward.
Mignon du Preez, who has played 131 ODIs for South Africa, spoke about the significance of the day and the importance of standing up against the issue.
"We are extremely excited about black day we finally have a good cause we can stand for. We know how important it is," du Preez said on the eve of the match. "The men's got the Pink Day and that's got a very big significance in their calendar year."
"It's such a big issue currently in our in our country. We have an opportunity to speak up against gender-based violence and we want to really break the silence against violence and abuse."
"We know it's family, friends... mothers, daughters (who go) through this. We really want to encourage men out there to also stand up, have a voice and be gutsy to speak up about it as a very sensitive topic. We need to take the lead and be role models and set good standards for our kids and encourage them to continue to live a life of respecting women."
ALSO READ: Favourites South Africa wary of Pakistan's ability to fight back in 'Black Day' ODI
Gender-based violence has been a widespread issue in South Africa. In 2020, the government introduced bills that are designed to bring justice to the victims of the violence.
Hilton Moreeng, head coach of the side, talked about how they want to use the campaign as beginning to the spread the message against gender-based violence in the country.
"We are finally happy to have a platform where we can actually get on and do a campaign like the gender-based violence and to use it as a national sporting team to be able to make sure we raise awareness in the country and also make sure that each and every one of us, as we go into different corners, we can keep spreading the message," Moreeng said.
Opener Laura Wolvaardt echoed du Preez's thoughts and talked about bringing attention to the injustice around the gender-based violence and playing their part in creating awareness.
"Gender-based violence is an issue that's very current in today's times. I think the President has spoken about it quite a bit in our family meetings every now and then. So, just to create as much awareness for it as we can and to play our part and do whatever we can to help lessen gender-based violence in our country," Wolvaardt said.
ALSO READ: Diana's 'Baig' full of tricks holds Pakistan in good stead
"We are honored to be creating an event to bring and draw attention to the injustices around GBV and hopefully the excitement around this event will make us raise our performance and produce a much better display than the one on Wednesday."
Pacer Shabnim Ismail also talked about the significance of the day and how gender-violence is a vast spread problem in South Africa.
"I think gender-based violence is a strong issue for us as South Africans. We stand for what's right," Ismail said.
"It's also nice to see that the Protea ladies are actually buying into it and knowing that, gender-based violence needs to end at some point. So, it's just for us to show on national tv this is what we stand for and this is what we're going to do about it in the tournament."
Ismail is likely to play her 100
th
ODI if she takes the field on Saturday and the 32-year-old said she treats every day as a final and will be looking to put her best foot forward.
"I always say, I prepare every game like it's the final. So even if it's a practice game, doesn't matter. Obviously, it's going to be a special for me as it's going to be my 100
th
ODI," Ismail added. "I would love to get the player of the match award again through a good contribution to the team."
"Shabnim probably would play her 100th ODI, which is extremely special. And to do that on such a significant day, I can't wait," du Preez concluded.