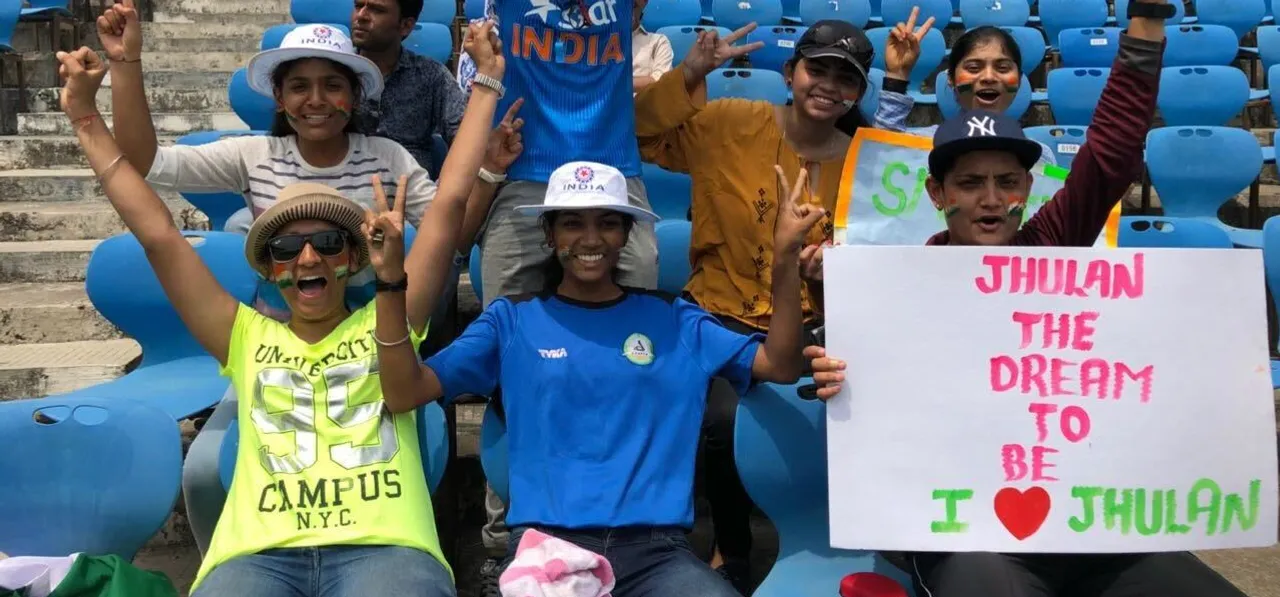 When you start your cricketing journey you always think of two things – 'Playing for the Nation' and 'The World Cup'.

This article is a mix of both. It is dedicated to an army of 15, who carry the dreams of many.

One Nation, Many spirits, and One cricket team: India

Firstly, thank you for all the learnings you have given me since I began to play cricket. It has been an absolute pleasure to watch you all play and win games.

When I started playing cricket, my only aim was to 'watch the ball and play.' But watching you all play, I learnt that it is not enough.
'You should LOVE and ENJOY the game' too. Seeing you guys play, it feels as if the tricolour, the emotions and the feelings of many are engraved in your heart.

I know that feeling of middling the ball, swinging it hard, taking a great catch and winning is irreplaceable. But I feel that when I see all of you doing it for India. All I knew and aspired for was to be one of you all and bring that cup home.

But things do a take turn. Not everything happens according to your plans. When it's sports, there are injuries. But my injury made me more connected to the Indian team, as when you cannot play, you watch. I remember watching each and every cricket match and making notes of  the things that I need to look out for when I play. I even saw a lot interviews to know more about the players' mindset, game plan and approach. But is there any other way to stay connected to the sport rather than supporting your favourite team?

ALSO READ: World Cup Preview – Can India deliver the cup for Jhulan and Mithali?

The one memory which is definitely engraved in my heart is from the India vs England 2018 series, the three ODIs in Nagpur, out of which the decider was on 12th April (my birthday). The 1st ODI was won by India and England defeated India in the 2nd one. But the 3rd ODI witnessed multiple half-centuries and an exemplary performance from the Indian skipper, Mithali Raj, which undoubtedly made my day/year. It felt like the Indian team gave me a birthday gift with that victory. So many takeaways, memorable incidents, and knocks.

I practiced for years with an aim to represent my country and win the cup but couldn't succeed. There are a lot of better cricketers than me but I truly believe that one day this Indian team of 15 astonishingly talented cricketers will fulfill my dream.

I feel like my life revolves around cricket. I started as a player with a dream of lifting that trophy but I now support a team that can and will bring the cup home.

On behalf of all the fans:

We know that playing for the nation is a huge responsibility but you all are doing it fantastically. We believe in you wholeheartedly.

From scoring tons and tons of runs to taking a number of wickets and breaking records, you did it all. However, every fan is excitedly waiting for that World Cup trophy. 2005 and 2017 were good years but 2022 is a great one.
The next few days will be busy, fun, and full of emotions. But that is what is cricket: Emotions for us.

We believe in cricket and we believe in you all, the Indian women's cricket team. You may win the trophy or may not but you all have already won our hearts.

Cheers and best of luck for the upcoming World Cup 2022. Rock it like you always do!

Your Inseparable fan.