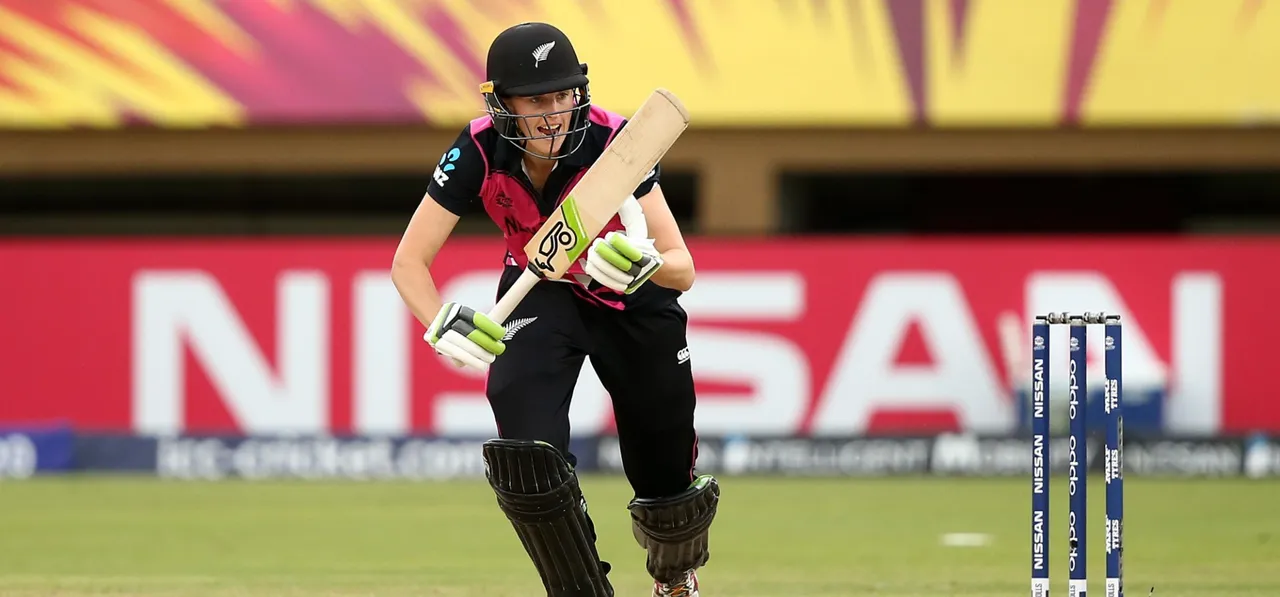 Amy Satterthwaite said she is happy to be back training with the New Zealand after a
year away
from the game. Satterthwaite was among the first group of players to
resume training
in Lincoln on Monday (July 13).
"It's nice to be back around the girls and their banter is always good fun. It's good to be back hitting balls and feeling like I sort of haven't left to certain extent," Satterthwaite said.
The left-hander, who played her last international in March 2019 before taking maternity leave, admitted that while it's taken her time to get used to the rigours of training again, she is thrilled to be back in the swing of things.
"It's been going pretty well. I took my time to ease back into it and not rush it too much. I just kind of let the body adjust back and that adjustment has been going well so far thankfully," she said of her early sessions.
ALSO READ: New Zealand resume training in Lincoln
"I was a bit nervous, to be honest, hitting balls for the first time, but somewhere deep within me that muscle memory kicked in. Thankfully it's been going alright and I'm (successfully) dusting off the cobwebs!"
Satterthwaite, who captained New Zealand in 19 matches across formats, was recently
announced as vice-captain
of the New Zealand side, with Sophie Devine set to take up the leadership role full-time. While the 33-year-old admitted she was disappointed to lose the captaincy, she did say she was happy to continue to fulfill her duties as vice-captain and a senior player in the side.
"Look, it's obviously disappointing not to retain captaincy, but I enjoyed some opportunity to do it last year and it's always a real honour to lead your country. But I've got a different focus now in terms of getting back to being able to play cricket at the international level and I am excited about that challenge that lies ahead."
"Of course, I'm also looking forward to supporting Sophie. I have always been in and around the leadership group in the last few years even when Suzie (Bates) was involved. So, I think that doesn't change in terms of offering leadership in that sense."
ALSO READ: Sophie Devine appointed New Zealand captain
Having made her international debut in 2007, Satterthwaite is one of the senior-most members of the New Zealand squad alongside Bates and Devine. Over the last decade, all three have firmly established themselves as the pillars of the team - the success of the team heavily reliant on their performances.
Satterthwaite said it was good to have a strong senior group to lean on - all of whom have different strengths as leaders.
"(We are) the three wise women as we call ourselves, we have been around for a wee while now and got a lot of experience. I guess that's the beauty of the group - we got a lot of people who we can lean on. Between the three of us, we probably got different strengths we can offer towards the group from a leadership point of view, which is always an asset I think," she added.
Satterthwaite, who has represented New Zealand in 119 ODIs, said she is really looking forward to the 2021 ICC World Cup to be hosted by New Zealand. It will be her fourth ODI World Cup, and first at home.
"It doesn't get much better than having a World Cup at home. We are really looking forward to that and we've got a lot of hard work to do between now and then. We are really excited about what that opportunity offers us as a group," she concluded.