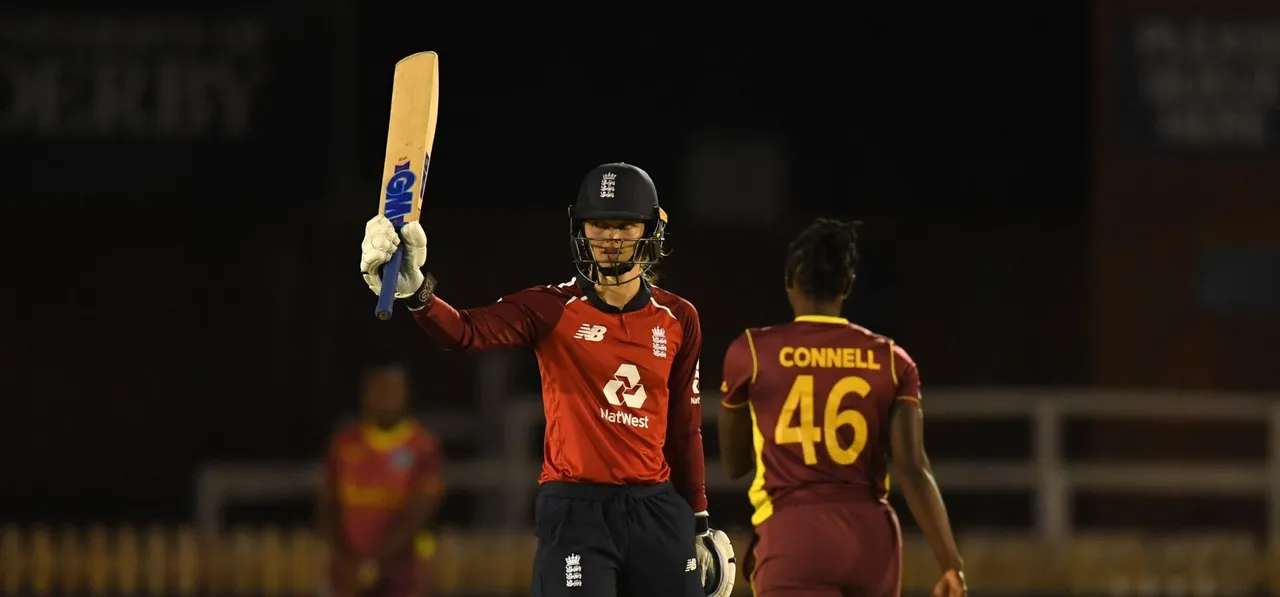 Amy Jones'
sparkling half-century
on Monday (September 28) night was a clear sign that she is embracing her new role as a finisher in England's T20I side.
At first, Jones was reluctant to give up the opener's berth. It has been the position she has batted for most of her career. She has thrived on pace-on in the powerplay and scored the bulk of her runs up top. But her success at five is further proof of her ability to adapt and play the role demanded by a team that is starting to find its optimum shape.
As an understudy to Sarah Taylor, Jones often played as a specialist batter, wearing the gloves only in the Sussex girl's absence. Following
Taylor's retirement
, Jones is now first-choice 'keeper and her innings on Monday showed that she is increasingly comfortable with that added responsibility.
With that half-century – the joint fifth fastest in T20Is for England – she now seems inked in as the permanent number five for the foreseeable future.
ALSO READ: Amy Jones, Katherine Brunt shine as England go 4-0 up against West Indies
"It wasn't my preference at the start when it was decided initially," Jones said at close of play. "I've always opened, so it's where I see myself, but since doing it, it's definitely a new challenge and I am enjoying it. Wherever you bat in T20 it's fun, but you have to adapt to the situation at five which makes it a bit interesting."
Hitting 55 from just 37 balls, she transformed England's fortunes after a lacklustre start. England had limped to 54-3 after 10 overs, their lowest score at the halfway mark in this series. Jones, in partnership with her skipper Heather Knight, then changed the momentum rapidly, putting on 65 together off just 35 balls. By the time Jones was dismissed in the final over, run out at the non-striker's end, England were on the brink of registering their highest total this summer.
Finding a home for Jones in the batting order is another job ticked off head coach Lisa Keightley's to-do list with
Tammy Beaumont finding success
at the top after an unsuccessful stint in the finisher's role herself in February's T20 World Cup in Australia.
In that tournament Jones registered a string of low scores, despite significant success as an opener in the tour of Malaysia two months before.
ALSO READ: Changed gameplan reaps rewards for Natalie Sciver
England hastily switched their batting order around for the final T20 World Cup group game against the West Indies. Batting at six, Jones showed an immediate aptitude for the finisher's role, striking 23 off just 13 balls to put the match out of West Indies' reach.
Against the same opposition this summer, Jones made a couple of useful 20s in the first two games of the series. On Monday, coming to the crease with plenty of overs remaining, she made the most of the opportunity to play a big innings.
It was Knight who made the early running. Then in the 13
th
over, Jones too pressed the accelerator, reverse sweeping Karishma Ramharack for four and next ball coming down the track to deposit the same bowler over long-off for a huge six.
Amy Jones played some exquisite shots through her innings in the fourth T20I against West Indies. © Getty Images
In the next over she pulled a short one from Shamilia Connell 10 metres over cow corner before stroking the next delivery down to fine leg.
The momentum was arrested slightly with the wickets of Knight and Sophia Dunkley, but Jones attacked again, striking Hayley Matthews for successive boundaries in the 17th over. Those two strokes highlighted her versatility and ability to play both the big shot and to bat with finesse: she hit the first ball of the over hard just over long-off, while the second, a reverse sweep, perfectly bisected the fielders behind square. A flick shot over fine leg off Connell then took her to the brink of 50.
ALSO READ: Sarah Glenn underlines allround credentials
However, the innings could have ended before it began. Jones drilled a full toss from Stafanie Taylor straight to midwicket when she had scored just two, only to see the chance spilled.
"That should have gone for four, so I was annoyed that I picked her out. But getting any chance is very helpful and I was happy to cash in after that," she said.
"I was feeling pretty good the first few games. I came in a bit late in the first one <14
th
over>, but I was pretty frustrated to miss out in the second, because I was feeling good and had quite a few overs to bat. I got the similar opportunity again today, so I was very happy to do a better job."
Jones said England's depth is giving the batters confidence to play positively.
"We're in a really good position with our batting order. Anya Shrubsole is coming in at number 11 and she's not a number 11, so we're in a privileged position with that. It just allows us to play and kick on earlier in the innings."
"It's such a great place to be. Every batter knows they can go out and play really positively. Obviously, everyone wants to take responsibility and be the one but it's also nice knowing that you can just keep going almost with the confidence that we've got some really good batters coming in all the way down."
Reflecting on her T20 World Cup campaign, she said: "Obviously I moved down the order after a bad few games at the top and finished well down there. I was at six against the West Indies at the end of the World Cup, had a nice little innings then."
"It feels a long time ago. I can't really say I've carried on from that because a lot has happened in between. But I'm really pleased with how I'm going at the moment."
England's T20I line-up is starting to look settled, particularly with the emergence of leg-spinner Sarah Glenn as an
allround option
with bat and ball.
Perhaps the only question mark remains over the number six position. Fran Wilson looked busy in that role during the first three matches and scored at just under a run a ball without being able to force the pace. Dunkley was given a chance in that role on Monday but was dismissed first ball. It seems likely she will get another opportunity in the final match of the series on Wednesday (September 30).
The only blemish on Jones' night, meanwhile, was two dropped aerial catches, despite her otherwise world-class form behind the stumps.
ALSO READ: Time away from the game reignites Tammy Beaumont's fire
"It's been an annoying one because I feel like I'm keeping as well as I ever have, probably better," she said. "I've been working really hard with
Michael Bates and can feel my game going up a level."

"I feel like I've been really tidy, quite sharp and yeah, it's just those skiers! I'm having a nightmare with them. It's a real pain. They're always tough chances, but I need to be taking them. So, I think I need a more stable base, get there early and trust my hands from there."

"I've had one chance before this and that was in the West Indies and I dropped that. So, my record's not great. But the depth perception out of a black sky is very difficult. It always feels like it's coming right at you and then it seems to be a metre in front of me."

"So, I think it's just about getting there early, trying to make the ground early, being stable, and then reacting from there, which is something I've not mastered."