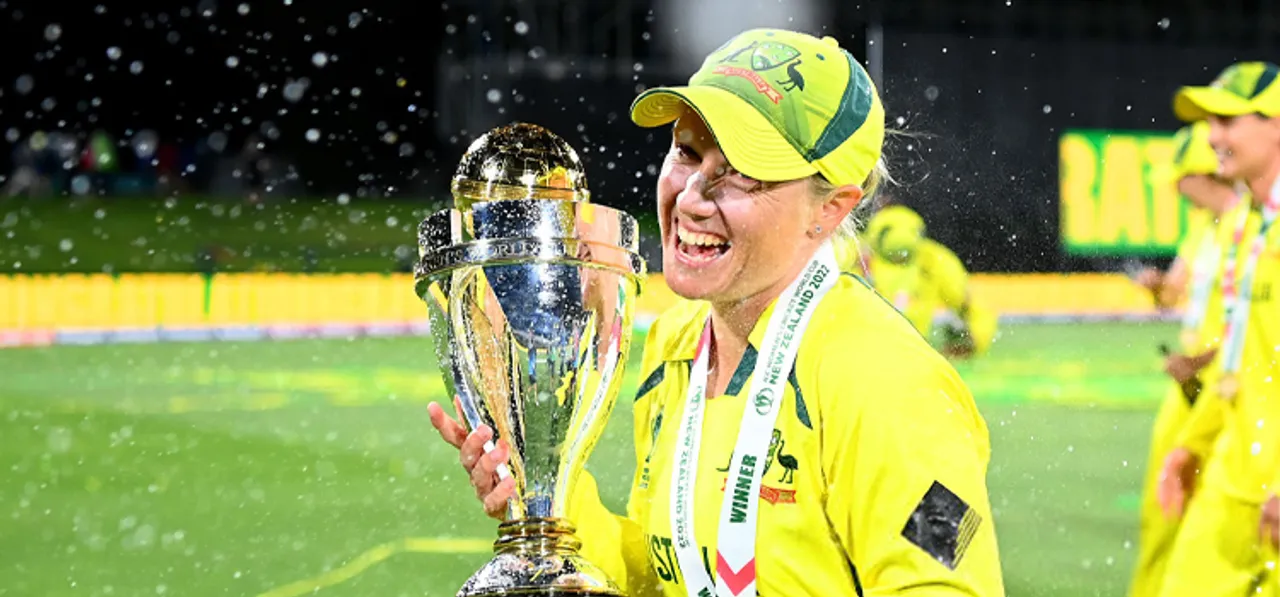 A total of 279 women have batted in ODIs since the 2017 World Cup. Nobody though has scored more runs than Alyssa Healy in that duration. Healy's tally of 2144 runs is impressive on its own but what makes those runs even more special is the fact that she has scored them at an average 52.29, while striking at 102.29.
With a minimum qualification of 200 runs, only Beth Mooney and Smriti Mandhana have averaged higher in the same period, while only Ashleigh Gardner and Chloe Tryon have struck at a better rate.
It's safe to say that Healy has dominated the ODI format in the last five years. It was fitting then that she ended the 2022 World Cup as the Player of the semi-final and final as well as the Player of the Tournament.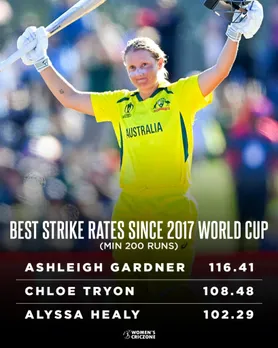 Alyssa Healy has struck at well over a 100
She also broke the record for the most runs scored in a single edition of the tournament in New Zealand and also struck the most fours at the 2022 World Cup. However, for a player who had hit the third-highest number of sixes in ODIs since the last World Cup, Healy only hit one six at the 2022 World Cup. That six too came when she was batting on 88 in the semi-final, off a ball which turned out to be a no ball on account of being an over waist high full toss.
Healy's ability to hit big and operate at a brisk tempo has always had few peers but it is this newfound ability to score quickly without taking chances that has made her the very best in the world.
The accolades keep coming for Healy. She was named ICC's Player of the Month for April on 8 May, beating out stiff competition from Nat Sciver, who played one of the all-time great innings in the World Cup, and Uganda's Janet Mbabazi, a fine bowler who ended the Capricorn Tri-Series in April as the
">leading wicket taker
, with 11 wickets in just six matches at a stunning average of 7.81.
Healy herself said that her pick would be Mbabazi and even gave her a shout out after winning the award. "I am very humbled to win this month's award ahead of two outstanding players. It was great to see Janet Mbabazi's name in the mix after a stellar tri-series for Uganda. I'm looking forward to seeing her name in contention for more ICC Awards over the years to come."
With her win, Healy became just the second woman after Heather Knight to win the Player of the Month award twice. She had also won the Player of the Month award for the month of April in 2021. Explaining the rationale behind picking Healy, former South Africa player and ICC Player of the Month voting panel member JP Duminy remarked, "Alyssa's performance has certainly taken the world by storm and to do it in a Final says a lot about the character of this woman. She is a pioneer in the women's game and has set the bar extremely high."
A pioneer and the gold standard of batting
Healy's game may have gone into overdrive in the last five years but she has been a key member of the Australian side for over a decade now. A seven-time World Cup winner now, she was first part of a World Cup-winning squad at the 2010 T20 World Cup. She batted at seven in the final against New Zealand and scored a run-a-ball 10, one of only two Australian batters to score at a strike rate of 100 or more, in a match where only one batter scored more than 20.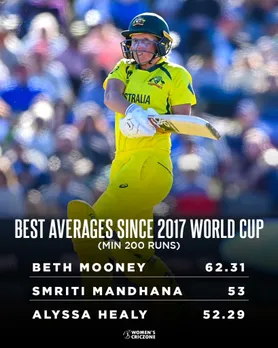 Alyssa Healy's average is bettered only by Beth Mooney and Smriti Mandhana
She was also part of the teams which went on to win the T20 World Cups in 2012 and 2014, thus completing an unprecedented hat-trick of titles in the tournament. She was one of only four players to feature in the playing XI in each of those three finals, the others being Alex Blackwell, Jess Duffin (Jess Cameron back then) and Ellyse Perry.
While those displays had made her a vital part of the T20 side, her performances in ODIs were not at the same level. She was a part of the squad which won the ODI World Cup in 2013 but with wicketkeeper Jodie Fields captaining the side, she was not a part of the playing XI and didn't feature in a single match in the tournament.
ALSO READ: Healy show helps Australia clinch seventh World Cup title as Sciver wages a lone battle
By the time of the 2017 ODI World Cup, she had replaced Fields, who retired in 2014, in the ODI team as well and was the first-choice wicketkeeper. Slated to bat at seven in that tournament, Healy only got to bat in five of Australia's eight matches and remained unbeaten in two, including a sizzling 63* off just 40 balls against Pakistan. With Australia boasting a strong batting line-up, she only got to bat in the end overs of the tournament. Healy did well in the tournament as she ended with a strike rate of 148.48, second only to Tryon among players who batted more than once in the tournament.
Australia's campaign ended in the semis after the famous 171* by Harmanpreet Kaur. Among the issues that coach Matthew Mott identified was the run rate of their opening partnership. Nicole Bolton and Beth Mooney's partnership run rate was just a smidgen over four. Mott recognized the Powerplay as an opportunity to force the pace and put the opposition on the backfoot. With Healy having already done that in T20 cricket, she was the natural choice to move to the top of the order. In the 52 matches that Healy played till the end of the 2017 World Cup, she averaged 15.96 at a strike rate of 92 with two half-centuries. Since then, she has been averaging 52.29 at a strike rate of 102.29, with five 100s and 13 50s. So what changed?
Julia Price, a two-time World Cup winner and the only Australian to effect more than 100 dismissals in ODIs, says, "Alyssa has always had this ability to score quickly. Moving her up the order forced Alyssa to analyse how she went about her game and to learn how to bat long. Which balls to hit and which to leave. Midge's (Healy) innings yesterday for Australia was testament to her growth and understanding of her game as well as improved patience. The fact that she is also a big game player and switches that switch also means she can still be better still."
Brave player, culture driver and an outstanding ambassador
In the last five years, no player has dominated the big tournaments like Healy. Apart from her stellar run at the 2022 World Cup, she was the Player of the Tournament in the 2018 T20 World Cup and the Player of the Final at the 2020 T20 World Cup.
Other than all those tangible elements, Healy is also one of the key drivers of the culture of this Australian team as one of the senior-most players, a fact that captain Meg Lanning acknowledged in the post-match presser after the final with Healy. "We're going to be the best team in the world and for all 15 people in our squad and I think the girls outside of the squad that have come in and contributed to be able to buy into that has been unbelievable. And I think that's a culture created by the lady sitting next to me (Healy) and Rach (Rachael Haynes) and Motty (Mott). So yeah, not relief, I think I'm just really proud of this group to have done what we've done over the last five years. And I think the trophy in our hands is sort of just the final little piece of the puzzle that needed to happen."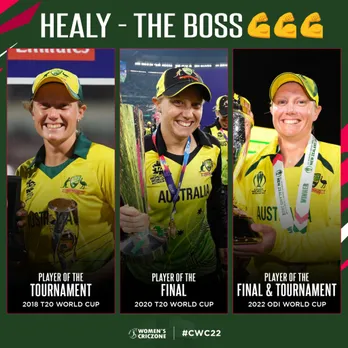 Alyssa Healy has dominated the biggest tournaments
When asked to comment on Healy's innings in the final, Lanning said, "I think it's easy to sort of remember the back end, but I think that one of the most important parts of Midge's innings was actually the start and how patient and well drilled she was to get herself into that position. And that's something we've spoken about a lot as a batting group, being patient early and setting the platform to allow us to go big at the back end, and that was what Alyssa did today amazingly well and gave us the opportunity to have some fun at the backend."
Starting patiently and without taking undue risks is something that Healy has had to build into her game, as it is not something that has always come naturally to her. It has also involved her adding more shots to her game to open more areas of the field.
"It's something that I've really tried to bring into my game a little bit more over the last couple of seasons. I mean, bowlers are getting really, really good. I mean, they've always been good, don't get me wrong, but they're getting really skillful and being able to shut down parts of the ground. So as a batter, you've really got to keep evolving your game and continue to open up all areas of the ground. Otherwise, you get stuck a little bit. So yeah, it was pleasing to see them come off today. I mean, the sweep shot for me is something that I've probably brought in later on in my career. And it really opened a few doors for me in this World Cup. So that was really cool. And I mean, it's a big value of our side to keep evolving and it's one that I really enjoy. I mean, you get bored everyday turning up in the nets and getting off early, so to be able to practice some new and inventive things, I think is a really good thing. So yeah, it was good fun," Healy said after the final, referring to her use of the scoop and sweep shots with a lot more regularity in the last couple of years.
ALSO READ: Women's IPL will do wonders for Indian cricket: Alyssa Healy
When asked about her being a big match player, Healy said she did not really like the term as it sounded arrogant. "I just think you've got to be brave to come out in situations like that to be able to play your game, you know that the opposition are going to come really hard at you, they want to take your wicket early, and you got to be brave and back your skills. So yeah, personally I'm really proud of that. I still don't think I'm big game player. So tone that down. But I think you just got to be brave to be able to do it."
And being brave and putting the team first is something that Healy does better than most. She was already a five-time T20 World Cup winner and a part of the 2013 ODI World Cup winning squad before the 2022 World Cup but the desire to play a crucial role in an World Cup winning team was something that spurred Healy.
"I don't think I've ever dreamt of anything like that before. I can guarantee that, but I'm just really proud to have been able to contribute to this win. I think I messaged Pez (Ellyse Perry) this morning when I found out she was in the 11 and I said - I just want to be a part of it. I really want this, I want to be a part of it. I want to contribute to this win and to be able to do that was really special. I have ran drinks the whole 2013 World Cup; we didn't make the final in 2017. So, for me, this this trophy means a lot and I guess to be able to turn up at the back end and go alright in the last few games means a whole heap."
Healy's aggressive batting makes her a crowdpuller all over the world but her work behind the stumps and as a senior player is equally crucial. "Her athleticism back from the stumps is second to none around the world. Her lateral ability to take dismissals and spread her cordon wider allows Australia to cover more ground and take more catches and assert more pressure on their opponents.  Her keeping up to the stumps has improved technically but mostly mentally," Price says, when talking about the improvements Healy has made and what makes her one of the best keepers in the world.
Her increased patience has served her well behind the stumps too. Price says, "Her focus is better over longer periods and she provides plenty of energy for her own team and those listening on the stump mic. She is great for team morale."
Alyssa Healy is a pacesetter on and off the field. No wonder then that she keeps winning prizes by the bucketful.