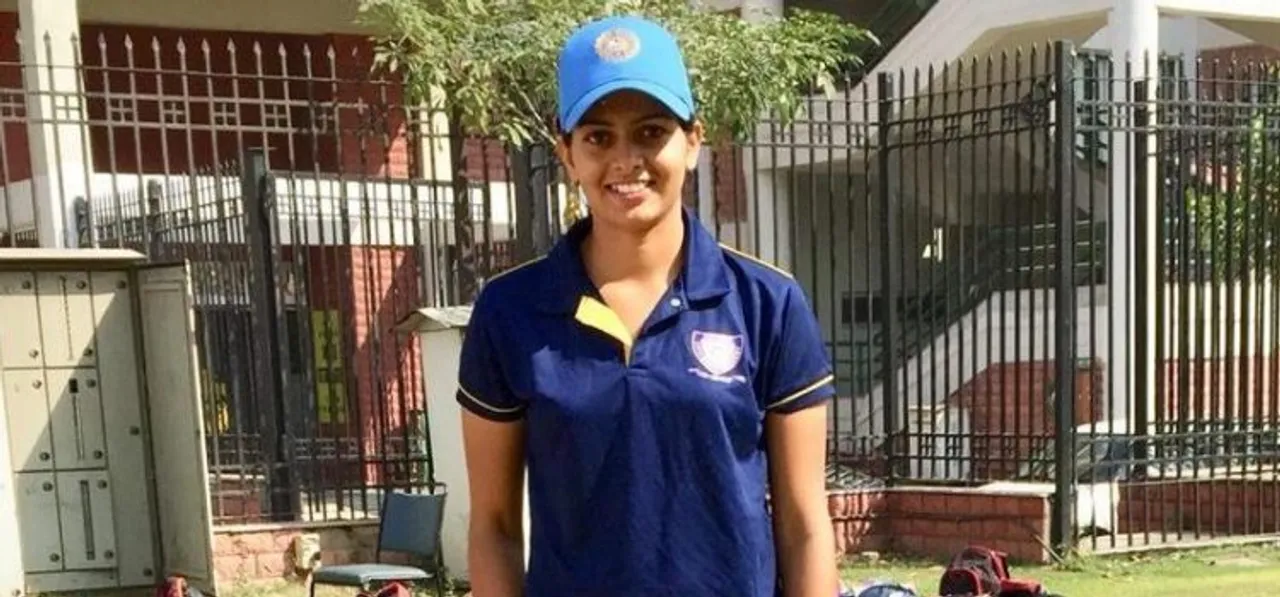 With the national selectors having rested a lot of senior players for the 2018-19 Challenger Trophy, many batters have got a chance to prove their mettle. But after two matches it has become evident that India's batting resources lacks depth.
While India Red were dismissed for 129 in 45 overs in the first match before India Blue chased down with a wicket in hand, India Green were bowled out for 149 in 44.4 overs in the second match at the Devineni Venkata Ramana Praneetha Ground in Mulapadu on Friday (January 4). Blue, playing their second game in as many days, again had a top-order collapse after Priya Punia was stumped for 41. It fell upon Bharati Fulmali, who remained unbeaten on 45 and had an unbroken stand of 72 runs with Tanusree Sarkar (27 not out), to register a six-wicket win in 39.1 overs and secure the team's spot in the final.
Like in the first game, Manali Dakshini was Blue's star once again, this time with the ball with figures of 3 for 34. Opting to bat first, Green were on the backfoot in the fourth over when Mansi Joshi trapped Tejal Hasbanis in front of the wicket. Soon after that Shefali Verma, who batted beautifully for 19, was unlucky to be given leg before wicket against Dakshini when the ball was clearly drifting down the legside.
It brought the senior-most pair of D Hemalatha and Mona Meshram together. While Hemalatha continued to impress with her flair, Meshram showed good intent by playing her shots instead of going into a shell – an issue that has plagued her throughout her career.
Their partnership of 43 was looking good when Hemalatha responded to a non-existent single, and was beaten by an underarm throw from cover by a diving Sarkar. Her 35 was to be the highest score of the innings.
Dakshini struck next for her second wicket when she had Meshram lbw, and Green became 94 for 4. They tried to revive the innings through a fifth-wicket stand of 28 between Sneh Rana and Arundhati Reddy, but once Sarkar was in the act again.
She got Rana to play a lofted shot with her bat's face closed, resulting in an easy catch to Punia at mid-off. It led to a collapse as Green lost their last six wickets for 27 runs. Reddy getting caught on the boundary while trying to hit Tanuja Kanwer for a six in the 42nd over was crucial in the context as the onus was on her to ensure that Green batted out their full quota of overs.
Punam Raut, Blue's captain who had fallen off the first ball in the first match against Red, had a tentative stay at the crease. She was unable to rotate the strike, and when she tried to hit out it only resulted in an easy catch for Meshram inside the inner circle.
Punia, meanwhile, took her time before starting to find the boundary with some glorious shots. The seven fours were good to watch, but she could have definitiely bettered her tally with some smart placement of the ball and converting dot balls into singles.
Green's moment on the field came in the 18th and 19th over when SB Keerthana, the legspinner, had her stumped and then Meshram produced a superb direct hit from mid-off to send back Minnu Mani. Sushma Verma was wrongly given caught behind when she had not hit the ball, and Green became 78 for 4 in 22.2 overs.
Had Shweta Verma, the wicketkeeper, not dropped a catch when Fulmali was on one then the game could have got more interesting. Fulmali, known for her big hitting, made use of her life to see through the chase.
She played the sweep shots, drives and cuts well, even as Sarkar impressed with her cheekiness. The duo ran well between the wickets, which meant that there was no consistent pressure applied on them even though Rana in particular bowled well.
Green also fielded poorly for most parts of the match, which made it easier for Fulmali and Sarkar to stay ahead in the chase.
"Batting second makes things easier (on this pitch). It feels good. Now we have to win the final," Fulmali told the broadcaster after the match. "We did well for Vidarbha in the inter-state one-day and I have carried that confidence."
The winner of the match between Green and Red tomorrow will play against Blue in the final.
India Green 149 in 44.4 overs (D Hemalatha 35, Mona Meshram 26, Sneh Rana 25, Arundhati Reddy 28; Mansi Joshi 2-34, Manali Dakshini 3-34, Tanuja Kanwer 2-22, Tanusree Sarkar 2-28) lost to India Blue 150/4 in 39.1 overs (Priya Punia 41, Bharati Fulmali 45*, T Sarkar 27*) by six wickets.