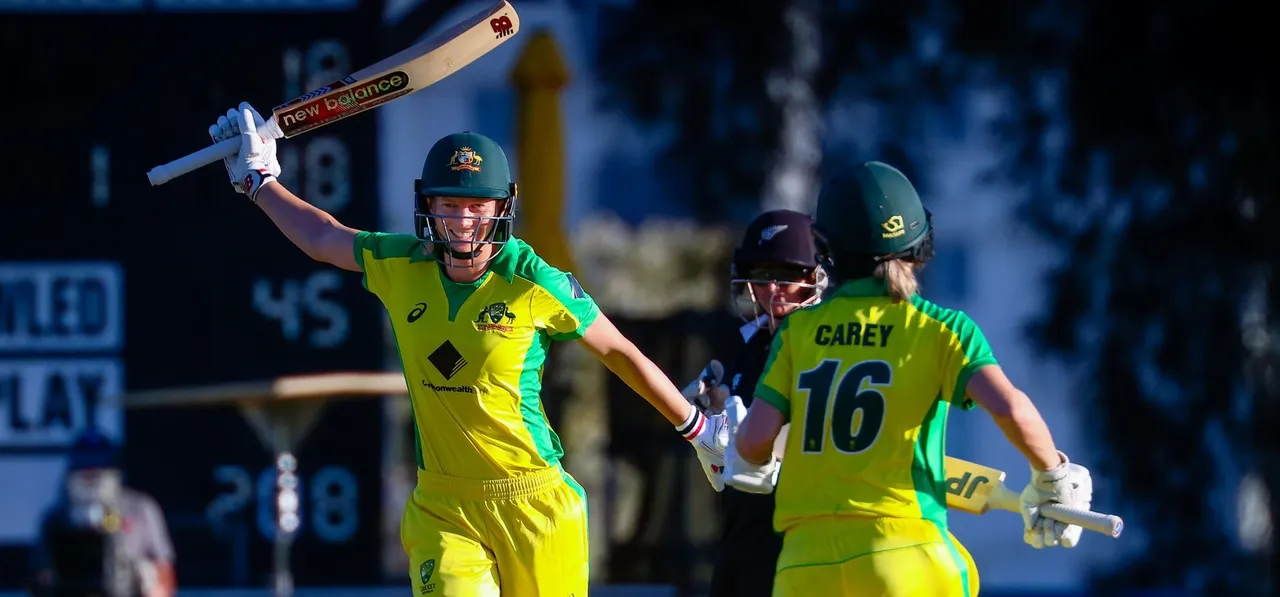 It was only fitting that Meg Lanning caressed a delivery through backward point to bring up her 14th ODI century, and seal a four-wicket win over New Zealand in the
second ODI
at the Allan Border Field in Brisbane on Monday (October 5). After all, Lanning has owned that gap for the last 3567 days, scoring a bulk of her 6900 career runs through that region.
Over the course of her career, Lanning has scaled peak after peak, writing and rewriting batting records in the women's game. She is Australia's
most prolific batter
across formats, having surpassed Karen Rolton's career tally of 6222 during Australia's tour of West Indies last September. Her 14 ODI hundreds are the most in the women's game, with a record nine coming in chases. (Amy Satterthwaite is next best with four centuries in ODI chases). She is the fastest player to score 14 ODI hundreds, reaching the mark in 82 innings, pipping the likes of Hashim Amla (84), David Warner (94) and even Virat Kohli (103). With 29 scores in excess of 50, Lanning's conversion rate of 48.3% in ODIs is second to none in the women's game - Tammy Beaumont at 43.8% is her closest rival.
If these numbers weren't scary enough, close your eyes if you are New Zealand!
ALSO READ: New Zealand's death by dot balls, Meg Lanning
In 20 ODIs against the trans-Tasman rivals, Lanning has scored 1122 runs at an average of over 70 and strike rate of 101.63. Six of her centuries and 21 of her career 36 sixes (58%) have come against the Kiwis. As on October 5, 2020, she averages a whopping 105.66 while batting second against them. The number rises to 118.25 in successful chases.
The numbers suggest that until Lanning is around, New Zealand are unlikely to have a chance... It may be another half a dozen years before they can win back the Rose Bowl.
***
Lanning is a machine. Put a target in front of her and she won't rest until she gets there. In only 38 innings, the right-hander has scored the most runs in successful chases - her tally of 2125 surpassing Mithali Raj's 2036 in 52 innings.
She bats with a steely determination. Her eyes locked on the white orb that she will either glide past point, pummel over mid-wicket, nonchalantly flick over deep square leg or regally caress over cover.
She doesn't have to do anything funky, and rarely does she try to force the pace. But somehow, in her own keen, calculative way, she keeps pace with the scoring rate - knocking singles here, finding the boundary there, and depositing the odd ball over the fence. She's not your text-book tonker, but she's just as effective and often even harder to keep quiet.
She is a batter extraordinaire, in a league of her own. Climbing higher with every game. Leaving the competition far behind.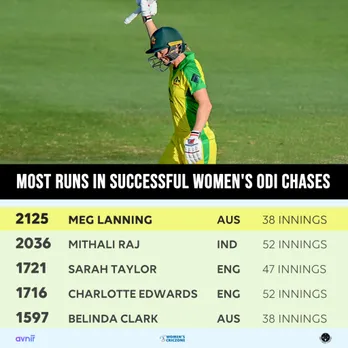 © Women's CricZone
***
Lanning is so calm that it is sometimes off-putting. Her ice cool demeanour often forces the opposition to blink first. In a staring contest, you'd be mad to bet against her.
While she has recently begun to show more emotion in the field, when she takes guard with the bat, nothing seems to fluster her. Her face does not twitch, not a bead of sweat appears to roll down her forehead; she is a picture of concentration. Her eyes fixed on one target only - to bat the opponents out of the game.
ALSO READ: Ruthless and competitive: Meg Lanning's Australia
When Australia suffered a mini middle order collapse in their chase of 253, Lanning watched as Amelia Kerr's googlies did plenty of damage at the other end. With over 50 runs to get when the fifth wicket fell - and an inexperienced lower-middle order to come - it would have been easy to panic a wee bit. But the Aussie skipper simply made her way down the pitch each time, tapped a couple of spots, whispered a few instructions to her new batting partner, exchanged a reassuring glove punch and carried on her merry way.
Her confidence rubbed off, initially on Sophie Molineux, and then on young Annabel Sutherland whose approach seemed to mirror that of the skipper. The teenager played a couple of glorious on drives - and was helped by New Zealand's sloppy work in the field - before holing out in the deep with victory in sight. But she had done her job. Like Lanning, she hadn't panicked, and New Zealand blinked first.
***
It was only fitting that Lanning's century came with a bit of drama and a big celebration. After Carey crunched the first ball of Maddy Green's over for four, leaving the side with three runs to win, a cheeky smile crossed her face. With the skipper on 97, she didn't, nay, couldn't steal her thunder. Five exaggerated defensive prods ensued, accompanied by a few entertaining remarks from Katey Martin behind the stumps. As the crowd enthusiastically cheered every dot, Carey's smile only grew wider.
At the other end, a hesitant smile appeared on Lanning's face. Never one to play for personal glory, she seemed to be egging Carey on to put Green's half-trackers away. But Carey better knew the significance of the moment - the skipper had earned the right to hit the winnings runs and bring up her century. She deserved the chance to scale another peak.
***
There are plenty of words we often use to describe batters - graceful, powerful, prolific, precise, clinical, belligerent, aggressive, versatile, destructive, flamboyant, and the list goes on.
While it'd be hard to find a batter who ticked every single one of these boxes, my guess is that Meg Lanning comes pretty darn close. At her very best she is one of the world's most ruthless, aggressive and destructive batters. Her versatility, precision and grace were never in doubt; and her
incredible competitive streak
means she is by far, one of the most prolific batters going around.
At only 28, Lanning has several more peaks to scale. She has only just laid the foundation - it is time for her to soar.
All hail Meg the Mighty, conqueror of the batting world!